FDAX – Future January, 20 2023
Daily market overview / Marktmeinung
JETZT Ausführliche marktmeinung als PDF
Important News/public holidays
TERMINE UNTERNEHMEN
07:00 SWE: Ericsson, Q4-Zahlen
12:50 USA: Schlumberger, Q4-Zahlen
TERMINE KONJUNKTUR
00:30 JPN: Verbraucherpreise 12/22
08:00 DEU: Erzeugerpreise 12/22
08:00 GBR: Einzelhandelsumsatz 12/22
16:00 USA: Wiederverkäufe Häuser 12/22
CHN: Chinesische Notenbank, Bekanntgabe des Referenzzinses für Bankkredite (LPR)
SONSTIGE TERMINE
CHE: Abschluss der Jahreskonferenz des Weltwirtschaftsforums (WEF) in Davos
Krieg in der Ukraine
Feiertage:
…
DATES COMPANY
07:00 SWE: Ericsson, Q4 figures
12:50 USA: Schlumberger, Q4 figures
BUSINESS CYCLE DATES
00:30 JPN: Consumer Prices 12/22
08:00 DEU: Producer Prices 12/22
08:00 GBR: Retail Sales 12/22
16:00 USA: Home resales 12/22
CHN: Chinese central bank, announcement of reference rate for bank loans (LPR)
OTHER DATES
CHE: Closing of the annual conference of the World Economic Forum (WEF) in Davos, Switzerland
War in Ukraine
Holidays:
---
Trading day (Overview)
Market Profile
OPENING PRICE VERSUS DAY'S VA
in balance
Opening to VWAP
previous day (M30)
above
VA – Market Profile
Value Area previous DAY(VAH, POC, VAL)
15069 … 15015 … 14967
RANGE
(ATR 5)
187 Points
Trading-Range
daily ATR(5)
15239 … 14865
Action Levels
Pivot Points
R3, R2, R1, PP, S1, S2, S3
in Trading-Rang
15174, 15067(PP), 14940, 14833
Previous Day/Today
Close / Open
15046/15052
Open VWAPs
in Trading-Range
15255, 14814
Open POCs
in Trading-Range
15015, 15229
Support
in Trading-Range
15041, 14990, 14961/24, 14873/29
Resist
in Trading-Range
15073, 15122, 15179, 15239, 15300
---
Daily (FDAX)
– Der letzte Handelstag wurde als neuer negativer Außenstab (15195 … 14961) beendet
– Negativer IB und positiver OB (17.01.2023)
– durchschnittliches Handelsvolumen
– Aufwärtstrend immer noch voll intakt
– Möglicher Wendpunkt (Korrektur) unter 15140 per Tagesschlusskurs
– Support-Zone um 14744 … 14446
– Schlusskurs über GD200, GD50, GD20 im Future und Kassa Markt
– Steigende Anstiege der GD20 und GD50
– The last trading day ended as a new negative outer bar (15195 … 14961)
– Negative IB and positive OB (17.01.2023)
– average trading volume
– Upward trend still fully intact
– Possible turning point (correction) below 15140 per daily closing price
– Support zone around 14744 … 14446
– Closing price above GD200, GD50, GD20 in the future and spot market
– Rising upward of the GD20 and GD50
| | |
| --- | --- |
| Short-Ziel | 14916, 14595, 14446 |
| Long-Ziel | 15480, 15639 |
M30 (FDAX)
– Trendbruch im M30, jedoch über Pivot und MarketProfile noch nicht klar bestätigt
– Referenz-Low bei 15143 gebrochen!!
– Korrekturbewegung unter die letzten Verlaufstiefs. Stopp der Abwärtsbewegung am VWAP
– 3-wellige Korrekturbewegung seit dem gestrigen Tief.
– Der heutige Eröffnungskurs lag innerhalb der VA des letzten Handelstages → GLEICHGEWICHT.
– Eröffnungskurs unter dem Pivot Punkt (PP) und über dem VWAP des letzten Handelstages
– Trend break in the M30, but not yet clearly confirmed via Pivot and MarketProfile
– Reference low at 15143 broken!!!
– Correction movement below the last course lows. Stop of the downward movement at VWAP
– 3-wave corrective movement since yesterday's low.
– Today's opening price was within the VA of the last trading day → EQUAL WEIGHT.
– Opening price below the pivot point (PP) and above the VWAP of the last trading day.
| | |
| --- | --- |
| Short-Ziel | 15111, 15090, 15005 |
| Long-Ziel | 15348(POC), 15255 (VWAP), 15229 (POC) |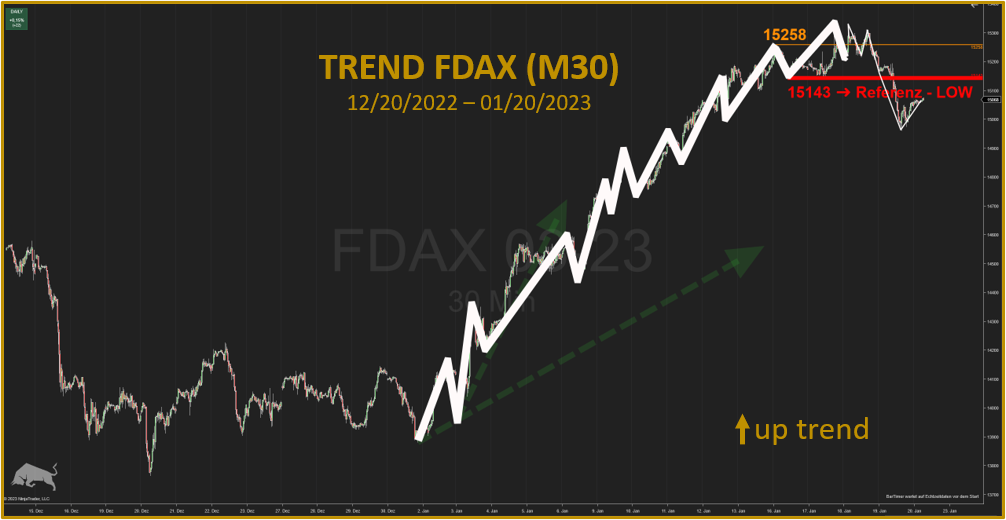 ---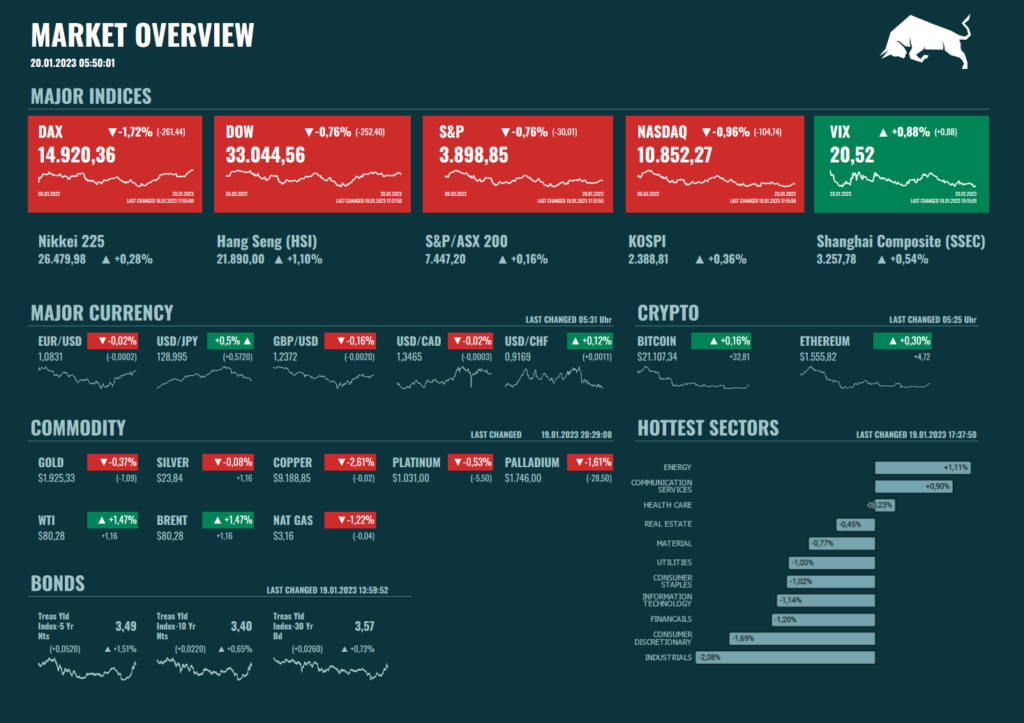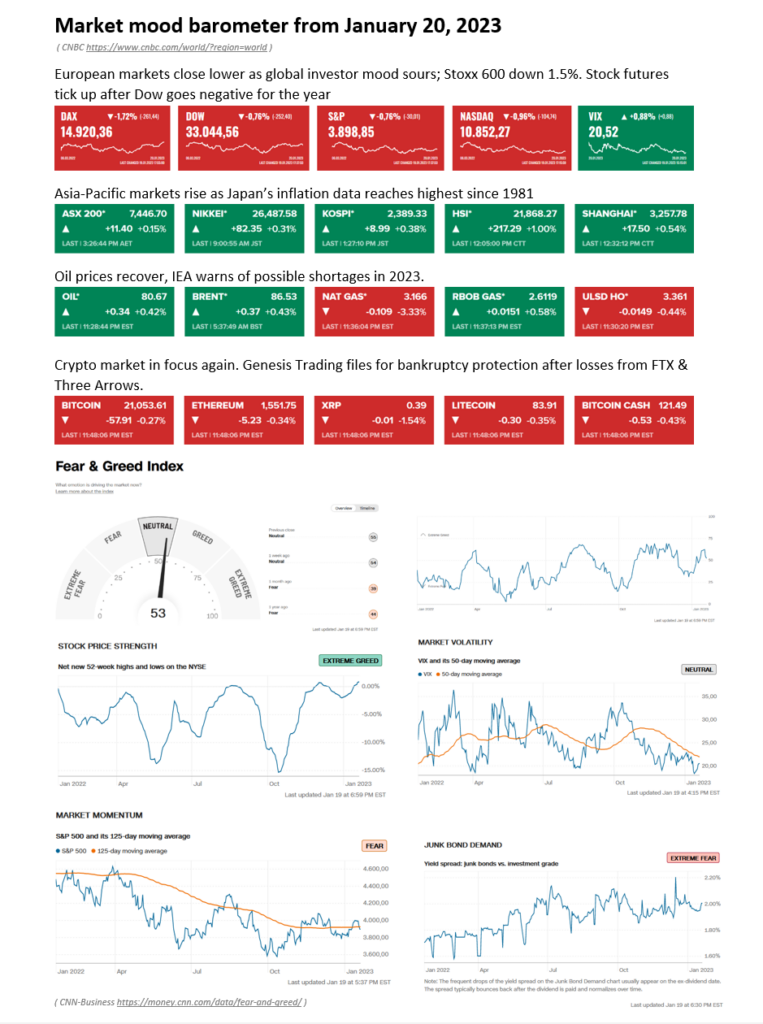 ---
Laut Market Profile heute Range. Vorbörslich positiv. Im Tageschart ist der Aufwärtstrend voll intakt. Die Korrekturbewegung unter 15140 (Tagesschlusskurs) wurde eingeleitet. Die ersten Ziele auf der Unterseite sind 14744/14446. Ein gutes CRV für einen etwas längeren Short-Lauf – Risiko beachten. Auf Tagesbasis hat sich jedoch das Gesamtbild nicht verändert – Aufwärtstrend. Eine Korrektur ist technisch da ein normaler Prozess, da Trader ihre Position glattstellen oder genau diese Korrektur antizipieren.

Kurzfristig (M30) ist eine Korrekturbewegung erkennbar – tiefere Hochs und tiefere Tiefs. Seit gestern eine 3-wellige Korrekturbewegung der Abwärtsbewegung. Entscheidung bei ca. 15000. Es darf kein tieferes Tief geben als 14974 per M30 Schlusskurs, sonst setzt sich die Abwärtsbewegung weiter fort.

Heute sind keine relevanten Daten aus Europa und den USA zu erwarten.
Bullish/Bearish Scenarios

Bullish Scenario
M30 Schlusskurse über 15073 können positive Signale setzen und ich suche Long-Einstiege mit Zielen bis 15122. Kann diese Marke ebenfalls per M30 Schlusskurs überwunden werden, sind Ziele bis 15179 und gar 15239 möglich.
 

Bearish Scenario
Bei M30 Schlusskurse unter 15041 suche ich Short-Einstiege mit Zielen bis 15000/14961. Gibt es hier keine Anzeichen für eine Reaktion der Käufer, suche ich weiter Short-Einstieg mit Zielen auf der Unterseite bis 14924, 14873 und bei Dynamik bis 14829.


Für einen Short Swing-Trade im daily würde ich aggressiv bei Schwäche zur Kassa Eröffnung verkaufen. Konservativ suche ich einen Rücklauf in Richtung 15122 – auch mit der Gefahr nicht abgeholt zu werden. Ziele auf der Unterseite sind im daily 14744/14446. → aktives Trademanagement, da wir uns im Aufwärtstrend befinden. Hier also eine Spekulation auf eine mehrtägige Korrekturbewegung.
According to Market Profile Range today. Pre-market positive. In the daily chart, the upward trend is fully intact. The corrective move below 15140 (daily closing price) was initiated. The first targets on the downside are 14744/14446. A good CRV for a slightly longer short run – note risk. However, on a daily basis, the overall picture has not changed – uptrend. A correction is technically there a normal process as traders close out their position or anticipate this very correction.

In the short term (M30) a corrective movement is visible – lower highs and lower lows. Since yesterday, a 3 wave corrective movement of the downside. Decision at around 15000. There must be no lower low than 14974 per M30 close, otherwise the downward movement will continue.

Today, no relevant data from Europe and the U.S. are expected.
Bullish/Bearish Scenarios

Bullish Scenario
M30 close above 15073 can give positive signals and I am looking for long entries with targets to 15122. If this mark can also be overcome by M30 close, targets to 15179 and even 15239 are possible.

Bearish scenario
If M30 closes below 15041, I look for short entries with targets to 15000/14961. If there is no sign of a reaction from the buyers here, I look for further short entry with targets on the downside to 14924, 14873 and if momentum to 14829.

For a short swing trade in the daily, I would aggressively sell on weakness at the cash opening. Conservatively, I am looking for a retracement towards 15122 – even with the risk of not being picked up. Targets on the downside are 14744/14446 in the daily → active trade management as we are in an uptrend. So here a speculation on a corrective movement of several days.
Happy Trading 🙂

Matthias