FDAX – Future December, 01 2022
Daily market overview / Marktmeinung
News/public holidays
09:55 Uhr DE Einkaufsmanagerindex (EMI) Verarbeitendes Gewerbe Deutschland (Nov)
Prognose: 46,7        Vorherige: 45,1
14:30 Uhr US PCE-Kernrate Preisindex (Monat) (Okt)
Prognose: 0,3%      Vorherige: 0,5%
14:30 Uhr US Erstanträge Arbeitslosenhilfe
Prognose: 235K      Vorherige: 240K
16:00 Uhr US ISM Einkaufsmanagerindex (EMI) Verarbeitendes Gewerbe (Nov)
Prognose: 49,8  Vorherige: 50,2
…
09:55 DE Purchasing Managers' Index (EMI) Manufacturing Germany (Nov)
Forecast: 46.7 Previous: 45.1
14:30 US PCE Core Price Index (Month) (Oct)
Forecast: 0.3% Previous: 0.5
2:30 PM US Initial Jobless Claims.
Forecast: 235K Previous: 240K
4:00 PM US ISM Purchasing Managers' Index (EMI) Manufacturing (Nov).
Forecast: 49.8 Previous: 50.2
---
Trading day (Overview)
Market Profile
OPENING PRICE VERSUS DAY'S VA
out balance
Opening to VWAP
previous day (M30)
above
VA – Market Profile
Value Area previous DAY(VAH, POC, VAL)
14446 … 14422 … 14380
RANGE
(ATR 5)
174 points
Trading-Range
daily ATR(5)
14759 … 14411
Action Levels
Pivot Points
R3, R2, R1, PP, S1, S2, S3
in Trading-Rang
14707, 14638, 14501(PP), 14432
Previous Day/Today
Close / Open
14568/14585
Open VWAPs
in Trading-Range
14434
Open POCs
in Trading-Range
14653, 14422
Support
in Trading-Range
14577, 14559, 14524, 14490, 14450
Resist
in Trading-Range
14616, 14675, 14712
---
Daily (FDAX)
– Der letzte Handelstag wurde als neuer positiver Außenstab beendet (14575 … 14365)
– Anziehendes Handelsvolumen
– Mehrwellige Aufwärtsbewegung (UP-Trend) – Aufwärtstrend voll intakt
– Erneuter Range Breakout auf der Oberseite – Range 14475 … 14143
– Kurs immer noch in der Widerstandszone um 14631 … 14353
– Echtes Gap-Up in der Vorbörse
– Schlusskurs über GD20, GD50, GD200 im Future und Kassamarkt
– Wichtiger Support um 12719 darunter dann weitere Jahrestiefs im daily
– The last trading day ended as a new positive outside bar (14575 … 14365).
– Increasing trading volume
– Multi-wave upward movement (UP trend) – upward trend fully intact
– Renewed range breakout on the upside – range 14475 … 14143
– Price still in the resistance zone around 14631 … 14353
– Real gap-up in the pre-market
– Closing price above GD20, GD50, GD200 in the future and cash market
– Important support around 12719 below then further annual lows in daily
| | |
| --- | --- |
| Short-Ziel | 14302, 14148, 13634 |
| Long-Ziel | 14631, 14712 (H), 14843 |
M30 (FDAX)
– Kurs oberhalb der M30-Range (14524 … 14313) – Breakout
– Echtes Gap-Up in der Vorbörse
– Übergeordneter Aufwärtstrend voll intakt
– Der heutige Eröffnungskurs lag oberhalb der VA des letzten Handelstages -> UNGLEICHGEWICHT
– Eröffnungskurs über dem Pivot Punkt (PP) sowie dem VWAP des letzten Handelstages
– Price above the M30 range (14524 … 14313) – breakout
– Real gap-up in the pre-market
– Superior uptrend fully intact
– Today's opening price was above the VA of the previous trading day -> UNBALANCED
– Opening price above the pivot point (PP) as well as the VWAP of the last trading day
| | |
| --- | --- |
| Short-Ziel | 14559, 14490, 14450, 14434 |
| Long-Ziel | 14675, 14712, 14815 |
---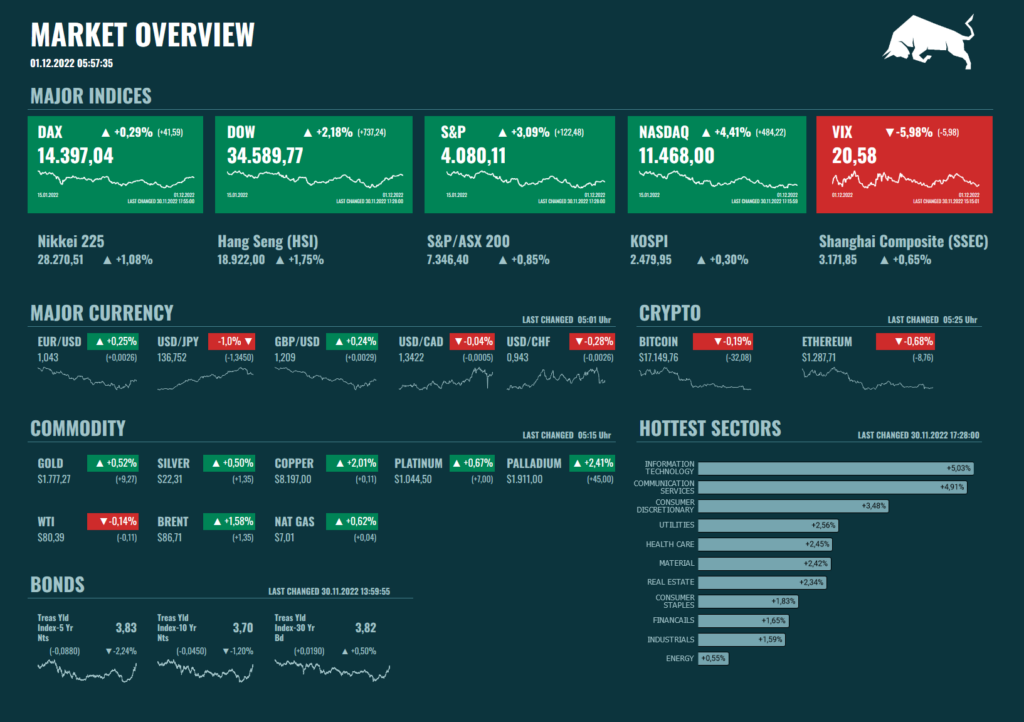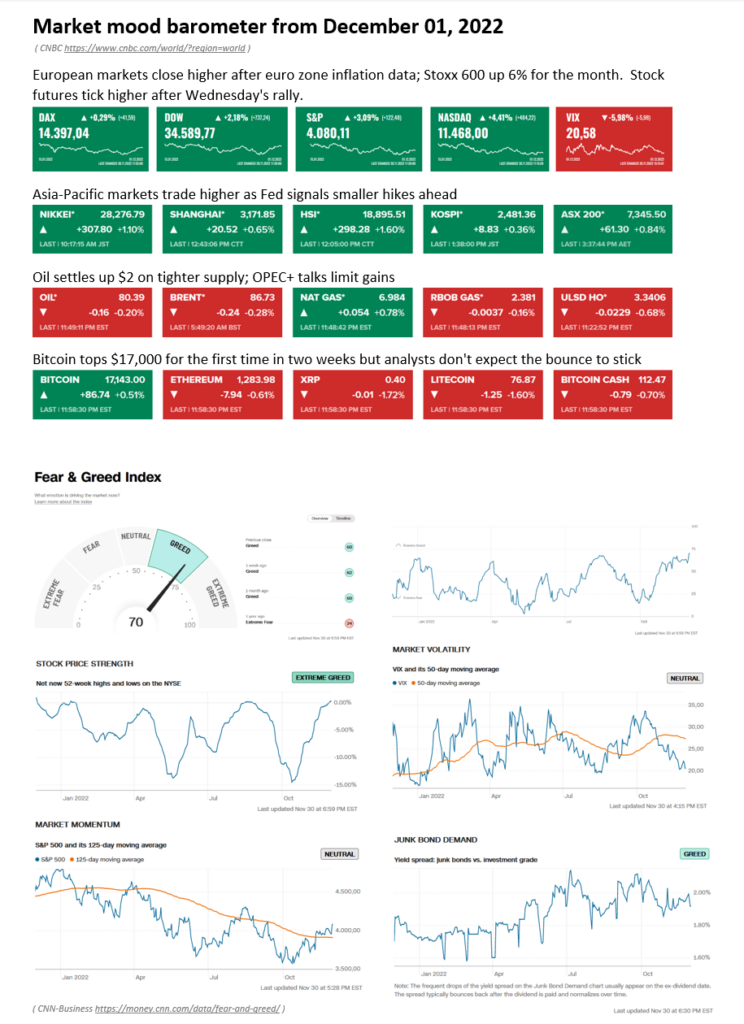 ---
Laut Market Profile heute Trend folgend. Vorbörslich positiv – Gap Up. Mit den Aussagen von Powell ist die seit Tagen aufgebaute Range im daily nun mit einem weiteren Breakout beantwortet worden. Die Widerstandzone in daily um 14631 … 14353 ist nun die nächste Hürde die der Markt nehmen muss um den positiven Impuls von gestern weiter aufzunehmen. Mit dem heutigen Gap Up in der Vorbörse im Future sieht diese Weiterführung bereits positiv aus. In der Kassa-Eröffnung sollte dies ebenfalls mit einem Gap erfolgen. In den USA gingen die Indizes nach der Powell Ansprach stark nach oben –  NASDAQ +4.5% DOW +2.18% S&P +3.39%.

Die H4 SKS-Formation im FDAX wurde nach oben aufgelöst und spricht ebenfalls für Longs.

Im M30 kann nun die Trendfortsetzung wieder aufgenommen werden. Ein Stärkezeichen ist, sollte das Preisniveau nicht mehr nachhaltig nach unten verlassen werden also nicht erneut in die Range unter 14496 eindringen. Aktuell ist der Aufwärtstrend im M30 voll intakt.
 
Heute stehen Inflationszahlen aus den USA und die Erstanträge auf Arbeitslosenhilfe zum Nachmittag auf meiner Beobachtungsliste. Ob die Zahlenbekanntgabe den Impuls wieder zurücknehmen kann? Für mich über die Zeit der Bekanntgabe kein Trading. Im Anschluss folge ich dem Markt!
Bullish/Bearish Scenarios

Bullish Scenario
Rücksetzer sind kaufenswert um die 14559 und 14524 mit Zielen auf der Oberseite bis 14675, 14712. Sollte es keine Rücksetzer geben folge ich vorsichtig den Ausbrüchen über den Widerständen (14616, 14653).

Bei Schlusskursen (M30) unterhalb von 14490 ist für mich der Long-Gedanke erstmal kaputt.


Bearish Scenario
Ich würde auf shorts vorerst verzichten. Aktuell sind shorts gegen den massiven Aufwärtsimpuls risikoreich. Wenn man shorts suchen möchte, kann man vorsichtig die Widerstände mit engem Stop shorten – keine Empfehlung.
According to Market Profile today trend following. Pre-market positive – gap up. With the statements of Powell, the range built up for days in the daily has now been answered with another breakout. The resistance zone in daily around 14631 … 14353 is now the next hurdle that the market must take to continue the positive momentum from yesterday. With today's gap up in the pre-market in the future, this continuation already looks positive. In the cash opening, this should also be done with a gap. In the U.S., the indices went up strongly after the Powell speech – NASDAQ +4.5% DOW +2.18% S&P +3.39%.
The H4 SKS formation in the FDAX was resolved upwards and also argues for longs.
In the M30, the trend continuation can now be resumed. A strength sign is, the price level should no longer be sustainably left to the downside so not again penetrate the range below 14496. Currently, the upward trend in the M30 is fully intact.
 
Today, inflation figures from the U.S. and the initial jobless claims in the afternoon on my watch list. Whether the number announcement can take back the momentum? For me over the time of the announcement no trading. Subsequently, I follow the market!
Bullish/Bearish Scenarios

Bullish Scenario
Reversals are worth buying around 14559 and 14524 with targets on the upside to 14675, 14712. If there are no reversals, I cautiously follow the breakouts above the resistances (14616, 14653).With closing prices (M30) below 14490, the long idea is broken for me for now.

Bearish Scenario
I would refrain from shorts for the time being. Currently, shorts are risky against the massive upward impulse. If you want to look for shorts, you can carefully short the resistances with a tight stop – no recommendation.

Happy Trading 🙂

Matthias