FDAX – Future November, 30 2022
Daily market overview / Marktmeinung
News/public holidays
09:55 Uhr DE Veränderung der Arbeitslosigkeit Deutschland (Nov)
Prognose: 13K Vorherige: 8K
11:00 Uhr US Verbraucherpreisindex (VPI) (Jahr) (Nov)
Prognose: 10,4% Vorherige: 10,6%
14:15 Uhr US ADP Beschäftigungsänderung (Nov)
Prognose: 200K Vorherige: 239K
14:30 Uhr US Bruttoinlandsprodukt (BIP) (Quartal) (Q3)
Prognose: 2,7% Vorherige: 2,6%
16:00 Uhr US JOLTs Stellenangebote (Okt)
Prognose: 10,300M Vorherige: 10,717M
16:00 Uhr US Schwebende Hausverkäufe (Monat) (Okt)
Prognose: -5,0% Vorherige: -10,2%
16:00 Uhr US Rohöllagerbestände
Prognose: -2,758M Vorherige: -3,691M
19:30 Uhr US Fed-Vorsitzender Powell spricht
…
09:55 AM DE Change in Unemployment Germany (Nov) Forecast: 13K Previous: 8K
11:00 AM US Consumer Price Index (CPI) (y/y) (Nov)
Forecast: 10.4% Previous: 10.6%
2:15 PM US ADP Employment Change (Nov)
Forecast: 200K Previous: 239K
2:30 PM US Gross Domestic Product (GDP) (Quarter) (Q3)
Forecast: 2.7% Previous: 2.6%
4:00 PM US JOLTs Job Openings (Oct)
Forecast: 10.300M Previous: 10.717M
4:00 PM US Pending Home Sales (Month) (Oct)
Forecast: -5.0% Previous: -10.2%
04:00 PM US Crude Oil Inventories
Forecast: -2.758M Previous: -3.691M
07:30 PM US Fed Chair Powell speaks.
---
Trading day (Overview)
Market Profile
OPENING PRICE VERSUS DAY'S VA
in balance
Opening to VWAP
previous day (M30)
above
VA – Market Profile
Value Area previous DAY(VAH, POC, VAL)
14427 … 14419 … 14369
RANGE
(ATR 5)
165 points
Trading-Range
daily ATR(5)
14580 … 14250
Action Levels
Pivot Points
R3, R2, R1, PP, S1, S2, S3
in Trading-Rang
14559, 14490, 14414(PP), 14345, 14269
Previous Day/Today
Close / Open
14422/14415
Open VWAPs
in Trading-Range
14548, 14275
Open POCs
in Trading-Range
14557, 14419, 14281
Support
in Trading-Range
14393, 14356, 14344, 14313
Resist
in Trading-Range
14480, 14524, 14553, 14577
---
Daily (FDAX)
– Der letzte Handelstag wurde innerhalb aktiven neg. Außenstab beendet (14527 … 14350)
– weiter abnehmendes Handelsvolumen
– Mehrwellige Aufwärtsbewegung (UP-Trend) – Aufwärtstrend voll intakt
– Schlusskurs über GD20, GD50, GD200 im Future und Kassamarkt
– Wichtiger Support um 12719 darunter dann weitere Jahrestiefs im daily
– Reaktion an oberer Kante der Widerstandszone um 14631 … 14353
– Kurs wieder in der Range im Daily 14475 … 14143
– The last trading day ended within active neg. outer bar (14527 … 14350)
– further decreasing trading volume
– Multi-wave upward movement (UP trend) – upward trend fully intact
– Closing price above GD20, GD50, GD200 in futures and cash market
– Important support around 12719 below, then further yearly lows in the daily
– Reaction at the upper edge of the resistance zone around 14631 … 14353
– Price again in the range in the daily 14475 … 14143
| | |
| --- | --- |
| Short-Ziel | 14302, 14148, 13634 |
| Long-Ziel | 14527, 14631, 14712 (H) |
M30 (FDAX)
– Kurs wieder innerhalb der M30-Range (14524 … 14313) – seit 8 Tagen
– Übergeordneter Aufwärtstrend noch immer intakt – aktuell jedoch Range
– Der heutige Eröffnungskurs lag innerhalb der VA des letzten Handelstages → GLEICHGEWICHT. Kurs ist jedoch bereits wieder außerhalb der VA
– Eröffnungskurs über dem Pivot Punkt (PP) sowie dem VWAP des letzten Handelstages
– Price again within the M30 range (14524 … 14313) – since 8 days
– Superior uptrend still intact – currently range, however.
-Today's opening price was within the VA of the last trading day → EQUAL WEIGHT. However, price is already outside the VA again
-Opening price above the pivot point (PP) as well as the VWAP of the last trading day.
| | |
| --- | --- |
| Short-Ziel | 14344, 14313, 14281, 14215 |
| Long-Ziel | 14480, 14524, 14553/57, 14577 |
---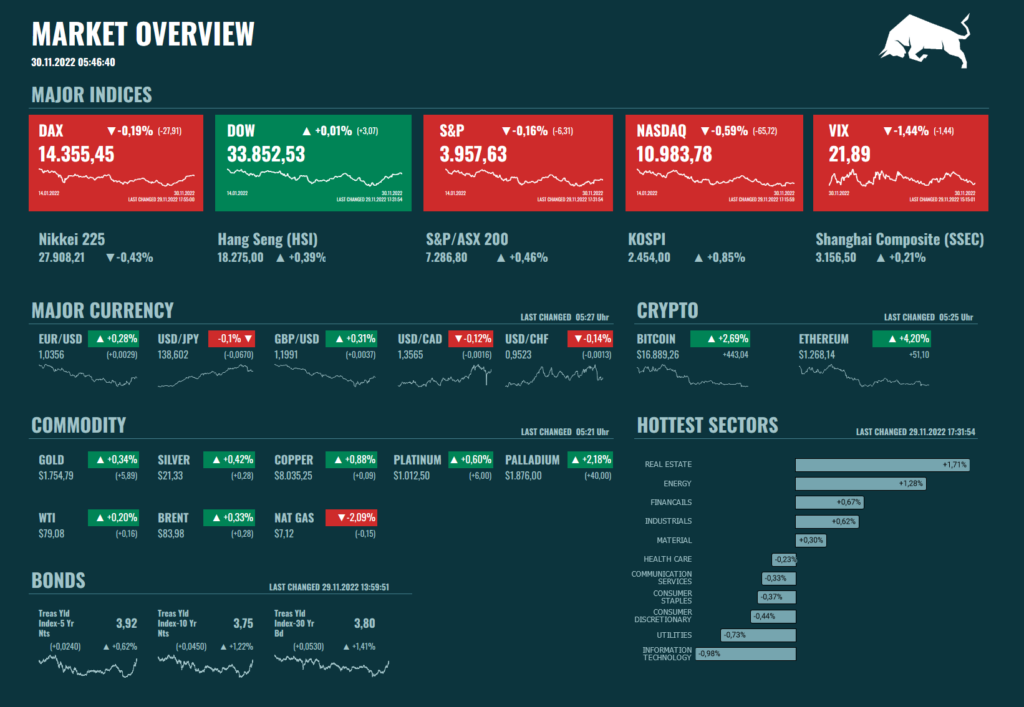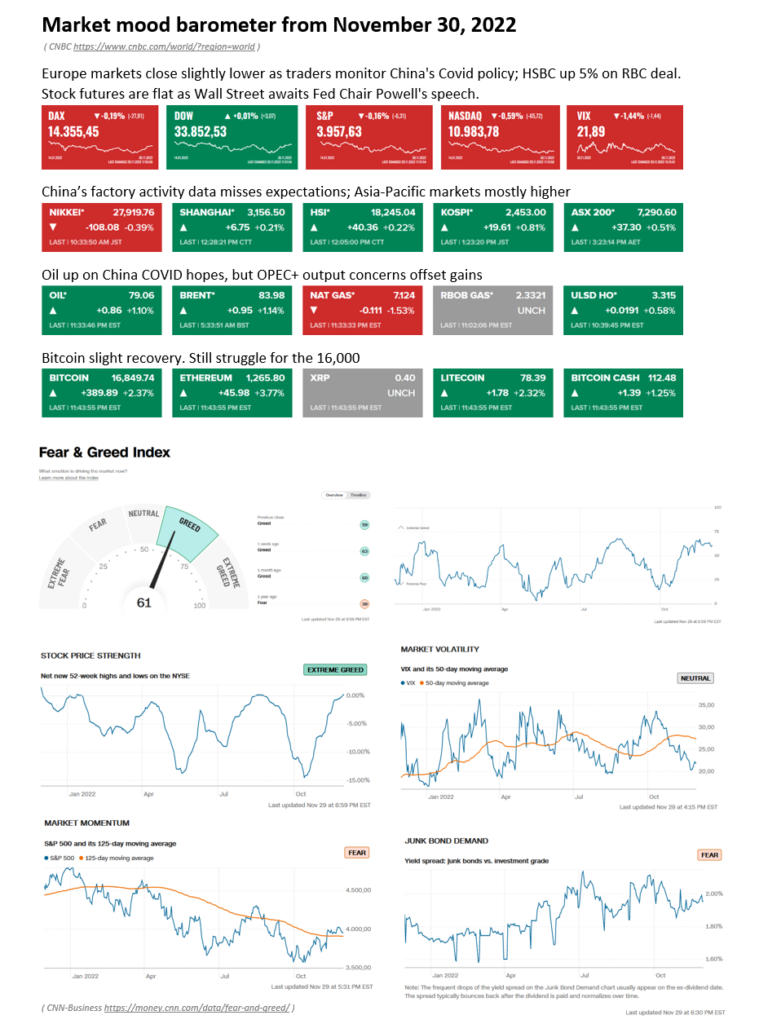 ---
Laut Market Profile heute Range. Vorbörslich positiv. Die Widerstandzone um 14631 … 14353 im daily hält bereits seit über 13 Handelstagen. Der Kurs ist in der sich kurzfristig hieraus gebildeten Range um 14475 … 14143 wieder eingetreten. Der Tageschart sieht jedoch noch immer sehr bullisch aus – Aufwärtstrend voll intakt. Eine Konsolidierung auf hohem Niveau über mehrere Tage. Schlusskurse im daily unterhalb der Widerstandszone (14353) sowie Schlusskurse unterhalb der kurzfristigen Range (14143) sind für mich erste Short-Signale. Ansonsten ist vorerst maximal Range im daily.

Im M30 sehe ich noch immer keine klare Richtung – somit für mich vorerst weiter Range.

Heute werde viele Wirtschaftszahlen gemeldete aus Deutschland und besonders aus den USA. Besonders zum Nachmittag können die US-Beschäftigungszahlen und die offenen US-Stellenangebote ab 14:15 Uhr wieder mehr Schwung in den Markt bringen und eine Richtungsentscheidung geben. Um 19:30 Uhr spricht der FED-Vorsitzenden Powell.

Für mich ist heute erneut Range-Handel. Bei einem Breakout unterhalb 14313 suche ich vorerst short (im Rücklauf) und Ausbrüche über 14524 suche ich weiter Long Einstiege. Innerhalb dieser Range spiele ich die beiden Rangekanten (siehe Chart M30).
Bullish/Bearish Scenarios

Bullish Scenario
Kann sich der Kurs über 14427 per Schlusskurs (M30) halten ohne einen Rücklauf, gehe ich von weiter steigenden Kursen aus Richtung 14480, 14524. Sollte der Kursanstieg mit viel Dynamik erfolgen sind auch Ziel auf der Oberseite bis 14577 und 14616 möglich.

Bearish Scenario
Fällt der Kurs unter 14369 bzw. 14356 per Schlusskurs (M30), ist die ein Zeichen der Schwäche und ich suche Short-Einstiege mit Zielen bis 14313. Kann sich der Kurs hier nicht stabilisieren, sehe ich weiteres Potential auf der Unterseite bis 14275 und 14215.
According to Market Profile Range today. Pre-market positive. The resistance zone around 14631 … 14353 in the daily already holds for over 13 trading days. The price has re-entered the short-term range formed from this around 14475 … 14143. However, the daily chart still looks very bullish – uptrend fully intact. A consolidation at a high level over several days. Closing prices in the daily below the resistance zone (14353) and closing prices below the short-term range (14143) are for me first short signals. Otherwise is for now maximum range in the daily.

In the M30 I still do not see a clear direction – so for me for the time being further range.

Today, many economic figures are reported from Germany and especially from the U.S.. Especially in the afternoon, the U.S. employment figures and the open U.S. job offers from 02:15 PM can again bring more momentum to the market and give a directional decision. At 07:30 PM speaks the FED Chairman Powell.

For me, today is again range trading. With a breakout below 14313 I look for the time being short (in the retracement) and breakouts above 14524 I look for further long entries. Within this range, I play the two range edges (see chart M30).
Bullish/Bearish Scenarios

Bullish Scenario
If the price can hold above 14427 per close (M30) without a retracement, I assume further rising prices towards 14480, 14524. Should the price rise with much momentum, targets on the upside to 14577 and 14616 are also possible.

Bearish Scenario
If the price falls below 14369 or 14356 per closing price (M30), this is a sign of weakness and I look for short entries with targets to 14313. If the price can not stabilize here, I see further potential on the downside to 14275 and 14215.
Happy Trading 🙂

Matthias