FDAX – Future December, 06 2022
Daily market overview / Marktmeinung
Important News/public holidays
18:00 Uhr US EIA – Kurzfristiger Energieausblick (STEO)       
…
18:00 US EIA – Short Term Energy Outlook (STEO)
---
Trading day (Overview)
Market Profile
OPENING PRICE VERSUS DAY'S VA
in balance
Opening to VWAP
previous day (M30)
below
VA – Market Profile
Value Area previous DAY(VAH, POC, VAL)
14489 … 14456 … 14441
RANGE
(ATR 5)
181 points
Trading-Range
daily ATR(5)
14651 … 14289
Action Levels
Pivot Points
R3, R2, R1, PP, S1, S2, S3
in Trading-Rang
14623, 14533, 14465(PP), 14375, 14307
Previous Day/Today
Close / Open
14444/14470
Open VWAPs
in Trading-Range
–
Open POCs
in Trading-Range
14653, 14281
Support
in Trading-Range
14422, 14356, 14344, 14313
Resist
in Trading-Range
14516, 14548, 14588, 14616, 14642
---
Daily (FDAX)
– Der letzte Handelstag wurde innerhalb des positiver Außenstab beendet (14575 … 14365)
– abnehmendes Handelsvolumen
– Mehrwellige Aufwärtsbewegung (UP-Trend) – Aufwärtstrend voll intakt
– Kurs immer noch in der Widerstandszone um 14631 … 14353
– Schlusskurs über GD20, GD50, GD200 im Future und Kassamarkt
– Kurzfristige Aufwärtstrendlinie nach unten gebrochen
– Wichtiger Support um 12719 darunter dann weitere Jahrestiefs im daily
– The last trading day ended within the positive outer bar (14575 … 14365)
– decreasing trading volume
– Multi-wave upward movement (UP trend) – upward trend fully intact
– Price still within the resistance zone around 14631 … 14353
– Closing price above GD20, GD50, GD200 in futures and spot market
– Short-term upward trend line broken to the downside
– Important support around 12719 below then further annual lows in daily
| | |
| --- | --- |
| Short-Ziel | 14302, 14148, 13634 |
| Long-Ziel | 14631, 14712 (H), 14843 |
M30 (FDAX)
– Mittelfristiger Aufwärtstrend voll intakt
– Range seit Donnerstag zwischen 14574 und 14426
– Lower highs, higher lows
– Der heutige Eröffnungskurs lag innerhalb der VA des letzten Handelstages –> GLEICHGEWICHT
– Eröffnungskurs über dem Pivot Punkt (PP) sowie dem VWAP des letzten Handelstages
– Medium-term upward trend fully intact
– Range since Thursday between 14574 and 14426
– Lower highs, higher lows
– Today's opening price was within the VA of the last trading day –> EQUAL WEIGHT
– Opening price above the pivot point (PP) as well as the VWAP of the last trading day
| | |
| --- | --- |
| Short-Ziel | 14356, 14344, 14313 |
| Long-Ziel | 14356, 14344, 14313 |
---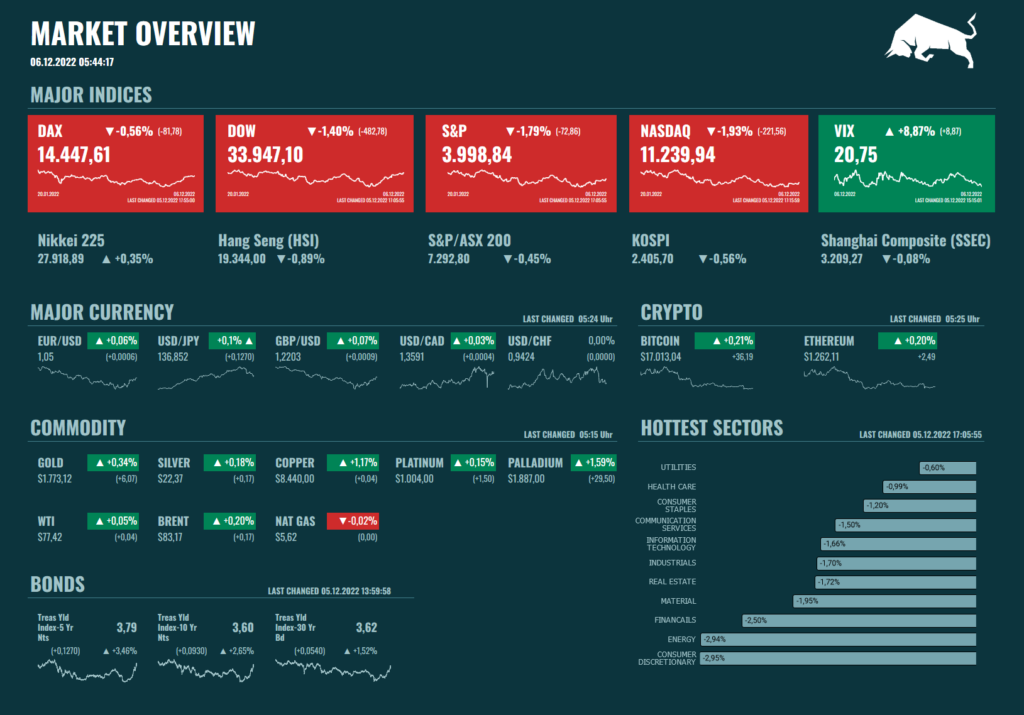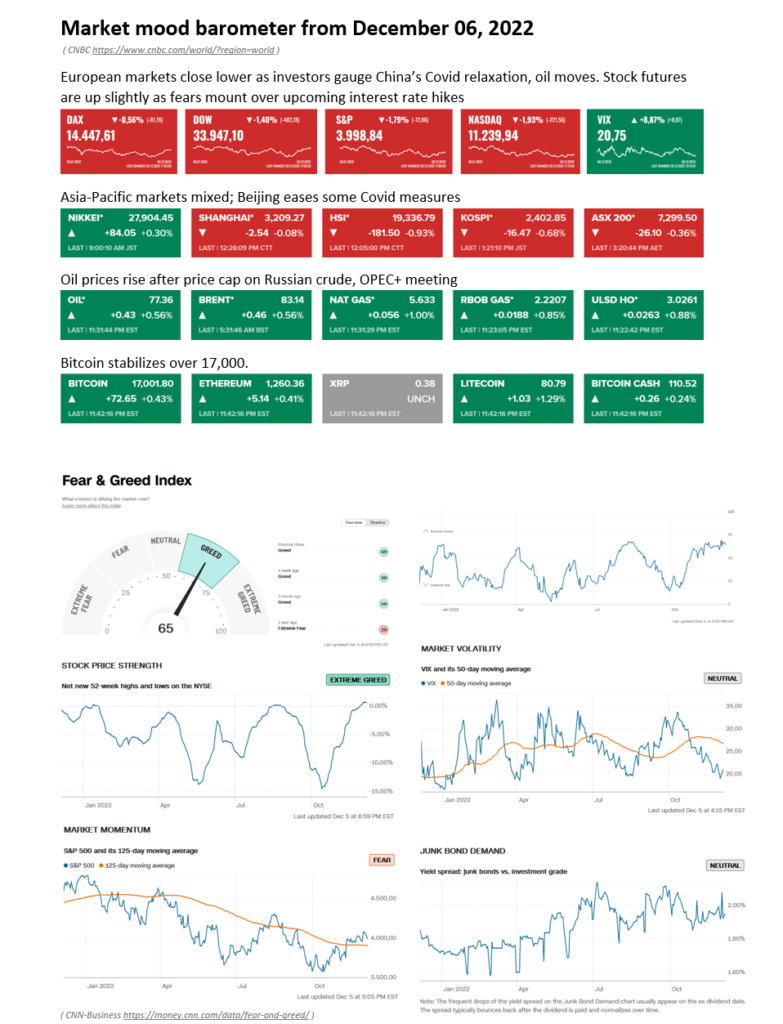 ---
Laut Market Profile heute Range. Vorbörslich positiv. Der letzte Handelstag konnte den Aufwärtsimpuls nicht weiterführen. Im daily ist der Kampf um die Widerstandszone 14634 … 14347 deutlich sichtbar. Vorerst wird diese weder nach oben noch nach unten per Tagesschlusskurs verlassen. Eine Richtungsentscheidung steht somit aus. Der Aufwärtstrend ist im daily noch voll intakt. Der daily VWAP liegt bereits unterhalb der aktuellen Kurse bei 14279 (Stärkezeichen). Ein Rücklauf auf diesen wäre legitim im daily. Schlusskurs darunter bedeutet dann kurzfristig Schwäche.  Die Konsolidierung auf dem hohen Niveau geht vorerst weiter.

In der kurzfristigen Zeit (M30) sehen wir aktuell Abgabedruck. Die vom 02.12.2022, nach den News der US-Arbeitsmarktzahlen, entstandene Kerze stellt vorerst die letzte große Käuferzone dar. Kurse unterhalb dieser Kerze (14422/14372) bedeuten Schwäche. Schlusskurse im M30 unterhalb der Kerze – Vorsicht. Aktuell im M30 Range in dieser Kerze. Im M30 übergeordnet Aufwärtstrend mit aktueller Range.

Wichtige Nachrichten heute eher keine. Ob wir heute einen TT (Turnaround Tuesday) nach dem gestrigen Tag sehen werden?
Bullish/Bearish Scenarios

Bullish Scenario
Kann sich der Kurs nachhaltig über 14489 etablieren, stehen die Zeichen vorerst auf Long für mich. Hier suche ich Einstiege mit Zielen auf der Oberseite bis 14516, 14548. Sollte der Anstieg mit Dynamik erfolgen sind weitere Ziele auf der Oberseite bis 14588/616. (Trendfolge Trade)

Eine weiterer Long-Play ist der Test der Käuferzone um 14422 bzw. 14356/44 (Rebound Trade).  Ziele auf der Oberseite sind dann die oberen Unterstützungen um 14422, 14489.

Bearish Scenario
Bei Kursen nachhaltig unter 14441/22 würde ich vorerst Short suchen. Ziele auf der Unterseite sind 14356, 14344 bis 14313. Hier kann der Kurs dann wieder eine Reaktion für die Long-Richtung geben.
According to Market Profile Range today. Pre-market positive. The last trading day could not continue the upward momentum. In the daily, the struggle for the resistance zone 14634 … 14347 is clearly visible. For the time being, this is left neither up nor down per daily closing price. A directional decision is therefore pending. The upward trend is still fully intact in the daily. The daily VWAP is already below the current prices at 14279 (strength sign). A retracement to this would be legitimate in the daily. Closing price below it then means weakness in the short term.  The consolidation at the high level continues for now.

In the short term (M30), we currently see downward pressure. The candle formed from 02.12.2022, after the news of the U.S. labor market figures, represents the last major buyer zone for now. Prices below this candle (14422/14372) mean weakness. Closing prices in the M30 below the candle – caution. Currently in the M30 range in this candle. In the M30 overriding upward trend with current range.

Important news today rather none. Whether we will see today a TT (Turnaround Tuesday) after yesterday?
Bullish/Bearish Scenarios

Bullish Scenario
If the price can sustainably establish itself above 14489, the signs are long for me for the time being. Here I am looking for entries with targets on the upside to 14516, 14548. Should the rise occur with momentum are further targets on the upside to 14588/616. (Trend following trade).

Another long play is the test of the buyer zone around 14422 or 14356/44 (rebound trade).  Targets on the upside are then the upper supports around 14422, 14489.

Bearish scenario
At prices sustainably below 14441/22, I would look for short for the time being. Targets on the downside are 14356, 14344 to 14313. Here, the price can then give a reaction for the long direction again.
Happy Trading 🙂

Matthias