FDAX – Future December, 07 2022
Daily market overview / Marktmeinung
Important News/public holidays
16:30 Uhr US Rohöllagerbestände                                 Prognose: -3,305M Vorherige: -12,580M
…
04:30 PM US Crude Oil Inventories Forecast: -3.305M Previous: -12.580M
---
Trading day (Overview)
Market Profile
OPENING PRICE VERSUS DAY'S VA
in balance
Opening to VWAP
previous day (M30)
above
VA – Market Profile
Value Area previous DAY(VAH, POC, VAL)
14440 … 14352 … 14322
RANGE
(ATR 5)
191 points
Trading-Range
daily ATR(5)
14515 … 14133
Action Levels
Pivot Points
R3, R2, R1, PP, S1, S2, S3
in Trading-Rang
14440, 14345(PP), 14207
Previous Day/Today
Close / Open
14303/14324
Open VWAPs
in Trading-Range
14384
Open POCs
in Trading-Range
14352
Support
in Trading-Range
14271/54, 14207, 14187, 14134
Resist
in Trading-Range
14357, 14440, 14482, 14516
---
Daily (FDAX)
– Der letzte Handelstag wurde als neuer neg. Außenstab beendet (14482 … 14249)
– Anziehendes Handelsvolumen
– Konsolidierung im UP-Trend – Aufwärtstrend voll intakt
– Top Bildung
– Gestriger Schlusskurs unter der wichtigen Widerstandszone von 14631 … 14353
–> YC:  14299 (yesterday close)
– Reaktion am VWAP (14279) à aktueller Kurs über dem VWAP
– Schlusskurs unter GD20 und der kurzfristigen Aufwärtstrendlinie
ansonsten über dem GD50, GD200 sowie der mittelfristigen Aufwärtstrendlinie
– Wichtiger Support um 12719 darunter dann weitere Jahrestiefs im daily

– The last trading day ended as a new neg. outer bar (14482 … 14249)
– Increasing trading volume
– Consolidation in UP trend – uptrend fully intact
– Top formation
– Yesterday's close below the important resistance zone of 14631 … 14353
–> YC: 14299 (yesterday close)
– Reaction at VWAP (14279) à current price above VWAP
– close below GD20 and the short-term upward trendline
– otherwise above GD50, GD200 and the medium-term upward trendline
– Important support around 12719 below then further annual lows in the daily
| | |
| --- | --- |
| Short-Ziel | 14142/48, 13634, 13992 |
| Long-Ziel | 14631, 14712 (H), 14843 |
M30 (FDAX)
– Mittelfristiger Aufwärtstrend voll intakt – vorerst 3-wellige – Abwärtsbewegung
– Heutige Eröffnung in der Vorbörse mit "unechtem" Gap-Up
– Kurs lag am unteren Ender der VA des letzten Handelstages –>GLEICHGEWICHT
– Eröffnungskurs unter dem Pivot Punkt (PP) sowie dem VWAP des letzten Handelstages
– Medium-term upward trend fully intact – for the time being 3-wave – downward movement
– Today's opening in the pre-market with "fake" gap-up
– Price was at the lower end of the VA of the last trading day SAME WEIGHT
– Opening price below the pivot point (PP) as well as the VWAP of the last trading day
| | |
| --- | --- |
| Short-Ziel | 14207, 14134, 14110 |
| Long-Ziel | 14384, 14482, 14516 |
---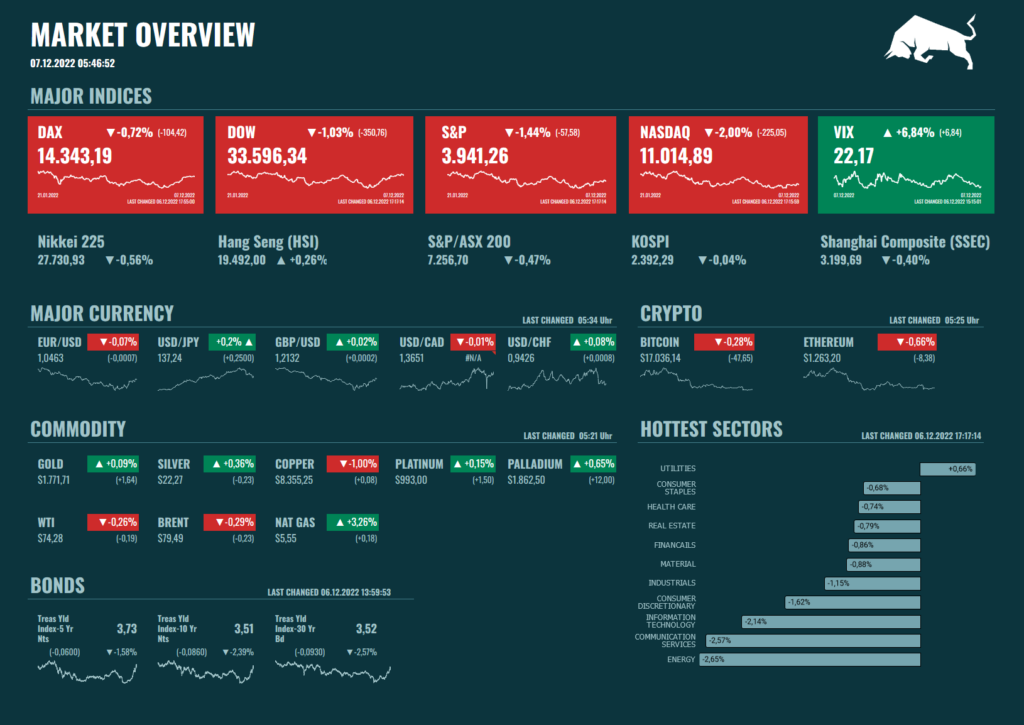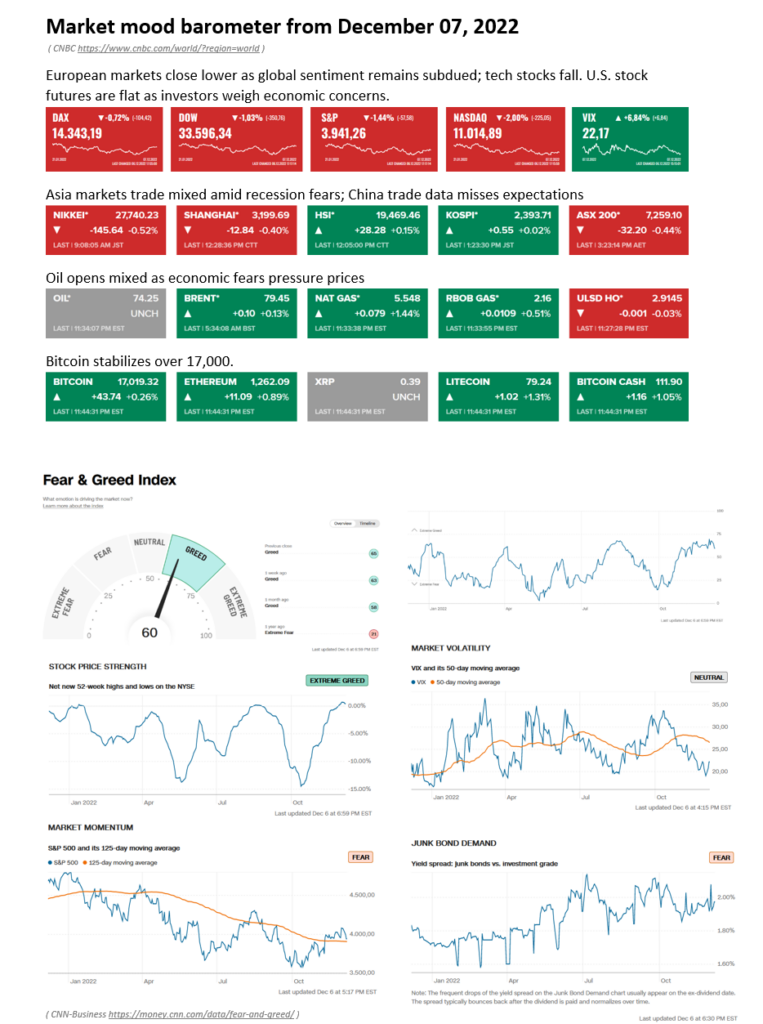 ---
Laut Market Profile heute Range. Vorbörslich positiv. Der letzte Handelstag führte den schwachen Wochenauftakt fort und schloss nahe dem Tagestief. Der Turnaround Tuesday fiel somit aus. Im daily sieht es nun nach einer Erschöpfung aus. Die über Tage bespielte Widerstandszone (14631 … 14353) wurde gestern per Tagesschlusskurs nach unten verlassen à erste Schwächezeichen. Dem gegenüber steht der Support um 14148 – starke kürzliche Käuferzone. Richtungsentscheidung wäre für mich eine echte Gap-Down Eröffnung in der Kassa.

In der kurzfristigen Zeit (M30) sehen wir weiter Schwäche – lower Highs und lower Lows. Die Käufer haben sich gestern am Tagestief zu erkennen gegeben (pos. Hammer – 21:00 Uhr). Diese Zone muss verteidigt werden (halten) um in eine Korrektur überzugehen.

Heute keine wichtigen Nachrichten bekannt. Morgen werden die US Erstanträge Arbeitslosenhilfe gemeldet.

Die aktuelle Konstellation könnte nicht verschachtelter sein: Jahresendrally, Aufwärtstrend, Top-Bildung, starke Widerstandszone, etc.. Kurzfristig über 14357/75 Long unter 14340 vorerst weiter Short.

Wenn man sich nicht die Finger verbrennen möchte, dann lieber an der Seitenlinie stehenbleiben und auf eindeutige Signale warten und folgen.
Bullish/Bearish Scenarios

Bullish Scenario
Nachhaltige Schlusskurs (M30) über 14357 sind erste Long-Anzeichen mit Zielen auf der Oberseite um 14440. Kommt Dynamik hinzu sind Ziele bis 14482 möglich.

Bearish Scenario
Bleibt der Kurs unter 14357/322 und kann sich nicht um 14271 stabilisieren suche ich Short-Einstiege mit Zielen auf der Unterseite bis 14207/187 und 14148.

Schlusskurse (M30) unter 14148, besonders jedoch im daily, zeigen Schwäche und könnten die große grüne Kerze (10.11.2022) bis zum Open um 13601 getestet werden.
According to Market Profile Range today. Pre-market positive. The last trading day continued the weak start to the week and closed near the daily low. The turnaround Tuesday thus failed. In the daily it now looks like exhaustion. The resistance zone played over days (14631 … 14353) was left yesterday per daily closing price down à first signs of weakness. Opposite, the support around 14148 – strong recent buyer zone. Direction decision would be for me a real gap-down opening in the cash.

In the short term (M30) we see further weakness – lower highs and lower lows. Buyers made their presence known yesterday at the daily low (pos. Hammer – 21:00). This zone must be defended (hold) to move into a correction.

Today, no important news known. Tomorrow, the US initial jobless claims will be reported.

The current constellation could not be more convoluted: Year-end rally, uptrend, top formation, strong resistance zone, etc.. Short term above 14357/75 long below 14340 continue short for now.

If you do not want to burn your fingers, then better to stay on the sidelines and wait for clear signals and follow.
Bullish/Bearish Scenarios

Bullish Scenario
Sustained close (M30) above 14357 are first long-signs with targets on the upside around 14440. If momentum is added, targets up to 14482 are possible.

Bearish scenario
If the price remains below 14357/322 and cannot stabilize around 14271, I look for short entries with targets on the downside to 14207/187 and 14148.

Closing prices (M30) below 14148, but especially in the daily, show weakness and could test the big green candle (10.11.2022) to the open around 13601.
Happy Trading 🙂

Matthias