FDAX – Future December, 19 2022
Daily market overview / Marktmeinung
Important News/public holidays
09:30 Uhr DE ifo-Geschäftklimaindex Deutschland (Dez)
Prognose: 87,4 Vorherige: 86,3
Neuer FDAX-Kontrakt (rollover am 15.12.2022)
…
09:30 DE ifo Business Climate Index Germany (Dec)
Forecast: 87.4 Previous: 86.3
New FDAX contract (rollover on 12/15/2022)
---
Trading day (Overview)
Market Profile
OPENING PRICE VERSUS DAY'S VA
in balance
Opening to VWAP
previous day (M30)
above
VA – Market Profile
Value Area previous DAY(VAH, POC, VAL)
14015 … 13963 … 13935
RANGE
(ATR 5)
246 points
Trading-Range
daily ATR(5)
14250 … 13758
Action Levels
Pivot Points
R3, R2, R1, PP, S1, S2, S3
in Trading-Rang
14227, 14109, 13999(PP), 13881, 13771
Previous Day/Today
Close / Open
13991/14004
Open VWAPs
in Trading-Range
14213
Open POCs
in Trading-Range
13963
Support
in Trading-Range
13941, 13913, 13788, 13755
Resist
in Trading-Range
14032, 14107, 14213
---
Daily (FDAX)
– Der letzte Handelstag wurde als neuer neg. Außenstab beendet (14117 … 13889)
– 3-wellige Korrekturbewegung
– Gestriger Schlusskurz unter dem daily support von 14148 à deutliche Schwäche.
– VWAP um 14565 à aktuelle Tagesschlusskurse da runter
– Wieder anziehendes Handelsvolumen
– Schlusskurs unter GD20 und der kurzfristigen Aufwärtstrendlinie
ansonsten über dem GD50, GD200 sowie der mittelfristigen Aufwärtstrendlinie
– Wichtiger Support um 12702 darunter dann weitere Jahrestiefs im daily
– The last trading day ended as a new neg. outer bar (14117 … 13889)
3-wave corrective movement
– Yesterday's close below the daily support of 14148 à clear weakness.
– VWAP around 14565 à current daily close down there.
– Trading volume picking up again
– Close below GD20 and the short-term uptrend line
– otherwise above GD50, GD200 and the medium-term uptrend line
– Important support around 12702 below then further annual lows in the daily
| | |
| --- | --- |
| Short-Ziel | 13785, 13645, 13582 |
| Long-Ziel | 14424, 14704 |
M30 (FDAX)
– Aktuell Abwärtstrend – 3-wellige Korrekturbewegung (mittelfristiger Aufwärtstrend intakt)
– Seit letzten Handelstag, higher lows und lower highs (Niemandsland)
– Markt befindet sich in der großen grünen Kerze vom 10.11.2022
– Eröffnungskurs innerhalb der VA des letzten Handelstages à GLEICHGEWICHT
– Eröffnungskurs unter dem Pivot Punkt (PP) aber über dem VWAP des letzten Handelstages
– Currently downtrend – 3-wave corrective move (medium-term uptrend intact).
– Since last trading day, higher lows and lower highs (no man's land)
– Market is within the big green candle of 10.11.2022
– Opening price within the VA of the last trading day à EQUAL WEIGHT
– Opening price below the pivot point (PP) but above the VWAP of the last trading day
| | |
| --- | --- |
| Short-Ziel | 13788, 13755 |
| Long-Ziel | 14107, 14216, 14392 |
---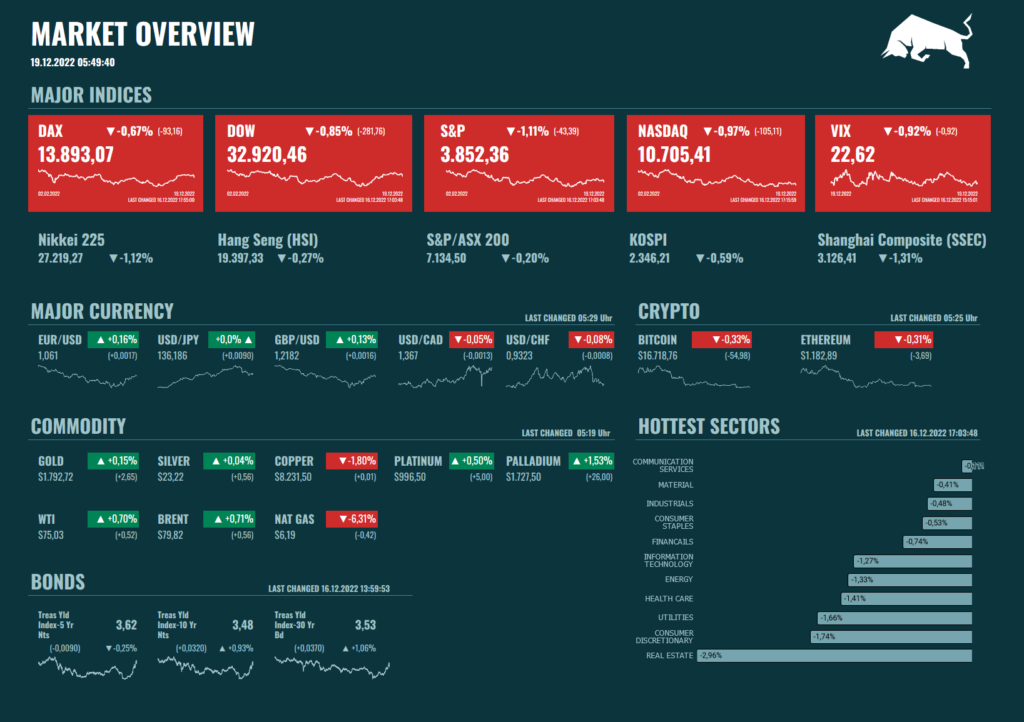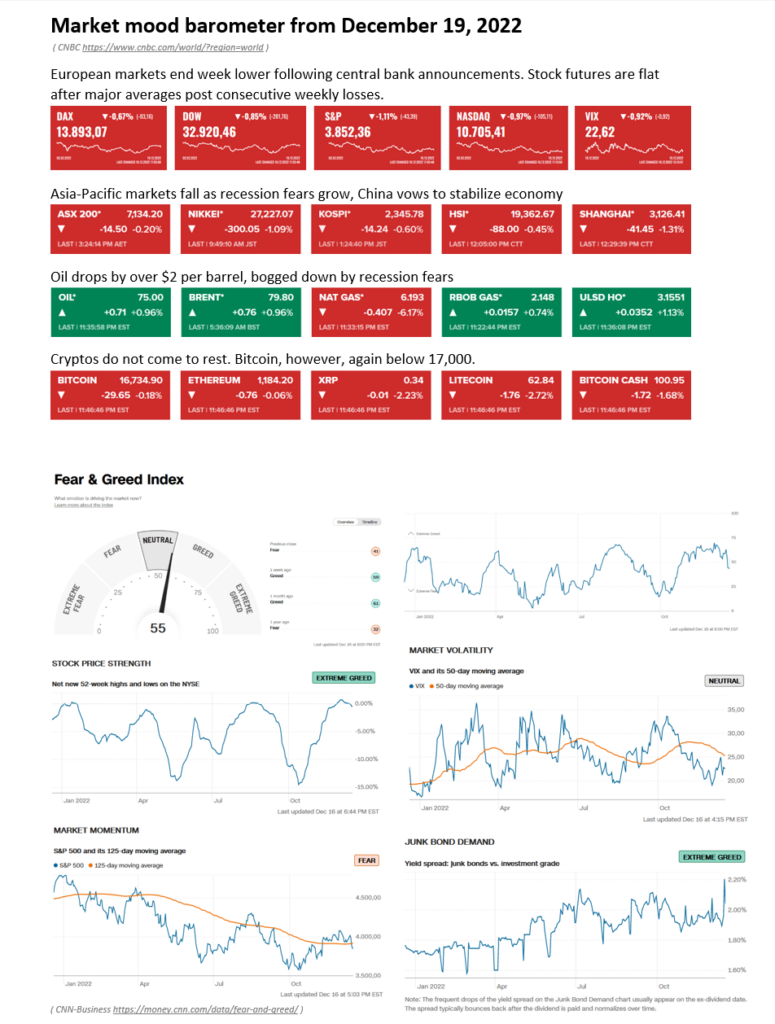 ---
Laut Market Profile heute Range. Vorbörslich uneinheitlich. Der letzte Handelstag konnte zum Handelsende die Verluste reduzieren. Der Markt befindet sich noch immer in einem Abwärtsimpuls mit dem Test der großen Aufwärtsbewegung vom 10.11.2022. Dieser Test kann auch noch bis zum Anfang der Aufwärtsbewegung gehen um 13682. Hier ist ebenfalls die nächste wichtige Support-Zone um 13785…13645. Der Jahresausklang an den Börsen beginnt, somit wird auch das Handelsvolumen abnehmen. Wir haben nun wieder ein Niveau erreicht, dass für die nächsten Tage ein attraktives Plateau darstellen könnte. Die letzten Handelstage des Jahres sahen in der Vergangenheit doch meist positiv aus. Große Bewegungen sehe ich aktuell nicht mehr, die meisten Händler werden sich bereits auf die Weihnachtsfeiertage und den Abschluss vorbereiten.

Im M30 sehen seit dem letzten Handelstag einen ersten Versuch einer Korrekturbewegung – noch nicht erfolgreich abgeschlossen! Das erste höhere Low lässt schon einmal aufhorchen. Bei einem Bruch der 13913 per Schlusskurs (M30) ist jedoch die leise Hoffnung bei mir schon wieder verflogen. Aktuell befinden wir uns im Niemandsland.
 
Grobe Orientierung für mich heute Schlusskurse unter 13913 (M30) short suchen. Schlusskurse (M30) über 14032 suche ich long.
Bullish/Bearish Scenarios

Bullish Scenario
Über 14032 werde ich aggressive versuchen in einen Long zu kommen – Signal vorausgesetzt. Ziele auf der Oberseite sind 14107 und 14213.

Bearish Scenario
Unter 13913 such ich nach shorts. Ziele sind dann neue Zwischentiefs bis 13788, 13755.
According to Market Profile Range today. Pre-market mixed. The last trading day could reduce the losses at the end of trading. The market is still in a downward impulse with the test of the major upward movement of 11/10/2022. This test can also still go to the beginning of the upward movement around 13682. Here is also the next important support zone around 13785…13645. The end of the year on the stock exchanges begins, thus the trading volume will also decrease. We have now reached a level again that could be an attractive plateau for the next few days. The last trading days of the year looked in the past but usually positive. Large movements I currently no longer see, most traders will already prepare for the Christmas holidays and the conclusion.

In the M30 see since the last trading day a first attempt at a corrective movement – not yet successfully completed! The first higher low already makes us sit up and take notice. With a break of 13913 per closing price (M30), however, the faint hope with me has already evaporated. Currently, we are in no-man's land.
 
Rough orientation for me today closing prices below 13913 (M30) short search. Closing prices (M30) above 14032 I look for long.
Bullish/Bearish Scenarios

Bullish Scenario
Above 14032 I will aggressively try to get into a long – signal provided. Targets on the upside are 14107 and 14213.

Bearish scenario
Below 13913 I look for shorts. Targets are then new intermediate lows to 13788, 13755.
Happy Trading 🙂

Matthias