FDAX – Future December, 16 2022
Daily market overview / Marktmeinung
Important News/public holidays
09:30 Uhr DE Einkaufsmanagerindex (EMI) Verarbeitendes Gewerbe Deutschland (Dez)
Prognose: 46,3 Vorherige: 46,2
11:00 Uhr DE Verbraucherpreisindex (VPI) (Jahr) (Nov) Prognose: 10,0% Vorherige: 10,0%
Kleiner Verfall!!
…
09:30 DE Purchasing Managers' Index (EMI) Manufacturing Germany (Dec)
Forecast: 46.3 Previous: 46.2
11:00 AM DE Consumer Price Index (CPI) (Year) (Nov) Forecast: 10.0% Previous: 10.0%
small expiration day!!
---
Trading day (Overview)
Market Profile
OPENING PRICE VERSUS DAY'S VA
out balance
Opening to VWAP
previous day (M30)
bellow
VA – Market Profile
Value Area previous DAY(VAH, POC, VAL)
14047 … 14293 … 14391
RANGE
(ATR 5)
250 points
Trading-Range
daily ATR(5)
14251 … 13751
Action Levels
Pivot Points
R3, R2, R1, PP, S1, S2, S3
in Trading-Rang
14305, 14136(PP), 13822
Previous Day/Today
Close / Open
13991/14001
Open VWAPs
in Trading-Range
14172, 13960
Open POCs
in Trading-Range
14293
Support
in Trading-Range
13918, 13710
Resist
in Trading-Range
14028, 14148, 14253
---
Daily (FDAX)
– Der letzte Handelstag wurde als neuer neg. Außenstab beendet (14450 … 13967)
– 3-wellige Korrekturbewegung
– Gestriger Schlusskurz unter dem daily support von 14148 -> deutliche Schwäche.
– Schlusskurs unter GD20 und der kurzfristigen Aufwärtstrendlinie
ansonsten über dem GD50, GD200 sowie der mittelfristigen Aufwärtstrendlinie
– Schlusskurs unter 14148 – noch einmal Beschleunigung des Abwärtsimpulses möglich
– Wichtiger Support um 12719 darunter dann weitere Jahrestiefs im daily
– The last trading day ended as a new neg. outer bar (14450 … 13967)
3-wave corrective movement
– Yesterday's close below daily support of 14148 à clear weakness.
– Closing below GD20 and the short-term uptrend line.
– otherwise above GD50, GD200 as well as the medium-term upward trend line
– Closing price below 14148 – once again acceleration of the downward impulse possible
– Important support around 12719 below then further annual lows in the daily
| | |
| --- | --- |
| Short-Ziel | 13718, 13634, 13590 |
| Long-Ziel | 14148, 14295 |
M30 (FDAX)
– Mittelfristiger Aufwärtstrend intakt
– Aktuell Abwärtstrend – 3-wellige Korrekturbewegung
– Eröffnungskurs unter der VA des letzten Handelstages à UNGLEICHGEWICHT
– Eröffnungskurs unter dem Pivot Punkt (PP) sowie dem VWAP des letzten Handelstages
– Medium-term upward trend intact
– Currently downtrend – 3-wave corrective movement
– Opening price below the VA of the last trading day -> UNBALANCED
– Opening price below the pivot point (PP) as well as the VWAP of the last trading day
| | |
| --- | --- |
| Short-Ziel | 13918, 13822, 13653 |
| Long-Ziel | 14172, 14253, 14312 |
---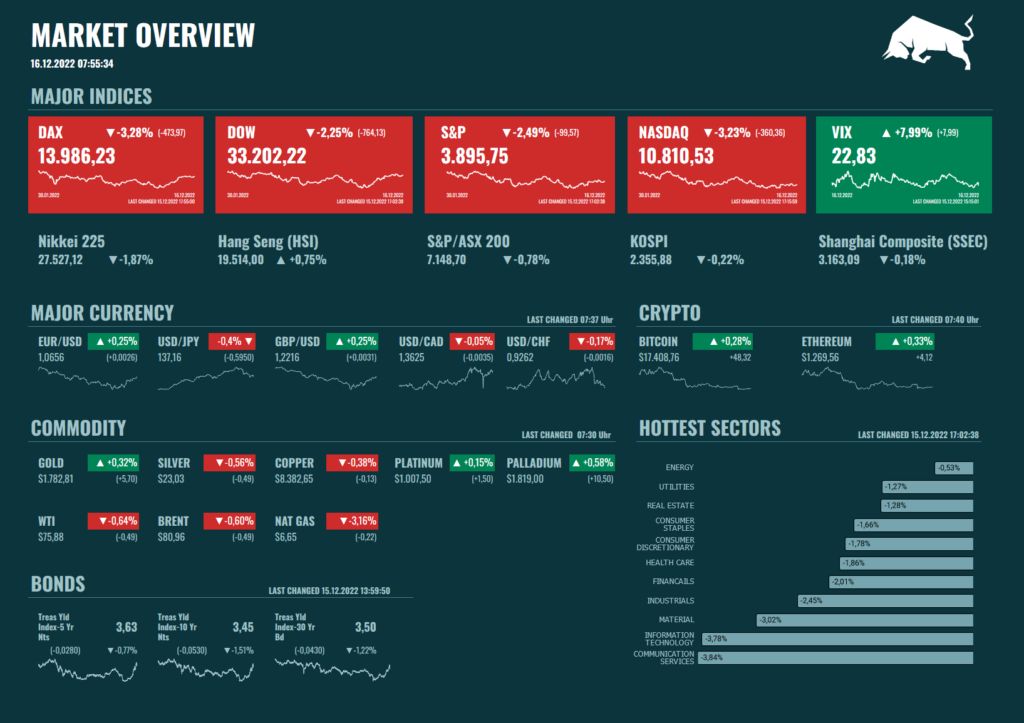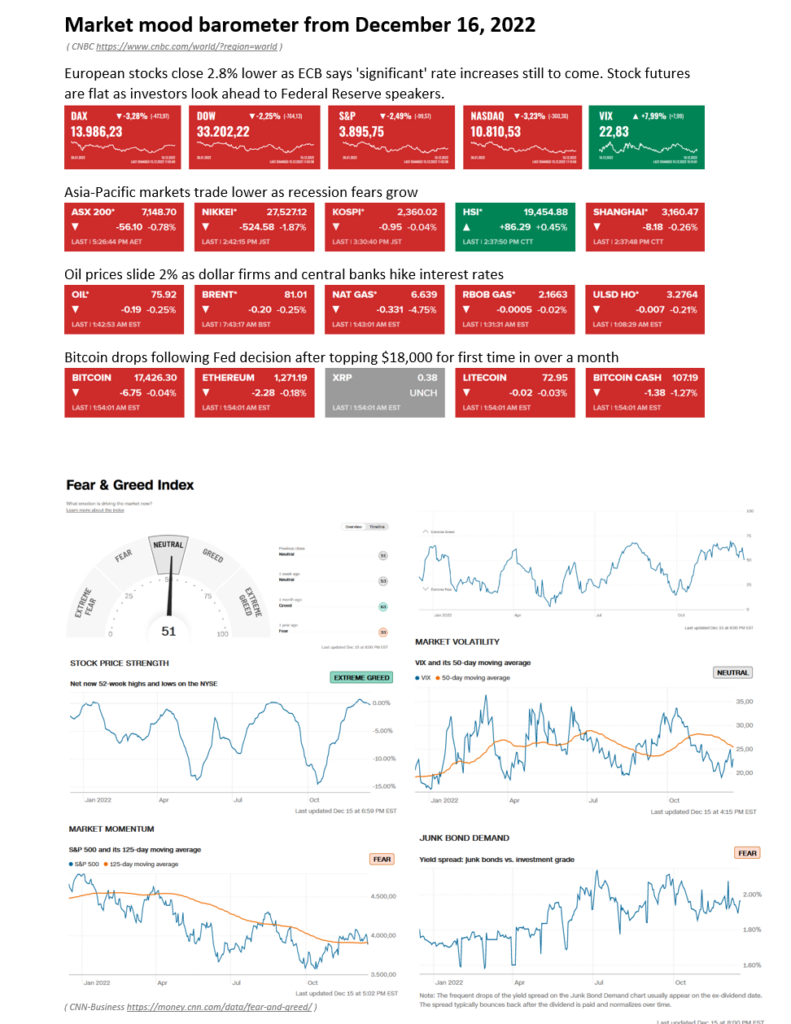 ---
Laut Market Profile heute Trend folgend. Vorbörslich uneinheitlich. Der letzte Handelstag wurde durch den EZB-Zinsentscheid und die noch folgenden Schritte maßgeblich beeinflusst. Die wichtige Unterstützungszone im 14148 wurde per Tagesschlusskurs herausgenommen. Dies zeugt vorerst für Schwäche. Dennoch ist der mittelfristig Aufwärtsimpuls noch intakt. Dennoch gehe ich erstmal von weitere fallenden Kursen aus. Der nächste Support-Bereich im daily liegt bei 13712 … 13575. Hier sollte sich der Kurs spätestens fangen um den Aufwärtsimpuls wieder aufzunehmen.

Im M30 sehen wir den Abwärtsdruck der gestern nach 14:00 Uhr entstanden ist. Dieser sollte vorerst einen Rücklauf vollziehen. Kurzfristiger Abwärtstrend ist aktuell intakt. Mit dem heutigen kleinen Verfall an den Optionsmärkten kann es zusätzlich noch einmal turbulent werden – bis 12:30/13:30 Uhr. Danach sollten sich die Wogen wieder glätten. Die letzte volle Handelswoche beginnt am nächsten Montag. Eventuell sehen wir noch einen versöhnlichen Jahresausklang.
 
Grundsätzlich suche ich heute primär shorts solange wir unter 14028 per Schlusskurs im M30 bleiben. Long denke ich erst, wenn wir die 14047 per Schlusskurs im M30 herausgenommen haben und Stärke zu sehen ist.
Bullish/Bearish Scenarios

Bullish Scenario
Über 14047 per M30 Schlusskurs Long suchen mit Zielen auf der Oberseite um 14136, 14172 und 14293.

Bearish Scenario
Bei Schlusskurs unter 14028 suche ich Shorts mit Zielen bei 13822 und 13710.

Wie gesagt der kleine Verfall ist heute. Viele Trader lassen genau diesen Tag aus um nicht in den Strudel der Optionshändler zu geraten. Also entweder Montag wieder traden und heute einen besinnlichen Tag genießen oder sehr eng am Markt bleiben.
According to Market Profile today trend following. Pre-market mixed. The last trading day was significantly influenced by the ECB interest rate decision and the still following steps. The important support zone in the 14148 was taken out per daily closing price. This testifies to weakness for the time being. Nevertheless, the medium-term upward momentum is still intact. Nevertheless, I expect further falling prices for now. The next support area in the daily is at 13712 … 13575. Here, the price should catch at the latest to resume the upward momentum.

In the M30, we see the downward pressure that arose yesterday after 14:00. This should complete a retracement for now. Short-term downtrend is currently intact. With today's small expiration on the options markets, it may additionally become turbulent again – until 12:30/13:30. After that, the waves should smooth out again. The last full trading week begins next Monday. Possibly we still see a conciliatory end of the year.
 
Basically, I am looking today primarily shorts as long as we remain below 14028 per closing price in the M30. Long I think only when we have taken out the 14047 per closing price in the M30 and strength is seen.
Bullish/Bearish Scenarios

Bullish Scenario
Look long above 14047 per M30 close with upside targets around 14136, 14172 and 14293.

Bearish scenario
At close below 14028, I look for shorts with targets at 13822 and 13710.

As I said the small expiration is today. Many traders skip this very day to avoid getting caught in the whirlpool of options traders. So either trade Monday again and enjoy a contemplative day today or stay very close to the market.
Happy Trading 🙂

Matthias