FDAX – Future February, 01 2023
Daily market overview / Marktmeinung
JETZT Ausführliche marktmeinung als PDF
Important News/public holidays
TERMINE UNTERNEHMEN
06:45 ESP: BBVA, Q4-Zahlen
07:00 KOR: Hynix, Q4-Zahlen
07:00 CHE: Novartis, Q4-Zahlen (9.30 PK, 14.00 Call)
07:00 DEU: Software, Q4-Zahlen
07:30 AUT: Raiffeisen International, Q4-Zahlen
07:30 DNK: Novo Nordisk, Q4-Zahlen
07:30 SWE: Husqvarna, Q4-Zahlen
08:00 CHE: Glencore, Q4-Produktionsbericht
08:00 EUR: Acea, Neuzulassungen von Fahrzeugen mit alternativen Antrieben Q4/22
08:00 GBR: GSK, Q4-Zahlen
08:00 GBR: Vodafone Group, Q3-Umsatz
12:30 USA: Boston Scientific, Q4-Zahlen
13:00 USA: T-Mobile US, Q4-Zahlen
22:00 USA: Align Technology, Q4-Zahlen
22:05 USA: Meta, Q4-Zahlen
22:15 USA: Allstate, Q4-Zahlen
TERMINE KONJUNKTUR
08:00 DEU: Destatis: Bauflation: Preise ausgewählter Baumaterialien und
Baugenehmigungen, Jahr 2022, Januar – November 2022
09:15 SPA: Einkaufsmanagerindex verarbeitendes Gewerbe 01/23
09:45 ITA: Einkaufsmanagerindex verarbeitendes Gewerbe 01/23
09:50 FRA: Einkaufsmanagerindex verarbeitendes Gewerbe 01/23 (2. Veröffentlichung)
09:55 DEU: Einkaufsmanagerindex verarbeitendes Gewerbe 01/23 (2. Veröffentlichung)
10:00 EUR: Einkaufsmanagerindex verarbeitendes Gewerbe 01/23 (2. Veröffentlichung)
10:30 GBR: Einkaufsmanagerindex verarbeitendes Gewerbe 01/23 (2. Veröffentlichung)
11:00 EUR: Arbeitslosenquote 12/22
11:00 EUR: Verbraucherpreise 12/22
11:00 ITA: Verbraucherpreise 01/23 (vorläufig)
14:15 USA: ADP-Beschäftigungsänderung 01/23
15:45 USA: Einkaufsmanagerindex verarbeitendes Gewerbe 01/23 (2. Veröffentlichung)
16:00 USA: ISM-Index verarbeitendes Gewerbe 01/23
16:00 USA: Bauausgaben 12/22
16:30 USA: EIA-Ölbericht (Woche)
20:00 USA: Fed, Notenbankentscheidung + 20.30 Pressekonferenz
USA: KfZ-Absatz 01/23
SONSTIGE TERMINE
09:00 DEU: Fortsetzung Prozess gegen den früheren Wirecard-Vorstandschef Markus Braun
DEU: Erster Tag Wirtschaftswoche-Mittelstandstreffen "Gipfeltreffen der Weltmarktführer" (bis 02.02.)
USA: Gespräche über Schuldengrenze in den USA
US-Präsident Joe Biden trifft den Vorsitzenden des Repräsentantenhauses, Kevin McCarthy, zu Gesprächen über die Schuldengrenze
Krieg in der Ukraine
Feiertage:
…
DATES COMPANY
06:45 ESP: BBVA, Q4 figures
07:00 KOR: Hynix, Q4 figures
07:00 CHE: Novartis, Q4 figures (9.30 PK, 14.00 Call)
07:00 DEU: Software, Q4 figures
07:30 AUT: Raiffeisen International, Q4 figures
07:30 DNK: Novo Nordisk, Q4 figures
07:30 SWE: Husqvarna, Q4 figures
08:00 CHE: Glencore, Q4 production report
08:00 EUR: Acea, new registrations of vehicles with alternative drive systems Q4/22
08:00 GBR: GSK, Q4 figures
08:00 GBR: Vodafone Group, Q3 revenues
12:30 USA: Boston Scientific, Q4 figures
13:00 USA: T-Mobile US, Q4 figures
22:00 USA: Align Technology, Q4 figures
22:05 USA: Meta, Q4 figures
22:15 USA: Allstate, Q4 figures
BUSINESS CYCLE DATES
08:00 DEU: Destatis: Constructionlation: Prices of selected building materials and
building permits, year 2022, January – November 2022
09:15 SPA: Purchasing Managers' Index Manufacturing 01/23
09:45 ITA: Purchasing Managers' Index Manufacturing 01/23
09:50 FRA: Purchasing Managers' Index Manufacturing 01/23 (2nd release)
09:55 DEU: Purchasing Managers' Index Manufacturing 01/23 (2nd release)
10:00 EUR: Purchasing Managers' Index Manufacturing 01/23 (2nd release)
10:30 GBR: Purchasing Managers' Index Manufacturing 01/23 (2nd release)
11:00 EUR: Unemployment Rate 12/22
11:00 EUR: Consumer Prices 12/22
11:00 ITA: Consumer Prices 01/23 (preliminary)
14:15 USA: ADP Employment Change 01/23
15:45 USA: Purchasing Managers' Index Manufacturing 01/23 (2nd release)
16:00 USA: ISM manufacturing index 01/23
16:00 USA: Construction Spending 12/22
16:30 USA: EIA oil report (week)
20:00 USA: Fed, central bank decision + 20.30 press conference
USA: Motor vehicle sales 01/23
OTHER DATES
09:00 DEU: Continuation of trial against former Wirecard CEO Markus Braun
DEU: First day of Wirtschaftswoche SME meeting "Summit of world market leaders" (until 02/02)
USA: Talks on debt ceiling in the USA
U.S. President Joe Biden meets House of Representatives Speaker Kevin McCarthy for debt ceiling talks
War in Ukraine
Holidays:
---
Trading day (Overview)
Market Profile
OPENING PRICE VERSUS DAY'S VA
out balance
Opening to VWAP
previous day (M30)
above
VA – Market Profile
Value Area previous DAY(VAH, POC, VAL)
15188 … 15176 … 15096
RANGE
(ATR 5)
170 Points
Trading-Range
daily ATR(5)
15377 … 15037
Action Levels
Pivot Points
R3, R2, R1, PP, S1, S2, S3
in Trading-Rang
15380, 15311, 15175(PP), 15106, 14970
Previous Day/Today
Close / Open
15243/15207
Open VWAPs
in Trading-Range
15133
Open POCs
in Trading-Range
15348, 15176
Support
in Trading-Range
15170, 15188, 15066, 15035
Resist
in Trading-Range
15219, 15260, 15312, 15330, 15370
---
Daily (FDAX)
– Der letzte Handelstag wurde innerhalb des aktiven positiven Außenstabes vom 26.01.2023 (15274 … 15119) beendet
– Negativer IB und positiver OB (17.01.2023) am Zwischenhoch → Reaktion
– Sehr bullische Price-Action in den letzten Handelstagen, Hamme-Formationen
– Durchschnittliches Handelsvolumen
– stabile Volatilität
– Aufwärtstrend immer noch voll intakt – Konsolidierung
– Möglicher Wendpunkt (Korrektur) unter 15140 per Tagesschlusskurs
– Support-Zone um 14744 … 14446
– Schlusskurs über GD200, GD50, GD20 im Future und Kassa Markt
– Steigende Anstiege der GD20, GD50 und GD200
– The last trading day ended within the active positive outer bar from 01/26/2023 (15274 … 15119)
– Negative IB and positive OB (01/17/2023) at the intermediate high → reaction.
– Very bullish price action in the last trading days, Hamme formations.
– Average trading volume
– Stable volatility
– Upward trend still fully intact – consolidation
– Possible reversal point (correction) below 15140 per daily closing price
– Support zone around 14744 … 14446
– Closing price above GD200, GD50, GD20 in the future and spot market
– Rising upward of GD20, GD50 and GD200
| | |
| --- | --- |
| Short-Ziel | 14961, 14744, 14595, 14446 |
| Long-Ziel | 15480, 15639 |
M30 (FDAX)
– Range zwischen 15330 … 14961
– Engere Range in den letzten Handelstagen bei 15274 und 15035
– Der heutige Eröffnungskurs lag oberhalb der VA des letzten Handelstages → UNGLEICHGEWICHT.
– Eröffnungskurs über dem Pivot Punkt (PP) und über dem VWAP des letzten Handelstages
– steigende Pivot Punkte und fallende VA's
– Range between 15330 … 14961
– Tighter range in the last trading days at 15274 and 15035.
– Today's opening price was above the VA of the last trading day → UNBALANCED.
– Opening price above the pivot point (PP) and above the VWAP of the last trading day.
– Rising Pivot Points and falling VA's.
| | |
| --- | --- |
| Short-Ziel | 15133 (VWAP), 15066, 15035, 14961 |
| Long-Ziel | 15312, 15330, 15348(POC) |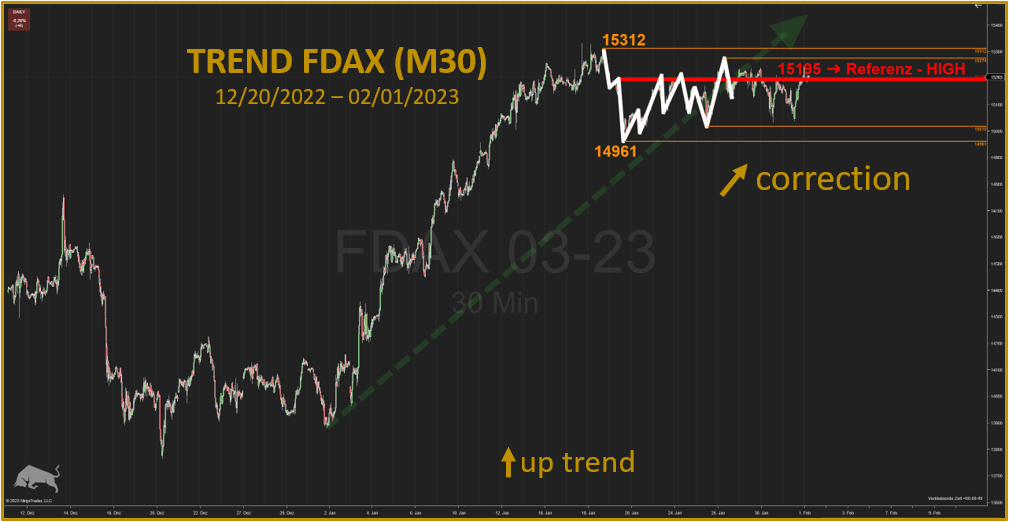 ---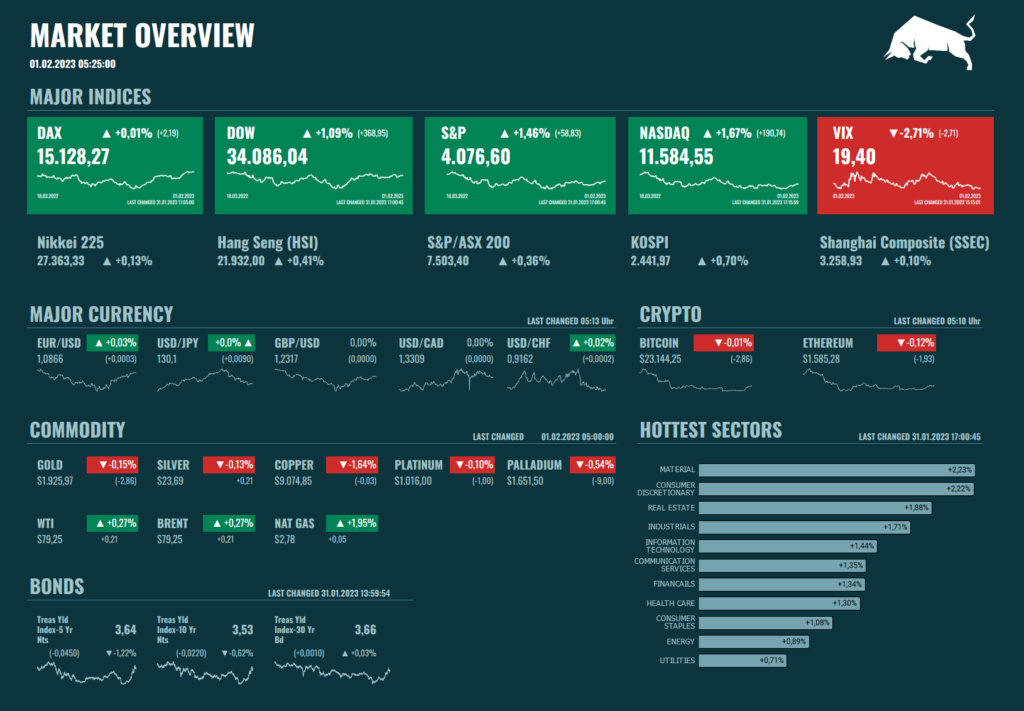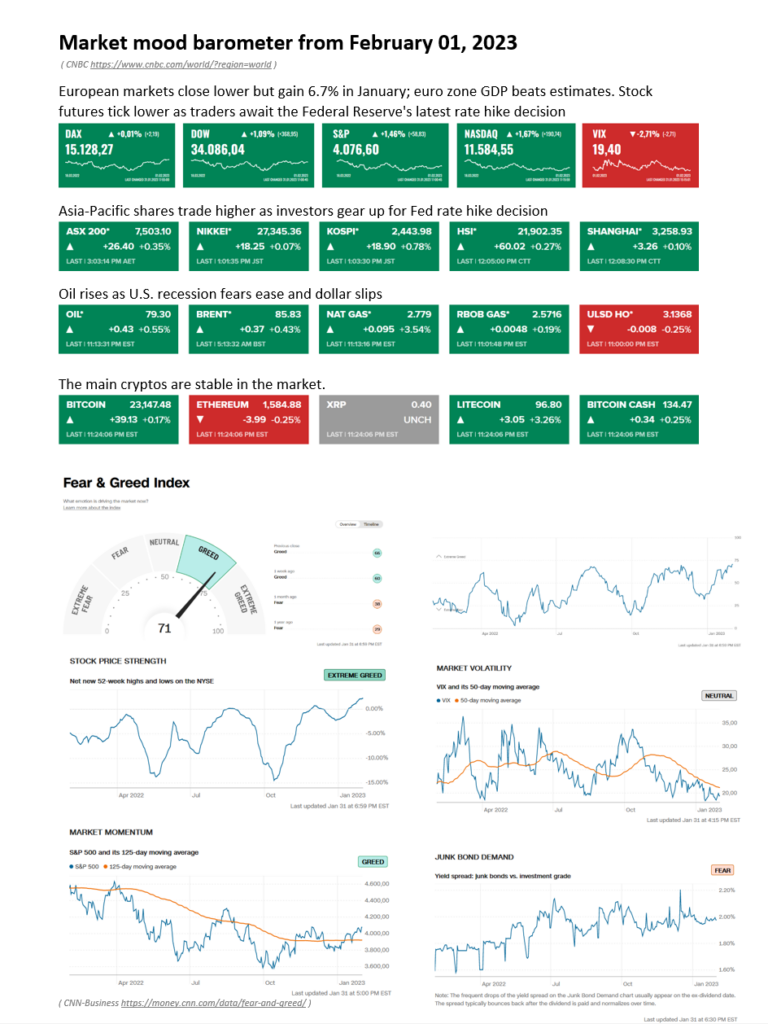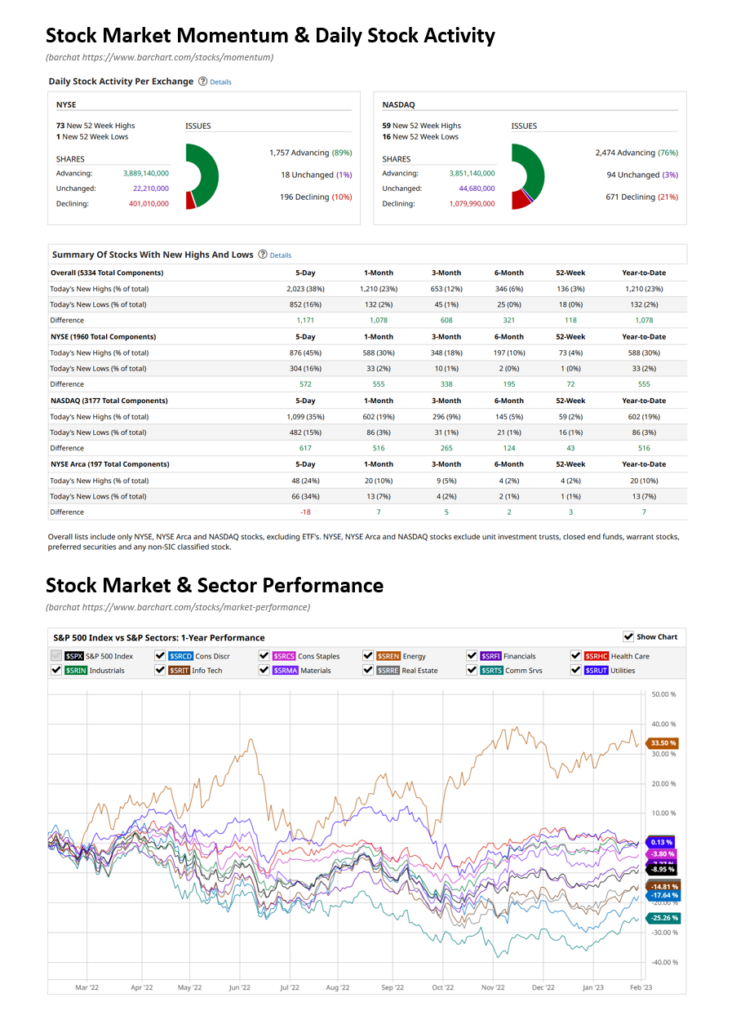 ---
Laut Market Profile heute Trend folgend. Vorbörslich negativ. Aktuell im daily seit Tagen in einer engen Range am Top der letzten Aufwärtsbewegung. Hammer-Kerzenformation in den letzten Handelstagen – tiefere Kurse werden immer wieder genutzt um einzusteigen. Technische Indikatoren sprechen für einen überkauften Markt. Tagesschlusskurse unter 15140 sprechen weiterhin für eine mögliche 3. Abwärtsbewegung. Der Aufwärtstrend ist jedoch immer noch voll intakt! Mit der Konsolidierung auf hohem Niveau wurde das Preisniveau vorerst bestätigt.

In der kurzfristiger Zeitebene (M30) ist der Markt immer noch einer Range gefangen um 15274 und 15035. Range-Handel ist wieder an den Extrempunkten möglich – Vorsicht vor der aktuellen Nachrichtenflut aus den USA ab dem Nachmittag.

Neben der wieder überbordenen Anzahl an Quartalsberichten – wie von META, T-Mobile, Allstate, Alltria – stehen heute die FED Aussage zur weiteren Zinsentscheidung auf der Beobachtungsliste der Marktteilnehmer. Zudem stehen Daten zum US-Einkaufsmanagerindex sowie die Änderung der US-Beschäftigungszahlen (von ADP) am frühen Nachmittag an. Diese sind weitere Indikatoren zur Abschätzung der aktuellen US-Wirtschaftslage. Es kann somit zum Nachmittag, spätestens jedoch zum Abend zu größeren Kursschwankungen kommen.

Heute keine Szenarien für den aktuellen Handelstag.
Bullish/Bearish Scenarios

Bullish Scenario
–

Bearish Scenario
–

According to Market Profile today trend following. Pre-market negative. Currently in the daily for days in a narrow range at the top of the last upward movement. Hammer candle formation in recent trading days – lower prices are always used to enter. Technical indicators speak for an overbought market. Daily closing prices below 15140 continue to speak for a possible 3rd downward movement. However, the upward trend is still fully intact! With the consolidation at a high level, the price level was confirmed for the time being.

In the short-term time level (M30), the market is still a range trapped around 15274 and 15035. Range trading is again possible at the extreme points – beware of the current flood of news from the U.S. from the afternoon.

In addition to the again exuberant number of quarterly reports – such as from META, T-Mobile, Allstate, Alltria – are today the FED statement on the further interest rate decision on the watch list of market participants. In addition, data on the U.S. Purchasing Managers Index and the change in U.S. employment figures (from ADP) in the early afternoon. These are further indicators to estimate the current U.S. economic situation. Thus, there may be major price fluctuations in the afternoon, but at the latest in the evening.

Today, no scenarios for the current trading day.
Bullish/Bearish Scenarios

Bullish Scenario
–

Bearish scenario
–

Happy Trading 🙂

Matthias