FDAX – Future January, 31 2023
Daily market overview / Marktmeinung
JETZT Ausführliche marktmeinung als PDF
Important News/public holidays
TERMINE UNTERNEHMEN
00:45 KOR: Samsung, Q4-Zahlen (detailliert)
06:45 CHE: UBS, Q4-Zahlen
07:00 ITA: Unicredit, Q4-Zahlen
07:30 DEU: Atoss Software, Q4-Zahlen (detailliert)
12:00 SWE: Spotify, Q4-Zahlen
12:00 USA: UPS, Q4-Zahlen
12:30 USA: Caterpillar, Q4-Zahlen
12:30 USA: General Motors, Q4-Zahlen
12:45 USA: Pfizer, Q4-Zahlen
13:00 USA: Corning, Q4-Zahlen
13:00 USA: McDonald's, Q4-Zahlen
13:30 USA: ExxonMobil, Q4-Zahlen
22:00 USA: Electronic Arts, Inc, Q3-Zahlen
22:00 USA: Amgen, Q4-Zahlen
22:10 USA: Snap Inc., Q4-Zahlen
22:15 USA: AMD, Q4-Zahlen
TERMINE KONJUNKTUR
08:45 FRA: Erzeugerpreise 01/23
09:55 DEU: Arbeitsmarktdaten 01/23
10:00 EUR: EZB-Quartalsbericht zur Kreditvergabe
11:00 EUR: BIP Q4/22
14:30 USA: Beschäftigungskostenindex Q4/22
15:00 USA: FHFA Hauspreisindex 11/22
15:45 USA: Chicago Einkaufsmanagerindex 01/23
16:00 USA: Verbrauchervertrauen 01/23
22:30 USA: Api-Rohöllagerdaten
SONSTIGE TERMINE
Krieg in der Ukraine
Feiertage:
…
DATES COMPANY
00:45 KOR: Samsung, Q4 figures (detailed)
06:45 CHE: UBS, Q4 figures
07:00 ITA: Unicredit, Q4 figures
07:30 DEU: Atoss Software, Q4 figures (detailed)
12:00 SWE: Spotify, Q4 figures
12:00 USA: UPS, Q4 figures
12:30 USA: Caterpillar, Q4 figures
12:30 USA: General Motors, Q4 figures
12:45 USA: Pfizer, Q4 figures
13:00 USA: Corning, Q4 figures
13:00 USA: McDonald's, Q4 figures
13:30 USA: ExxonMobil, Q4 figures
22:00 USA: Electronic Arts, Inc, Q3 figures
22:00 USA: Amgen, Q4 figures
22:10 USA: Snap Inc, Q4 figures
22:15 USA: AMD, Q4 figures
BUSINESS CYCLE DATES
08:45 FRA: Producer Prices 01/23
09:55 DEU: Labor Market Data 01/23
10:00 EUR: ECB quarterly lending report
11:00 EUR: GDP Q4/22
14:30 USA: Employment Cost Index Q4/22
15:00 USA: FHFA House Price Index 11/22
15:45 USA: Chicago Purchasing Managers Index 01/23
16:00 USA: Consumer Confidence 01/23
22:30 USA: Api Crude Oil Inventories Data
OTHER DATES
---
Trading day (Overview)
Market Profile
OPENING PRICE VERSUS DAY'S VA
in balance
Opening to VWAP
previous day (M30)
above
VA – Market Profile
Value Area previous DAY(VAH, POC, VAL)
15187 … 15149 … 15107
RANGE
(ATR 5)
161 Points
Trading-Range
daily ATR(5)
15325 … 15003
Action Levels
Pivot Points
R3, R2, R1, PP, S1, S2, S3
in Trading-Rang
15311, 15230, 15132(PP), 15051, 14953
Previous Day/Today
Close / Open
15150/15164
Open VWAPs
in Trading-Range
–
Open POCs
in Trading-Range
–
Support
in Trading-Range
15067, 15035, 15005
Resist
in Trading-Range
15179, 15205, 15242/60, 15312
---
Daily (FDAX)
– Der letzte Handelstag wurde innerhalb des aktiven positiven Außenstabes vom 26.01.2023 (15274 … 15119) beendet
– Negativer IB und positiver OB (17.01.2023) am Zwischenhoch → Reaktion
– Sehr bullische Price-Action in den letzten Handelstagen, erneut gestern neg. Hammer
– Durchschnittliches Handelsvolumen
– Abnehmende Volatilität
– Aufwärtstrend immer noch voll intakt
– Möglicher Wendpunkt (Korrektur) unter 15140 per Tagesschlusskurs
– Support-Zone um 14744 … 14446
– Schlusskurs über GD200, GD50, GD20 im Future und Kassa Markt
– Steigende Anstiege der GD20, GD50 und GD200
– The last trading day ended within the active positive outer bar from 01/26/2023 (15274 … 15119)
– Negative IB and positive OB (01/17/2023) at the intermediate high → reaction.
– Very bullish price action in the last trading days, again yesterday neg. hammer
– Average trading volume
– Decreasing volatility
– Upward trend still fully intact
– Possible reversal point (correction) below 15140 as per daily closing price.
– Support zone around 14744 … 14446
– Closing price above GD200, GD50, GD20 in the future and spot market
– Rising upward of the GD20, GD50 and GD200
| | |
| --- | --- |
| Short-Ziel | 14961, 14744, 14595, 14446 |
| Long-Ziel | 15480, 15639 |
M30 (FDAX)
– Range zwischen 15330 … 14961
– Engere Range in den letzten Handelstagen bei 15274 und 15119
– Tiefere Hochs und tiefere Tiefs
– Der heutige Eröffnungskurs lag innerhalb der VA des letzten Handelstages → GLEICHGEWICHT. In der Vorbörse bereits das VAL getestet
– Eröffnungskurs über dem Pivot Punkt (PP) und über dem VWAP des letzten Handelstages
– Fallende Pivot Punkte und fallende VA's
– Range between 15330 … 14961
– Tighter range in the last trading days at 15274 and 15119
– Lower highs and lower lows
– Today's opening price was within the VA of the last trading day → EQUAL WEIGHT. Already tested the VAL in the pre-market
– Opening price above the pivot point (PP) and above the VWAP of the last trading day.
– Falling pivot points and falling VA's.
| | |
| --- | --- |
| Short-Ziel | 15035, 15005, 14961 |
| Long-Ziel | 15205, 15242, 15312 |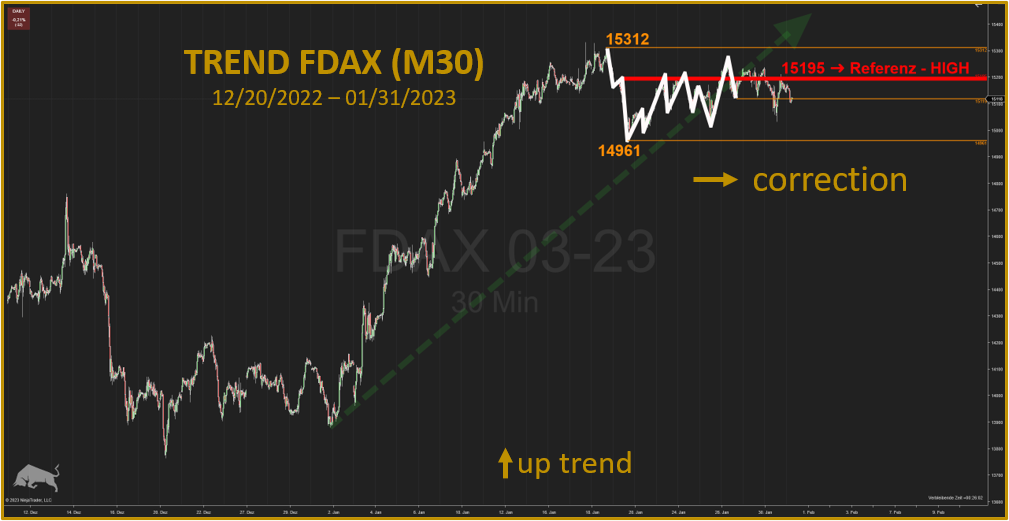 ---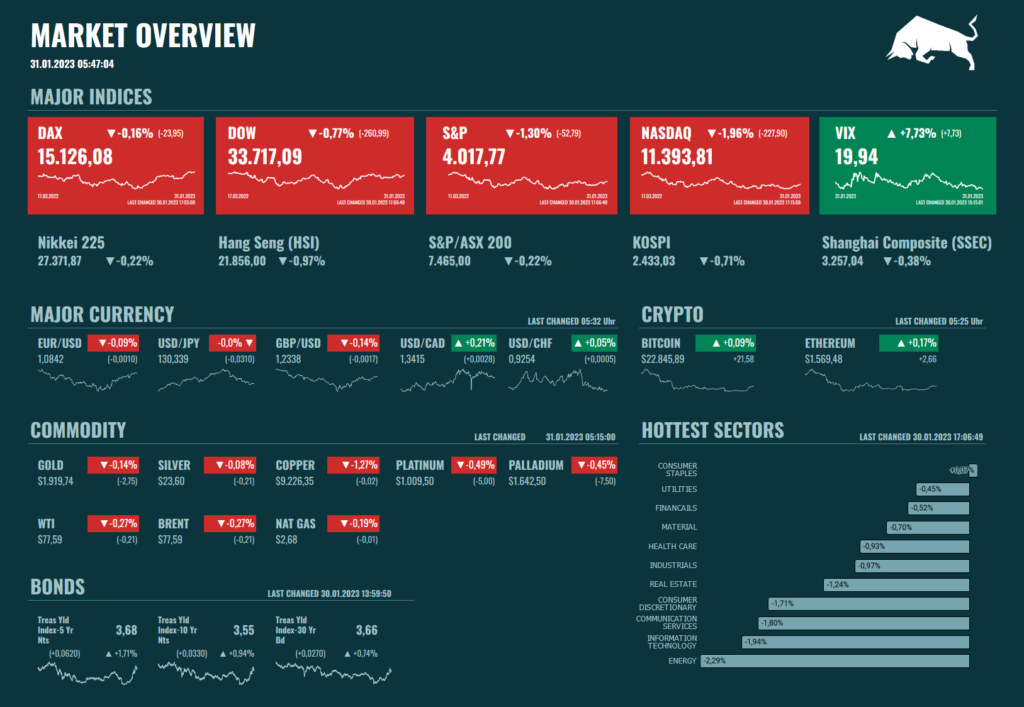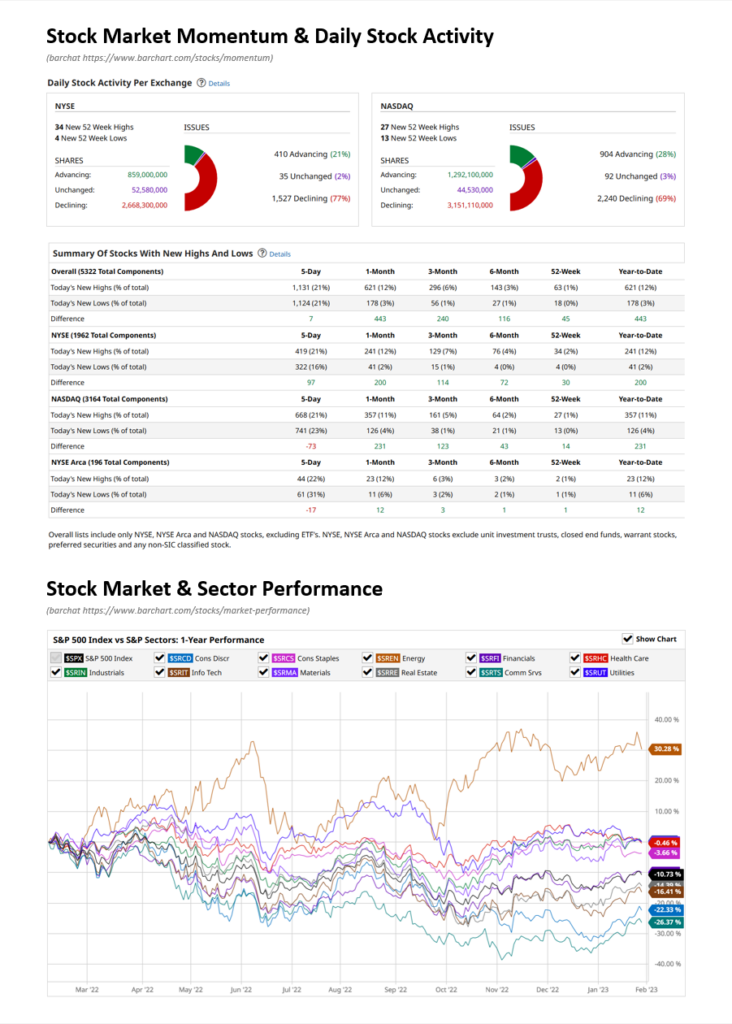 ---
Laut Market Profile heute Range. Vorbörslich negativ. Aktuell im daily seit Tagen in einer engen Range am Top der letzten Aufwärtsbewegung. Hammer-Kerzenformation in den letzten Handelstagen – tiefere Kurse werden immer wieder genutzt und einzusteigen. Technische Indikatoren sprechen für einen überkauften Markt. Tagesschlusskurse unter 15140 sprechen weiterhin für eine mögliche 3. Abwärtsbewegung. Der Aufwärtstrend ist jedoch immer noch voll intakt!

In der kurzfristiger Zeitebene (M30) ist der Markt in einer Range gefangen. Das Bild ist kurzfristig unklar. Der Aufwärtstrend wurde durch eine Korrektur abgelöst und in dieser befindet sich der Markt immer noch. Kurzfristig ist eine fallende Struktur erkennbar.

Heute stehen wieder Quartalsberichte von großen US Unternehmen an wie: AMD, Amgen, Snap Inc., Electronic Arts, Pfizer, General Motors usw.. Ebenfalls wird heute das CB Verbrauchervertrauen aus den USA um 16:00 Uhr gemeldet. Marktbewegungen sind somit durch die Zahlenflut wahrscheinlich.

An den Extrempunkten (15242/15260 … 15035/05) kann auf eine Umkehr (Range-Handel) spekuliert werden.
Bullish/Bearish Scenarios

Bullish Scenario
Zeigt sich um 15067 ein Long-Signal, würde ich diesem mit engem Stopp folgen. Ziele auf der Oberseite sind dann 15179/205. Wird per M30 Schlusskurs die 15205 überwunden, kann noch einmal ein Angriff auf die 15260 folgen. Kurse darüber können Ziele bis 15312 signalisieren.

Bearish ScenarioSchaffen wir keinen Durchbruch per M30 Schlusskurs über der 15179, sollte der Markt noch einmal Anlauf nehmen, dann suche ich nach Short-Signalen. Ziele auf der Unterseite sind 15035, 15005. Wenn wir jedoch zuerst ein neues Zwischentief (unter 15035) suche ich in den Rückläufen Short-Einstiege.

According to Market Profile Range today. Pre-market negative. Currently in the daily for days in a narrow range at the top of the last upward movement. Hammer candle formation in recent trading days – lower prices are always used and enter. Technical indicators speak for an overbought market. Daily closing prices below 15140 continue to speak for a possible 3rd downward movement. However, the upward trend is still fully intact!

In the short-term time frame (M30), the market is trapped in a range. The picture is unclear in the short term. The upward trend was replaced by a correction and in this the market is still. In the short term, a falling structure is visible.

Today, quarterly reports from major U.S. companies are due again such as: AMD, Amgen, Snap Inc, Electronic Arts, Pfizer, General Motors, etc.. Also today, the CB consumer confidence from the U.S. is reported at 16:00. Market movements are thus likely due to the flood of numbers.

At the extreme points (15242/15260 … 15035/05) can be speculated on a reversal (range trading).
Bullish/Bearish Scenarios

Bullish Scenario
If a long signal appears around 15067, I would follow it with a tight stop. Targets on the upside are then 15179/205. If the 15205 is overcome by M30 closing price, an attack on the 15260 can follow once again. Prices above it can signal targets to 15312.

Bearish scenario
If we fail to break above 15179 per M30 close, the market should take another run-up, then I look for short signals. Targets on the downside are 15035, 15005, but if we first make a new intermediate low (below 15035) I look for short entries in the retracements.
Happy Trading 🙂

Matthias