FDAX – Future February, 14 2023
Daily market overview / Marktmeinung
JETZT Ausführliche marktmeinung als PDF
Important News/public holidays
TERMINE UNTERNEHMEN
07:00 NOR: Norsk Hydro, Q4-Zahlen
07:00 NLD: Randstad, Jahreszahlen
07:00 DEU: Bilfinger, Jahreszahlen (9.00 Pk, 11.00 Capital Markets Day)
07:00 DEU: Ceconomy, Q1-Zahlen (9.00 Analystencall, 11.00 Pressecall)
07:00 DEU: Thyssenkrupp, Q1-Zahlen (9.00 Pressecall, 11.00 Analystencall)
07:00 DEU: Tui, Q1-Zahlen (8.00 Pk, 11.00 HV)
07:00 DEU: Nemetschek, vorläufige Jahreszahlen
07:05 DEU: Norma Group, Jahreszahlen
07:30 DEU: MVV Energie, Q1-Zahlen
07:30 DEU: SFC Energy, Jahreszahlen
08:00 CHE: Coca-Cola HBC AG, Jahreszahlen
08:00 DEU: MTU Aero Engines, Jahreszahlen (9.30 h Pk)
11:00 DEU: Frankfurter Volksbank, Bilanz-Pressekonferenz
11:00 DEU: Rotkäppchen-Mumm, Bilanz-Pk (online)
12:55 USA: Coca-Cola, Q4-Zahlen
13:00 USA: Marriott International, Q4-Zahlen
18:00 FRA: Carrefour, Jahreszahlen
19:00 AUT: Telekom Austria, Jahreszahlen
22:05 USA: Airbnb, Q4-Zahlen
TERMINE KONJUNKTUR
00:50 JPN: BIP Q4/22 (vorläufig)
05:30 JPN: Industrieproduktion 12/22 (endgültig)
05:30 JPN: Kapazitätsauslastung 12/22
07:30 FRA: ILO-Arbeitslosenquote Q4/22
08:00 DEU: Großhandelspreise 01/23
08:00 DEU. Großhandelsumsatz, November 2022 und Jahresschätzung 2022
08:00 GBR: Arbeitsmarktdaten 12/22
08:30 CHE: BFS Wohnimmobilienpreisindex Q4/22
08:30 CHE: Erzeuger- und Importpreise 01/23
09:30 NLD: BIP Q4/22 (vorläufig)
10:00 BGR: BIP Q4/22 (vorläufig)
10:00 POL: BIP Q4/22 (vorläufig)
11:00 EUR: BIP Q4/22 (vorläufig)
14:30 USA: Verbraucherpreise 01/23
14:30 USA: Realeinkommen 01/23
22:30 USA: API-Ölbericht (Woche)
SONSTIGE TERMINE
BEL: Treffen der EU-Finanzminister, Brüssel
BEL: Nato-Verteidigungsministertreffen und Treffen der US-geführten Kontaktgruppe zur Koordinierung von Waffenlieferungen an die Ukraine, Brüssel
Krieg in der Ukraine
Feiertage:
…
DATES COMPANY
07:00 NOR: Norsk Hydro, Q4 figures
07:00 NLD: Randstad, annual figures
07:00 DEU: Bilfinger, annual figures (9.00 pk, 11.00 Capital Markets Day)
07:00 DEU: Ceconomy, Q1 figures (9.00 analyst call, 11.00 press call)
07:00 DEU: Thyssenkrupp, Q1 figures (9.00 press call, 11.00 analyst call)
07:00 DEU: Tui, Q1 figures (8.00 pk, 11.00 AGM)
07:00 DEU: Nemetschek, preliminary annual figures
07:05 DEU: Norma Group, annual figures
07:30 DEU: MVV Energie, Q1 figures
07:30 DEU: SFC Energy, annual figures
08:00 CHE: Coca-Cola HBC AG, annual figures
08:00 DEU: MTU Aero Engines, annual figures (9.30 h Pk)
11:00 DEU: Frankfurter Volksbank, Annual Press Conference
11:00 DEU: Rotkäppchen-Mumm, Annual Press Conference (online)
12:55 USA: Coca-Cola, Q4 figures
13:00 USA: Marriott International, Q4 figures
18:00 FRA: Carrefour, annual figures
19:00 AUT: Telekom Austria, annual figures
22:05 USA: Airbnb, Q4 figures
BUSINESS CYCLE DATES
00:50 JPN: GDP Q4/22 (preliminary)
05:30 JPN: Industrial Production 12/22 (final)
05:30 JPN: Capacity Utilization 12/22
07:30 FRA: ILO Unemployment Rate Q4/22
08:00 DEU: Wholesale Prices 01/23
08:00 DEU. Wholesale trade turnover, November 2022 and annual estimate 2022.
08:00 GBR: Labor Market Data 12/22
08:30 CHE: BFS Residential Property Price Index Q4/22
08:30 CHE: Producer and Import Prices 01/23
09:30 NLD: GDP Q4/22 (preliminary)
10:00 BGR: GDP Q4/22 (preliminary)
10:00 POL: GDP Q4/22 (preliminary)
11:00 EUR: GDP Q4/22 (preliminary)
14:30 USA: Consumer Prices 01/23
14:30 USA: Real Income 01/23
22:30 USA: API oil report (week)
OTHER DATES
BEL: EU Finance Ministers Meeting, Brussels
BEL: NATO Defense Ministers Meeting and U.S.-led Contact Group Meeting to Coordinate Arms Shipments to Ukraine, Brussels.
War in Ukraine
Holidays:
---
Trading day (Overview)
Market Profile
OPENING PRICE VERSUS DAY'S VA
out balance
Opening to VWAP
previous day (M30)
above
VA – Market Profile
Value Area previous DAY(VAH, POC, VAL)
15453 … 15437 … 15375
RANGE
(ATR 5)
200 Points
Trading-Range
daily ATR(5)
15657 … 15257
Action Levels
Pivot Points
R3, R2, R1, PP, S1, S2, S3
in Trading-Rang
15588, 15524, 15402(PP), 15338, 15216
Previous Day/Today
Close / Open
15461/15457
Open VWAPs
in Trading-Range
15603, 15402
Open POCs
in Trading-Range
15641, 15223
Support
in Trading-Range
15398, 15362, 15341, 15272
Resist
in Trading-Range
15462, 15513, 15593, 15651
---
Daily (FDAX)
– Der letzte Handelstag wurde innerhalb des aktiven positiver Außenstabes vom 02.02.2023 (15596 … 15302) beendet
– Gestern pos. IB
– Mehrwellige Aufwärtsbewegung
– Aufwärtstrend voll intakt
– anziehendes Handelsvolumen, jedoch gestern unterdurchschnittliches Volumen
– durchschnittliche Volatilität
– Kurse an den Widerstandszonen vom Januar/Februar 2022 (15639, 15480) mit Schwäche
– Zone um 15140 – 15171 als nächster Support
– Größere Support-Zone um 14744 … 14446
– Schlusskurs über GD200, GD50, GD20 im Future und Kassa Markt
– Steigende Anstiege der GD20, GD50 und GD200
– The last trading day ended within the active positive outer bar from 02/02/2023 (15596 … 15302)
– Yesterday pos. IB
– Multi-wave upward movement
– Upward trend fully intact
– Attractive trading volume, but yesterday below average volume
average volatility
– Prices at January/February 2022 resistance zones (15639, 15480) with weakness
– Zone around 15140 – 15171 as next support
– Larger support zone around 14744 … 14446
– Closing above GD200, GD50, GD20 in futures and cash market
– Rising ups of GD20, GD50 and GD200
| | |
| --- | --- |
| Short-Ziel | 15140, 14961, 14744 |
| Long-Ziel | 15639, 15976 |
M30 (FDAX)
– 3-wellige Korrekturbewegung
– HG verteidigt vom 10.02.2023
– Referenz-Low um 15318 gebrochen
– Aufwärtstrend intakt mit leichter Schwäche
– Aufwärtsgerichtete Trendlinie nach unten gebrochen
"starkes" Tief um 15272 (kaum Liquidität)
– Der heutige Eröffnungskurs lag außerhalb der VA des letzten Handelstages → UNGLEICHGEWICHT. In der Vorbörse jedoch wieder in die VA gelaufen und stabilisiert.
– Eröffnungskurs über dem Pivot Punkt (PP) und über dem VWAP des letzten Handelstages.
– steigende Pivot Punkte und steigende VA's
– 3-wave corrective movement
– HG defended from 10.02.2023
– Reference low around 15318 broken
– Uptrend intact with slight weakness
– Upward trendline broken to the downside
– "strong" low around 15272 (hardly any liquidity)
– Today's opening price was outside the VA of the last trading day → UNBALANCED. However, in the pre-market run back into the VA and stabilized.
– Opening price above the pivot point (PP) and above the VWAP of the last trading day.
– Rising pivot points and rising VA's.
| | |
| --- | --- |
| Short-Ziel | 15402 (VWAP), 15381, 15223 (POC) |
| Long-Ziel | 15487, 15513, 15593, 15603(VWAP) |
---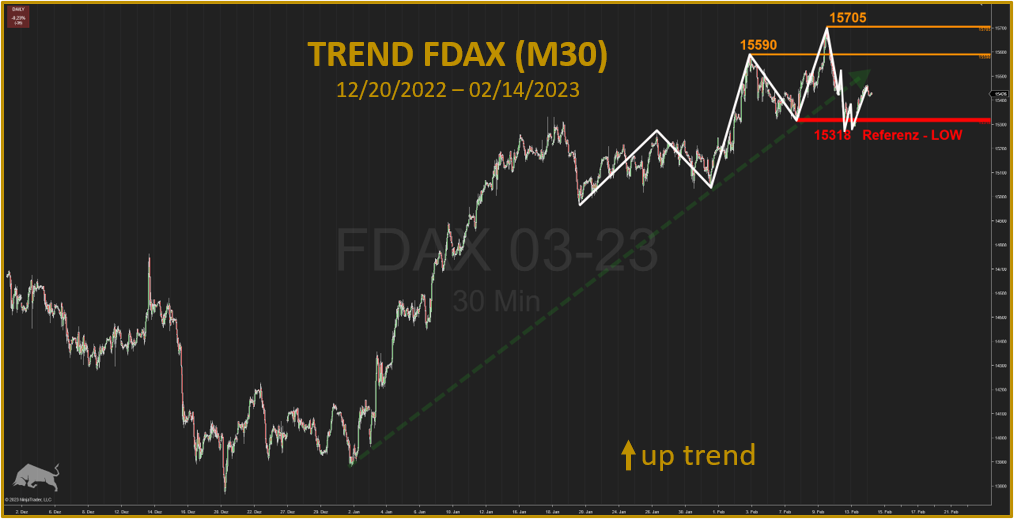 ---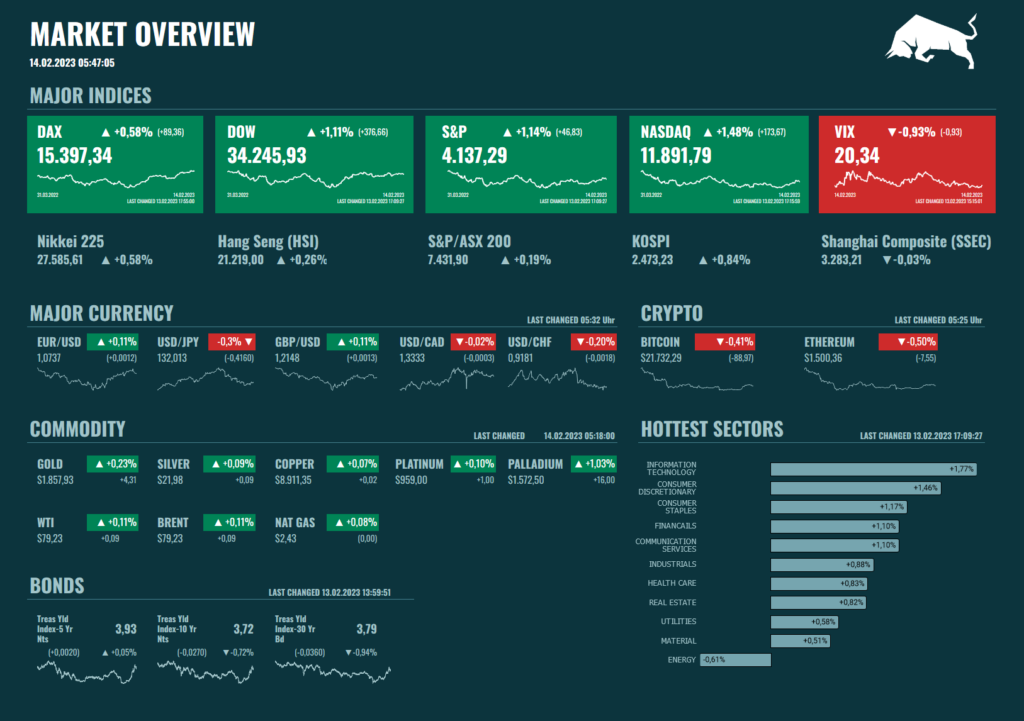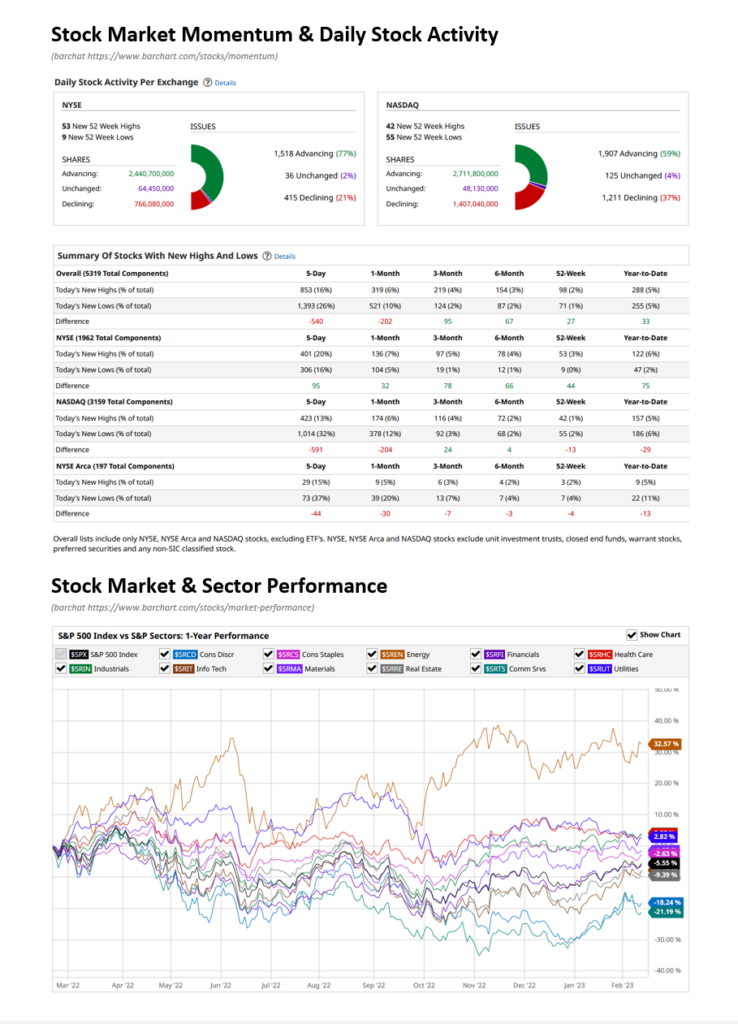 ---
Laut Market Profile heute Trend folgend. Vorbörslich negativ. Im daily konnten wir gestern eine neue erste positive Reaktion nach der Schwäche an der großen Widerstandszone vom März 2022 erkennen. Der Aufwärtstrend ist voll intakt. Die Entscheidung fällt mit der Herausnahme des letzten Außenstabes vom 02.02.2023 per Tagesschlusskurs.

Im M30 (intraday) wurde die Korrekturbewegung noch nicht herausgenommen. Erst über 15513 ist die kurzfristige Korrekturbewegung beendet. Das Zwischentief um 15272 scheint vorerst signifikant zu sein.

Auch heute werden wieder viele Quartalszahlen gemeldet u.a. von MTU, Coca Cola, Airbnb. Wichtiger jedoch wird die Bekanntgabe der US-Inflationszahlen um 14:30 Uhr sein. Dies könnte den Markt aus seiner Stagnation treiben und noch einmal in Bewegung setzen.

Mit der US-Inflationsbekanntgabe vor 14:30 Uhr bin ich flat und suche nach der Verarbeitung am Markt die weitere Richtung und folge.
Bullish/Bearish Scenarios

Bullish Scenario
Rückläufe sind immer noch kaufenswert. Der früheste Einstieg liegt bei 15398. Um 15362/15341 ist ein gutes CRV für eine Long-Einstieg – Long Signale abwarten. Ziele auf der Oberseite sind 15513 bzw. 15592.
Sollte es keine Rückläufe an die Zonen geben, würde ich im Aufwärtsimpuls nach Rückläufen suchen.

Bearish Scenario
Kurzfristig kann sich aus der Korrekturbewegung auch eine Abwärtsbewegung (Trend) entwickeln. Das Risiko bereits jetzt auf einen Short zu setzen ist mir zu hoch. Ich warte bis das Zwischentief per M30 Schlusskurs herausgenommen wird bei 15272, erst dann suche ich im Rücklauf einen Short-Einstieg.
According to Market Profile today trend following. Pre-market negative. In the daily, we could see yesterday a new first positive reaction after the weakness at the major resistance zone of March 2022. The upward trend is fully intact. The decision comes with the removal of the last outer bar of 02.02.2023 per daily closing price.

In the M30 (intraday), the corrective move has not been taken out yet. Only above 15513, the short-term corrective movement is finished. The intermediate low around 15272 seems to be significant for the time being.

Also today, many quarterly figures are reported again including MTU, Coca Cola, Airbnb. More important, however, will be the announcement of the U.S. inflation figures at 14:30. This could drive the market out of its stagnation and once again set in motion.

With the U.S. inflation announcement before 14:30, I am flat and look for the further direction after processing in the market and follow.
Bullish/Bearish Scenarios

Bullish Scenario
Reversals are still worth buying. The earliest entry is at 15398. Around 15362/15341 is a good CRV for a long entry – wait for long signals. Targets on the upside are 15513 and 15592 respectively.
If there are no retracements to the zones, I would look for retracements in the upside impulse.

Bearish scenario
In the short term, a downward movement (trend) can also develop from the corrective movement. The risk to go short already now is too high for me. I wait until the intermediate low per M30 closing price is taken out at 15272, only then I look for a short entry in the retracement.

Happy Trading 🙂

Matthias