FDAX – Future February, 15 2023
Daily market overview / Marktmeinung
JETZT Ausführliche marktmeinung als PDF
Important News/public holidays
TERMINE UNTERNEHMEN
07:15 DEU: DIC Asset, Jahreszahlen (detailliert)
07:25 DEU: Telecom Italia, Jahreszahlen
07:45 FRA: Kering, Jahreszahlen
07:45 NLD: Ahold Delhaize, Jahreszahlen
08:00 CHE: Glencore, Jahreszahlen
08:00 GBR: Barclays, Jahreszahlen
08:00 NLD: Heineken, Jahreszahlen
09:30 LUX: Stabilus, Hauptversammlung
10:00 DEU: Siemens Healthineers, Hauptversammlung
13:00 USA: Kraft Heinz, Q4-Zahlen
22:05 USA: Cisco Systems, Q2-Zahlen
TERMINE KONJUNKTUR
08:00 DEU: Verarbeitendes Gewerbe (Beschäftigte), Dezember und Jahr 2022
11:00 EUR: Industrieproduktion 12/22
11:00 EUR: Handelsbilanz 12/22
14:30 USA: Empire State Index 02/23
14:30 USA: Einzelhandelsumsatz 01/23
15:15 USA: Industrieproduktion 01/23
15:15 USA: Kapazitätsauslastung 01/23
16:00 USA: Lagerbestände 12/22
16:00 USA: NAHB-Index 02/23
16:30 USA: EIA-Ölbericht (Woche)
SONSTIGE TERMINE
Krieg in der Ukraine
Feiertage:
…
DATES COMPANY
07:15 DEU: DIC Asset, annual figures (detailed)
07:25 DEU: Telecom Italia, annual figures
07:45 FRA: Kering, annual figures
07:45 NLD: Ahold Delhaize, annual figures
08:00 CHE: Glencore, annual figures
08:00 GBR: Barclays, annual figures
08:00 NLD: Heineken, annual figures
09:30 LUX: Stabilus, Annual General Meeting
10:00 DEU: Siemens Healthineers, Annual General Meeting
13:00 USA: Kraft Heinz, Q4 figures
22:05 USA: Cisco Systems, Q2 figures
BUSINESS CYCLE DATES
08:00 DEU: Manufacturing (employed), December and year 2022
11:00 EUR: Industrial Production 12/22
11:00 EUR: Trade Balance 12/22
14:30 USA: Empire State Index 02/23
14:30 USA: Retail Sales 01/23
15:15 USA: Industrial Production 01/23
15:15 USA: Capacity utilization 01/23
16:00 USA: Inventories 12/22
16:00 USA: NAHB Index 02/23
16:30 USA: EIA oil report (week)
OTHER DATES
---
Trading day (Overview)
Market Profile
OPENING PRICE VERSUS DAY'S VA
in balance
Opening to VWAP
previous day (M30)
below
VA – Market Profile
Value Area previous DAY(VAH, POC, VAL)
15502 … 15488 … 15430
RANGE
(ATR 5)
194 Points
Trading-Range
daily ATR(5)
15668 … 15280
Action Levels
Pivot Points
R3, R2, R1, PP, S1, S2, S3
in Trading-Rang
15653, 15574, 15485(PP), 15406, 15317
Previous Day/Today
Close / Open
15496/15474
Open VWAPs
in Trading-Range
15603
Open POCs
in Trading-Range
15641, 15488
Support
in Trading-Range
15518, 15563, 15593, 15654
Resist
in Trading-Range
15362, 15341, 15272
---
Daily (FDAX)
– Der letzte Handelstag wurde innerhalb des aktiven positiver Außenstabes vom 02.02.2023 (15596 … 15302) beendet
– Mehrwellige Aufwärtsbewegung mit aktueller Range innerhalb des aktiven Außenstabes
– Aufwärtstrend voll intakt
– anziehendes Handelsvolumen, jedoch gestern durchschnittliches Volumen
durchschnittliche Volatilität
– Kurse an den Widerstandszonen vom Januar/Februar 2022 (15639, 15480) mit Schwäche
– Zone um 15140 – 15171 als nächster Support
– Größere Support-Zone um 14744 … 14446
– Schlusskurs über GD200, GD50, GD20 im Future und Kassa Markt
– Steigende Anstiege der GD20, GD50 und GD200
– Last trading day ended within the active positive outer bar from 02.02.2023 (15596 … 15302)
– Multi-wave upward movement with current range within the active outer bar
– upward trend fully intact
– upward trading volume, but yesterday average volume
average volatility
– Prices at January/February 2022 resistance zones (15639, 15480) with weakness
– Zone around 15140 – 15171 as next support
– Larger support zone around 14744 … 14446
– Closing above GD200, GD50, GD20 in futures and cash market
– Rising ups of GD20, GD50 and GD200
| | |
| --- | --- |
| Short-Ziel | 15279, 15140, 14961 |
| Long-Ziel | 15639, 15976 |
M30 (FDAX)
– 3-wellige Korrekturbewegung (abgeschlossen?)
– Zwischenhoch kurz herausgenommen
– Referenz-Low um 15318 gebrochen
– Aufwärtstrend intakt mit leichter Schwäche
– Aufwärtsgerichtete Trendlinie nach unten gebrochen
– "unechtes" Gap-Down zur Eröffnung der Vorbörse
– Der heutige Eröffnungskurs lag innerhalb der VA des letzten Handelstages → UNGLEICHGEWICHT. In der Vorbörse jedoch vorerst nachhaltig unter die VAL gelaufen
– Eröffnungskurs unter dem Pivot Punkt (PP) und unter dem VWAP des letzten Handelstages.
– steigende Pivot Punkte und steigende VA's
– 3-wave corrective movement (completed?)
– Intermediate high briefly taken out
– Reference low around 15318 broken
– Upward trend intact with slight weakness
– Upward trend line broken to the downside
– "Fake" gap-down at the opening of the pre-market
– Today's opening price was within the VA of the last trading day → UNCHANGED. However, in the pre-market sustained below the VAL for the time being.
– Opening price below the pivot point (PP) and below the VWAP of the last trading day.
– Rising pivot points and rising VA's.
| | |
| --- | --- |
| Short-Ziel | 15362, 15319 (TR), 15223 (POC) |
| Long-Ziel | 15518, 15563, 15603 (VWAP) |
---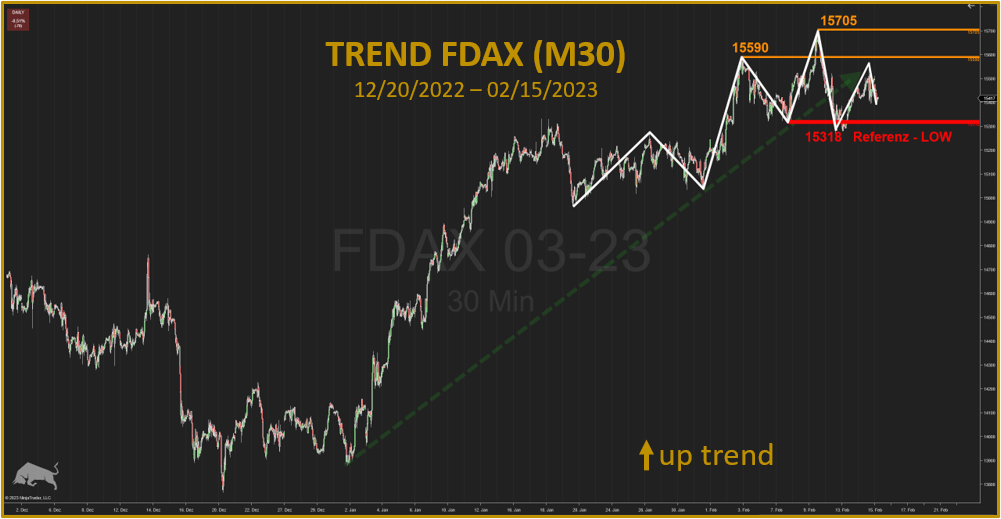 ---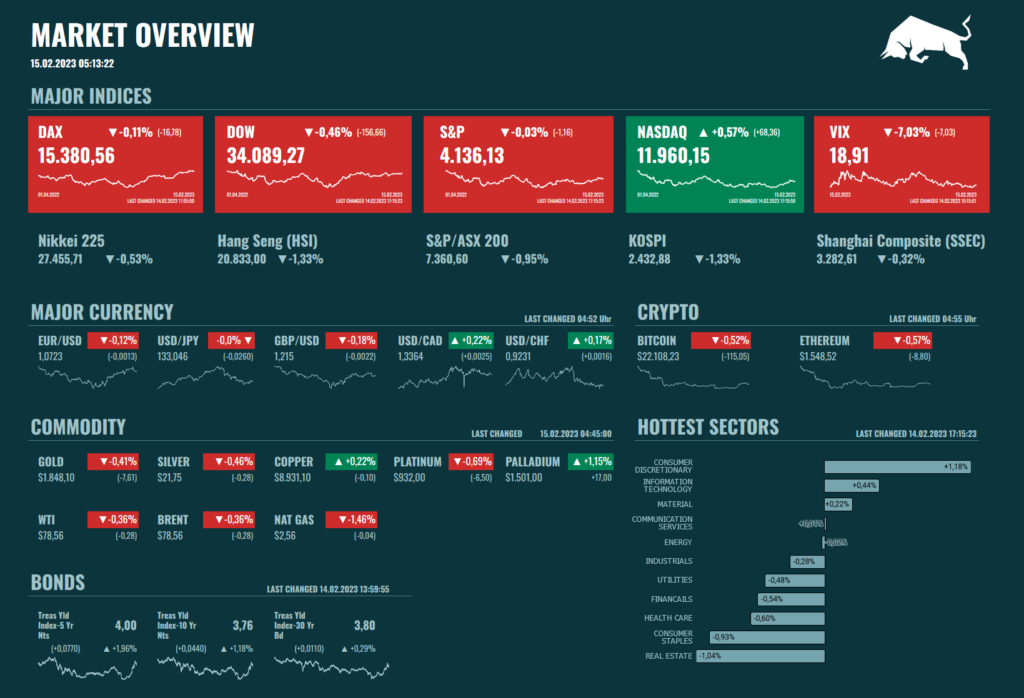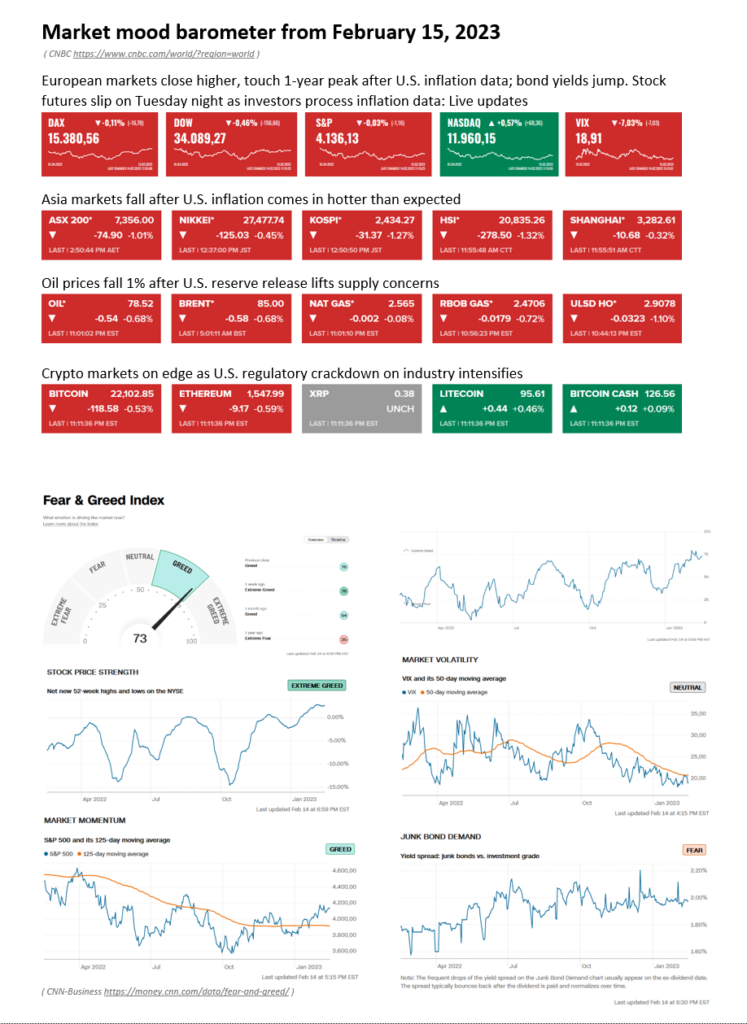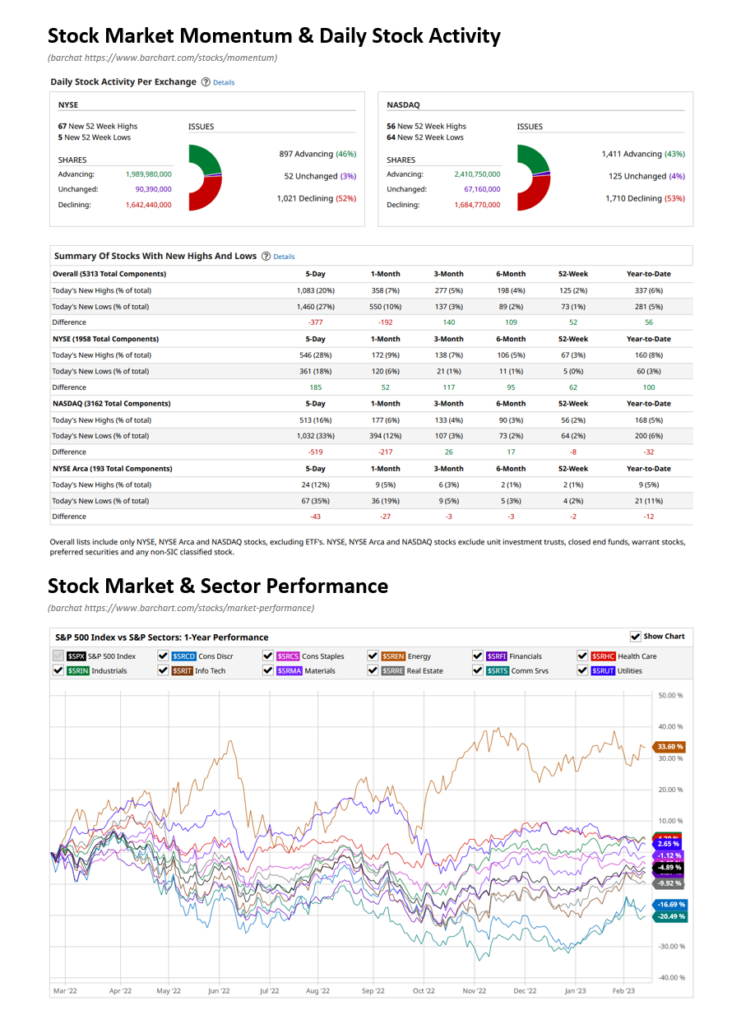 ---
Laut Market Profile heute Range. Vorbörslich negativ. Im daily befindet sich der Markt in einer Range des grünen Außenstabes um 15596 und 15302. Bei Tagesschlusskursen über bzw. unter diesen Range-Kanten ist eine Richtungsbestimmung wieder möglich. Zurzeit tritt der FDAX auf Tagesbasis eher auf der Stelle. Für Bewegung nach oben fehlt aktuell die Dynamik die Widerzone nachhaltig, also per Tagesschlusskurz, zu überwinden.

Im M30 (intraday) wurde gestern an einer Wiederaufnahme der Aufwärtsbewegung gearbeitet. Eine positive Tendenz ist erkennbar. Das signifikante Zwischentief um 15272 hält und das letzte Zwischenhoch der Korrektur um 15513 wurde gestern herausgenommen. Die Kurse sollten nun nicht mehr unter 15362 durchgereicht werden.
Grundsätzlich sind wir noch immer in einem Aufwärtstrend.

Heute werden erneut viele Quartalszahlen gemeldet u.a. von Kraft Heinz, Roblox usw.. Ab 14:30 Uhr wird aus den USA der Empire State Index 02/23 sowie die Einzelhandelsumsätze 01/23 gemeldet.
Bullish/Bearish Scenarios

Bullish Scenario
Rückläufe sind immer noch kaufenswert. Frühestens um 15381, spätestens bei 15362/41 würde ich einen Long-Einstieg suchen, wenn Signale dafürsprechen. Ziele auf der Oberseite sind 15518, 15563. Wenn Dynamik in den Markt kommt und die Ziele angelaufen werden, dann auch 15603, 15637.

Bearish Scenario
Sollte sich der Markt nicht wieder rasch auf über die 15430 nachhaltig zurückbewegen, würde ich vorerst auch nach Short-Signalen Ausschau halten. Bei M30 Schlusskursen unter 15341 mit weiterer Schwäche gehe ich dann von weiter fallenden Kursen aus.
According to Market Profile Range today. Pre-market negative. In the daily, the market is in a range of the green outer bar around 15596 and 15302. With daily closing prices above or below these range edges, a directional determination is possible again. Currently, the FDAX is rather treading water on a daily basis. For movement to the upside, the momentum is currently missing to overcome the resistance zone sustainably, i.e. per daily closing short.

In the M30 (intraday) was worked yesterday on a resumption of the upward movement. A positive tendency is discernible. The significant intermediate low around 15272 holds and the last intermediate high of the correction around 15513 was taken out yesterday. Prices should now not be pushed through below 15362.
Basically, we are still in an uptrend.

Today, many quarterly figures are reported again including Kraft Heinz, Roblox, etc.. From 14:30 clock is reported from the U.S. Empire State Index 02/23 and retail sales 01/23.
Bullish/Bearish Scenarios

Bullish Scenario
Returns are still worth buying. At the earliest around 15381, at the latest at 15362/41 I would look for a long entry, if signals speak for it. Targets on the upside are 15518, 15563. If momentum comes into the market and the targets are approached, then also 15603, 15637.

Bearish scenario
If the market does not move back quickly to above 15430 sustainably, I would also look for short signals for now. With M30 closing below 15341 with further weakness, I then assume further falling prices.

Happy Trading 🙂

Matthias