FDAX – Future January, 03 2023
Daily market overview / Marktmeinung
JETZT Ausführliche marktmeinung als PDF
Important News/public holidays
09:55 Uhr DE Veränderung der Arbeitslosigkeit Deutschland (Dez)
Prognose: 15K Vorherige: 17K
14:00 Uhr DE Verbraucherpreisindex (VPI) Deutschland (Jahr) (Dez)
Prognose: 9,1% Vorherige: 10,0%
15:45 Uhr US Einkaufsmanagerindex (EMI) Verarbeitendes Gewerbe (Dez)
Prognose: 46,2 Vorherige: 47,7
Feiertage: JPN – Marktfeiertag
…
09:55 AM DE Change in Unemployment Germany (Dec)
Forecast: 15K Previous: 17K
02:00 PM DE Consumer Price Index (CPI) Germany (Year) (Dec)
Forecast: 9.1% Previous: 10.0%
3:45 PM US Purchasing Managers' Index (EMI) Manufacturing (Dec).
Forecast: 46.2 Previous: 47.7
Holidays: JPN – Market Holiday
---
Trading day (Overview)
Market Profile
OPENING PRICE VERSUS DAY'S VA
in balance
Opening to VWAP
previous day (M30)
below
VA – Market Profile
Value Area previous DAY(VAH, POC, VAL)
14074 … 14024 … 13968
RANGE
(ATR 5)
215 points
Trading-Range
daily ATR(5)
14251 … 13821
Action Levels
Pivot Points
R3, R2, R1, PP, S1, S2, S3
in Trading-Rang
14216, 14059(PP), 13960, 13803
Previous Day/Today
Close / Open
14116/14036
Open VWAPs
in Trading-Range
–
Open POCs
in Trading-Range
–
Support
in Trading-Range
14034, 13949/37, 13892/58, 13834
Resist
in Trading-Range
14124, 14140, 14156, 14224
---
Daily (FDAX)
– Der letzte Handelstag wurde innerhalb des letzten positiven Außenstabes (14146 … 13926) beendet
abnehmendes Handelsvolumen
– Abwärtsimpuls nach dem erneuten Anlauf an die Widerstandszone um 14704 … 14424
– Support-Zone um 13793 … 13656 wurde bereits am 20.12.2022 getestet
– Aktueller Kurs innerhalb dieser beiden Zonen – Range
– Schlusskurs über GD200, GD50 im Future und Kassamarkt, jedoch unter GD20
– 14228 jetzt die Entscheidungszone für den weiteren Up/Down Verlauf. Tagesschlusskurse darüber Up Potential, darunter Down Potential
– Tagesschlusskurse unter der Kerze vom 10.11.2022, unter 13671 sehr bearish.
– The last trading day ended within the last positive outer bar (14146 … 13926)
– decreasing trading volume
– downward impulse after the renewed attempt to the resistance zone around 14704 … 14424
– Support zone around 13793 … 13656 was already tested on 20.12.2022
– Current price within these two zones – range
– Closing price above GD200, GD50 in the future and spot market, but below GD20
– 14228 now the decision zone for the further Up/Down course. Daily closing prices above Up potential, below Down potential
– Daily closing prices below the candle of 10.11.2022, below 13671 very bearish.
| | |
| --- | --- |
| Short-Ziel | 13724, 13428 |
| Long-Ziel | 14146, 14228, 14279 |
M30 (FDAX)
– "Unechtes" Gap-Down in der Vorbörse (bereits geschlossen)
Kurzfristig Range zwischen 14124 und 13937.
– 123-Korrekturbewegung abgeschlossen mit der 4.Welle. higher highs and higher lows!!
– Der heutige Eröffnungskurs lag innerhalb der VA des letzten Handelstages (US) → GLEICHGEWICHT. (Hinweis: gestern keine Handel in US, also VA vom letzten Handelstag mit US Handel nehmen!). Kurs hat bereits in der Vorbörse die gesamte VA durchlaufen und befindet sich nun oberhalb dieser!
– Eröffnungskurs unter dem Pivot Punkt (PP) sowie dem VWAP des letzten Handelstages.
– "Unreal" gap-down in the pre-market (already closed).
– Short-term range between 14124 and 13937.
– 123-correction move completed with the 4th wave. higher highs and higher lows!!!
– Today's opening price was within the VA of the last trading day (US) → EQUAL WEIGHT. (Note: yesterday no trading in US, so take VA from last trading day with US trading!). Price has already passed the entire VA in the pre-market and is now above it!
– Opening price below the pivot point (PP) and the VWAP of the last trading day.
| | |
| --- | --- |
| Short-Ziel | 13937, 13892, 13585, 13834 |
| Long-Ziel | 14140, 14156, 14224 |
---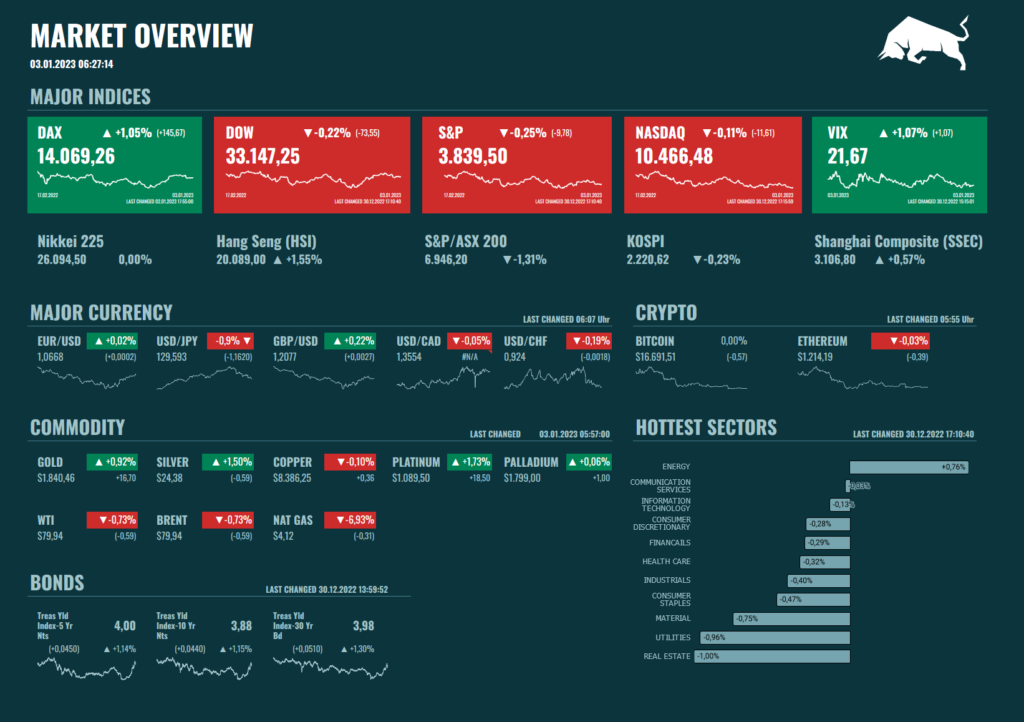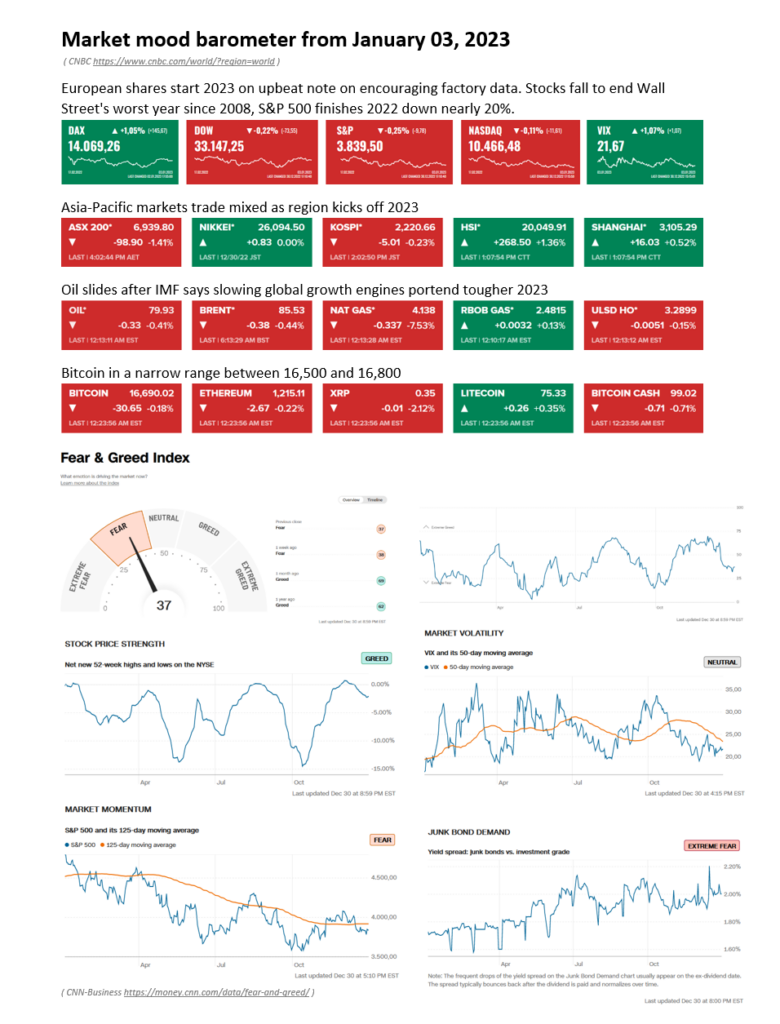 ---
Laut Market Profile heute Range. Vorbörslich negativ. Im daily sehen wir keine klare Struktur der letzten Tage. Mit dem heutigen Markteintritt kommt wieder mehr Handelsvolumen in den seit Wochen abnehmenden Markt. Eine Richtungsentscheidung bleibt für mich das Überwinden der 14228 per Tagesschlusskurs. Erst dann sehe ich wieder positive Ansätze einer Aufwärtsbewegung. Schlusskurse darunter zeigen vorerst Schwäche und lassen Platz bis zur Support-Zone um 13793 … 13656. Zurzeit befinden wir uns im Tageschart in einer Range zwischen 14228 und 13904.

In der kurzfristigen Zeit (M30) ist der Markt seit dem 02.01.2023 in einer positiven Struktur, innerhalb der übergeordneten Range, mit höheren Hochs und höheren Tiefs. Schlusskurse im M30 unterhalb des letzten Zwischentiefs um 13962 (03.01.2023 02:30 Uhr) sehe ich als Zeichen für weiter fallende Kurse. Schlusskurse über dem letzten Hoch um 14159 sprechen für einen kurzfristigen Aufwärtstrend.

Heute werden die Zahlen aus Deutschland zur aktuellen Inflation veröffentlich um 14:00 Uhr. Die Markterwartung geht von einer leicht fallenden Inflation aus. Überraschungen könnten hier Bewegung in den Markt bringen. Kurz nach US Börseneröffnung wird auch in den USA der Einkaufsmanagerindex des verarbeitenden Gewerbes gemeldet. Also bin ich ab 14:00 Uhr flat und schaue nach 16:00 Uhr auf mögliche weitere Chancen auf Einstiege.
Bullish/Bearish Scenarios

Bullish Scenario
Schlusskurse im M30 über 14140/14156 würde ich als positive Signale werte und dem Kursverlauf folgen. Ziele auf der Oberseite sind 14224.

Solange das letzte Zwischentief um 13962 per Schlusskurs (M30) nicht herausgenommen wird, würde ich bei einem Long-Signal bullish folgen. Schlusskurse unter 13962 machen für mich ein Long-Setup vorerst unwahrscheinlich.

Bearish Scenario
Nachhaltige Schlusskurse im M30 unterhalb von 14074 sprechen für mich vorerst für weiter fallende Kurse mit Ziele bis 14005/13968. Kann sich der Kurs hier nicht stabilisieren gehe ich von weiter fallenden Kursen bis 13927 aus. Findet auch hier keine Stabilisierung satt, sind Ziele bis 13892 oder sogar bis 13858 möglich.
According to Market Profile Range today. Pre-market negative. In the daily we see no clear structure of the last few days. With today's market entry, more trading volume comes back into the market, which has been declining for weeks. A directional decision remains for me the overcoming of 14228 per daily closing price. Only then I see again positive approaches of an upward movement. Closing prices below show weakness for the time being and leave room to the support zone around 13793 … 13656. Currently, we are in a range between 14228 and 13904 in the daily chart.

In the short-term time (M30), the market has been in a positive structure since 02/01/2023, within the overarching range, with higher highs and higher lows. I see closing prices in the M30 below the last intermediate low around 13962 (03/01/2023 02:30) as a sign of further falling prices. Closing prices above the last high around 14159 speak for a short-term uptrend.

Today, the figures from Germany on current inflation will be published at 02:00pm. The market expectation is that inflation will fall slightly. Surprises could bring movement into the market here. Shortly after the U.S. stock market opens, the manufacturing purchasing managers index is also reported in the United States. So I'm flat from 02:00 pm and look after 04:00 pm for possible further opportunities to enter.
Bullish/Bearish Scenarios

Bullish Scenario
Closing prices in the M30 above 14140/14156 I would consider as positive signals and follow the price trend. Targets on the upside are 14224.

As long as the last intermediate low around 13962 is not taken out per close (M30), I would follow bullish on a long signal. Closing prices below 13962 make a long setup unlikely for me for now.

Bearish scenario
Sustained closing prices in the M30 below 14074 speak for me for the time being for further falling prices with targets to 14005/13968. If the price can not stabilize here I assume further falling prices to 13927. If there is also no stabilization satt, targets to 13892 or even 13858 are possible.
Happy Trading 🙂

Matthias