FDAX – Future January, 04 2023
Daily market overview / Marktmeinung
JETZT Ausführliche marktmeinung als PDF
Important News/public holidays
16:00 Uhr US ISM Einkaufsmanagerindex (EMI) Verarbeitendes Gewerbe (Dez)
Prognose: 48,5 Vorherige: 49,0
16:00 Uhr US JOLTs Stellenangebote (Nov)
Prognose: 10,000M Vorherige: 10,334M
20:00 Uhr US FOMC Sitzungsprotokoll
Feiertage:
…
04:00 PM US ISM Purchasing Managers' Index (EMI) Manufacturing (Dec)
Forecast: 48.5 Previous: 49.0
4:00 PM US JOLTs Job Openings (Nov).
Forecast: 10.000M Previous: 10.334M
08:00 PM US FOMC Meeting Minutes
Holidays:
---
Trading day (Overview)
Market Profile
OPENING PRICE VERSUS DAY'S VA
in balance
Opening to VWAP
previous day (M30)
above
VA – Market Profile
Value Area previous DAY(VAH, POC, VAL)
14325 … 14235 … 14203
RANGE
(ATR 5)
251 points
Trading-Range
daily ATR(5)
14516 … 14014
Action Levels
Pivot Points
R3, R2, R1, PP, S1, S2, S3
in Trading-Rang
14435, 14198(PP), 14039
Previous Day/Today
Close / Open
14248/14265
Open VWAPs
in Trading-Range
–
Open POCs
in Trading-Range
14235
Support
in Trading-Range
14271, 14225, 14156, 14092, 14039
Resist
in Trading-Range
14351, 14392, 14470, 14498
---
Daily (FDAX)
– Der letzte Handelstag wurde als neuer positiver Außenstabes (14358 … 13962) beendet
– Anziehendes Handelsvolumen
– Zwischenhoch bei 14228 wurde gestern per Tagessschlusskurs herausgenommen → Aufwärtspotential
– Schlusskurs über GD200, GD50, GD20 im Future
– Tagesschlusskurse unter der Kerze vom 10.11.2022, unter 13671 sehr bearish.
– The last trading day ended as a new positive outside bar (14358 … 13962)
– Increasing trading volume
– Intermediate high at 14228 was taken out yesterday per daily close → upside potential
– Closing price above GD200, GD50, GD20 in the future.
– Daily close below 10/11/2022 candle, below 13671 very bearish.
| | |
| --- | --- |
| Short-Ziel | 13724, 13428 |
| Long-Ziel | 14442, 14580, 14712 |
M30 (FDAX)
– Tagelange Range wurde nach vorerst nach oben aufgelöst
– Up-Trendaktivierung über 14159 aktiviert
– Der heutige Eröffnungskurs lag innerhalb der VA des letzten Handelstages → GLEICHGEWICHT.
– Eröffnungskurs über dem Pivot Punkt (PP) sowie dem VWAP des letzten Handelstages.
– Days-long range was resolved to the upside for the time being
– Up trend activation above 14159 activated.
– Today's opening price was within the VA of the last trading day → EQUAL WEIGHT.
– Opening price above the pivot point (PP) as well as the VWAP of the last trading day.
| | |
| --- | --- |
| Short-Ziel | 14156, 14092, 14039 |
| Long-Ziel | 14392, 14478, 14498 |
---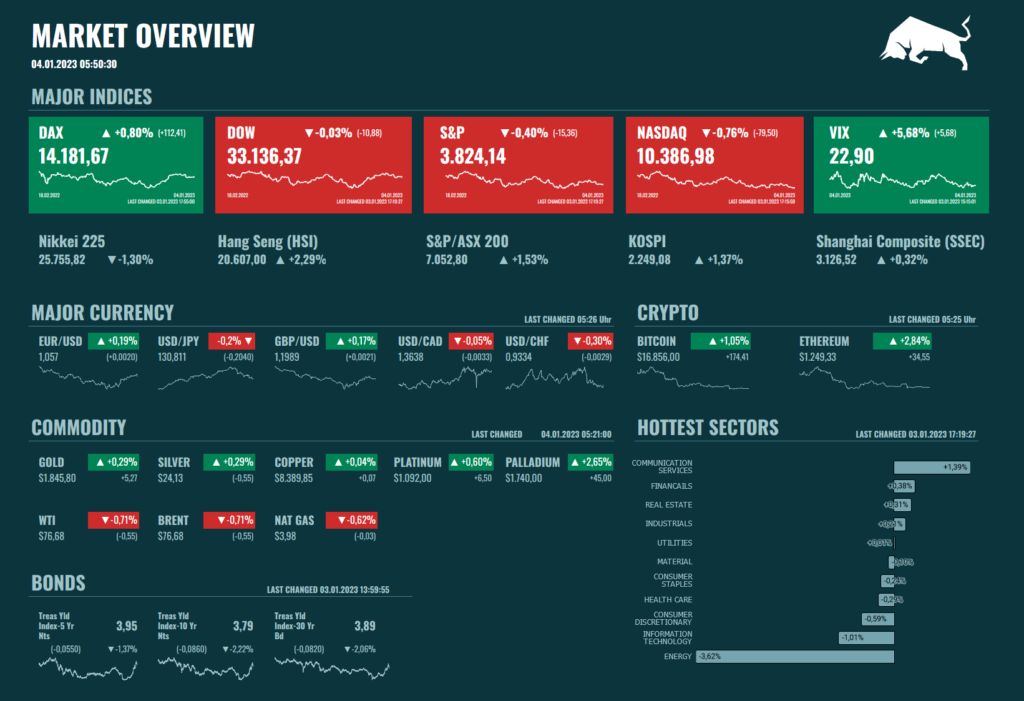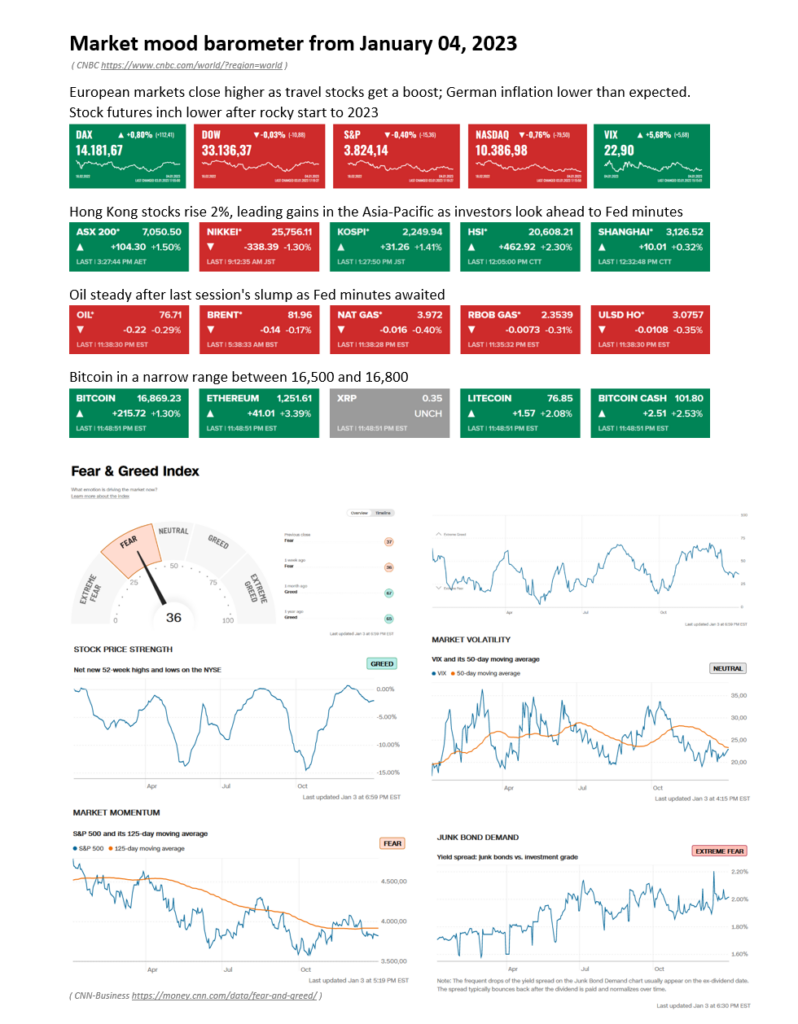 ---
Laut Market Profile heute Range. Vorbörslich positiv. Im Tageschart wurde das Zwischenhoch vom 22.12.2022 14228 mit dem gestrigen Schlusskurs herausgenommen. Dies zeigt Stärke und könnte die Korrekturbewegung vorerst beenden. Der Kurs bewegt sich jedoch erneut eng unterhalb des Widerstandsbereich um 14712 … 14434. Im Tageschart sehen wir nun nach der Korrekturbewegung bis auf den Supportbereich eine Aufwärtsbewegung. Wird diese nun nicht nachhaltig nach oben aufgelöst oder fällt erneut unter die 14228 per Tagesschlusskurs ist die Korrektur weiterhin aktiv.

In der kurzfristigen Zeit (M30) sieht die aktuelle Struktur positiver aus. Die übergeordnete Range wurde verlassen und ein kurzfristiger Aufwärtstrend aktiviert über 14159. Für Stärke muss jedoch das gestrige Zwischenhoch erneut herausgenommen werden um 14358. Die Struktur mit höheren Hochs und höheren Tiefs sieht vorerst konstruktiv aus.

Heute werden die Zahlen aus den USA Deutschland zum Einkaufsmanagerindex des verarbeitenden Gewerbes und zu den offenen Stellen veröffentlich um 16:00 Uhr. Analysten rechnen jedoch damit, dass die Marktteilnehmer auch auf das Protokoll der FED heute um 20:00 Uhr warten. Es sieht somit nach einem volatilen Markttag aus.

Mit der Zahlenbekanntgabe ist mein kurzfristiges Engagement um kurz vor 16:00 Uhr beendet um nicht in einen Bewegungsausschlag hinein zu geraten.
Bullish/Bearish Scenarios

Bullish Scenario
Rücksetzer sind für mich vorerst Einstiegsgelegenheiten um den kurzfristigen Trend weiter zu spielen. Erste Einstiege suche ich um 14271/80 sowie weitere um 14225/03. Ziele auf der Oberseite liegen bei mir dann um 14392 und 14478.

Bearish Scenario
Wir der Kurs zur Kassaeröffnung bereits deutlich nach oben getrieben bis an die 14351, könnte man auf einen Rücksetzer spekulieren bis aus 14280 bzw. 14235. Sehe Schlusskurse im M30 unter 14203 könnten Ziele auf der Unterseite bis 14156 und 14092 angelaufen werden.
According to Market Profile Range today. Pre-market positive. In the daily chart, the intermediate high of 12/22/2022 14228 was taken out with yesterday's close. This shows strength and could end the corrective movement for now. However, the price is again moving narrowly below the resistance area around 14712 … 14434. In the daily chart, we now see an upward movement after the corrective movement to the support area. If this is now not sustainably resolved to the upside or falls again below the 14228 per daily closing price, the correction is still active.

In the short-term time (M30), the current structure looks more positive. The overarching range was left and a short-term uptrend activated above 14159. However, for strength, yesterday's intermediate high must be taken out again around 14358. The structure with higher highs and higher lows looks constructive for now.

Today, the figures from the U.S. Germany on the manufacturing purchasing managers index and job openings will be published at 16:00. However, analysts expect that market participants are also waiting for the minutes of the FED today at 08:00 PM. Thus, it looks like a volatile market day.

With the announcement of the numbers, my short-term commitment is ended shortly before 16:00 to not get into a movement rash.
Bullish/Bearish Scenarios

Bullish Scenario
For me, setbacks are entry opportunities for the time being to continue playing the short-term trend. I look for first entries around 14271/80 and further around 14225/03. Targets on the upside are then around 14392 and 14478.

Bearish scenario
If the price at the cash opening is already clearly driven up to 14351, one could speculate on a setback to 14280 or 14235. If closing prices in the M30 are below 14203, targets on the downside to 14156 and 14092 could be approached.
Happy Trading 🙂

Matthias