FDAX – Future January, 10 2023
Daily market overview / Marktmeinung
JETZT Ausführliche marktmeinung als PDF
Important News/public holidays
15:00 Uhr US Fed-Vorsitzender Powell spricht
18:00 Uhr US EIA – Kurzfristiger Energieausblick (STEO)
Feiertage:
…
03:00 PM US Fed Chairman Powell speaks
06:00 PM US EIA – Short-Term Energy Outlook (STEO)
Holidays:
---
Trading day (Overview)
Market Profile
OPENING PRICE VERSUS DAY'S VA
in balance
Opening to VWAP
previous day (M30)
below
VA – Market Profile
Value Area previous DAY(VAH, POC, VAL)
14892 … 14882 … 14734
RANGE
(ATR 5)
239 Points
Trading-Range
daily ATR(5)
15021 … 14543
Action Levels
Pivot Points
R3, R2, R1, PP, S1, S2, S3
in Trading-Rang
15000, 14896, 14791(PP), 14687, 14582
Previous Day/Today
Close / Open
14793/14782
Open VWAPs
in Trading-Range
14565
Open POCs
in Trading-Range
14882
Support
in Trading-Range
14752, 14704, 14660, 14565
Resist
in Trading-Range
14790, 14888, 14929, 14968, 15019
---
Daily (FDAX)
– Der letzte Handelstag wurde als neuer negativer Außenstab (14894 … 14790) beendet
– 3-wellige Korrekturbewegung beendet.
– Widerstandszone um 14712 … 14434 wurde nun per Tagesschlusskurs nach oben verlassen
– Nächster Widerstand Zwischenhoch bei 15029 vom 29.03.2022
– abfallendes Handelsvolumen
– Schlusskurs über GD200, GD50, GD20 im Future und Kassa Markt
– Aufwärtstrend voll intakt
– Tagesschlusskurse unter der Kerze vom 10.11.2022, unter 13765/656 sehr bearish.
– The last trading day ended as a new negative outer bar (14894 … 14790)
– 3-wave corrective movement ended.
– Resistance zone around 14712 … 14434 was now left upwards per daily closing price
– next resistance intermediate high at 15029 from 29.03.2022
– falling trading volume
– Closing price above GD200, GD50, GD20 in the future and spot market
– Upward trend fully intact
– Daily closing prices below the candle of 10.11.2022, below 13765/656 very bearish.
| | |
| --- | --- |
| Short-Ziel | 14595, 14446, 14228 |
| Long-Ziel | 14949, 15029 |
M30 (FDAX)
– Aktiver Aufwärtstrend in der Struktur und im Market Profile intakt
– Höhere Hochs und höhere Tiefs
– Range Breakout über 14763 noch nicht vollendet → eventueller Retest
– Neues Referenz-Low bei 14685, Kurse darunter nehmen dem Aufwärtstrend vorerst die Luft
– Der heutige Eröffnungskurs lag innerhalb der VA des letzten Handelstages → GLEICHGEWICHT
– Eröffnungskurs unterhalb des Pivot Punkt (PP) sowie dem VWAP des letzten Handelstages
– Erste Abschwächung des Aufwärtsimpulses
– Kurse unter 14704/660 können Ziele bis 14565 und 14494 auslösen
– Active uptrend intact in the structure and market profile
– Higher highs and higher lows
– Range breakout above 14763 not yet completed → possible retest
– New reference low at 14685, prices below that take the air out of the uptrend for now
– Today's opening price was within the VA of the last trading day → EQUAL WEIGHT.
– Opening price below the pivot point (PP) and the VWAP of the last trading day.
– First weakening of the upward impulse.
– Prices below 14704/660 may trigger targets to 14565 and 14494
| | |
| --- | --- |
| Short-Ziel | 14704, 14660, 14565 (VWAP), 14494 (POC) |
| Long-Ziel | 14888, 14929/68, 15029 |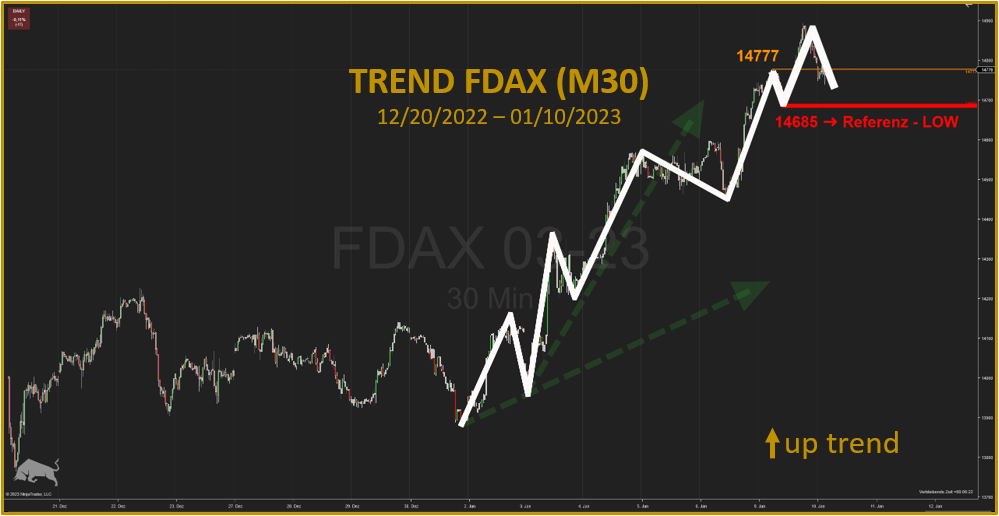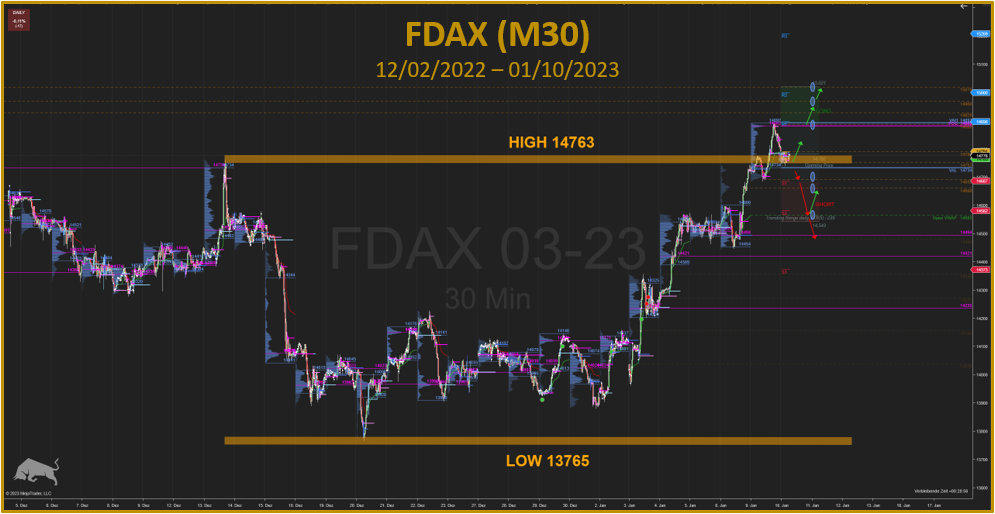 ---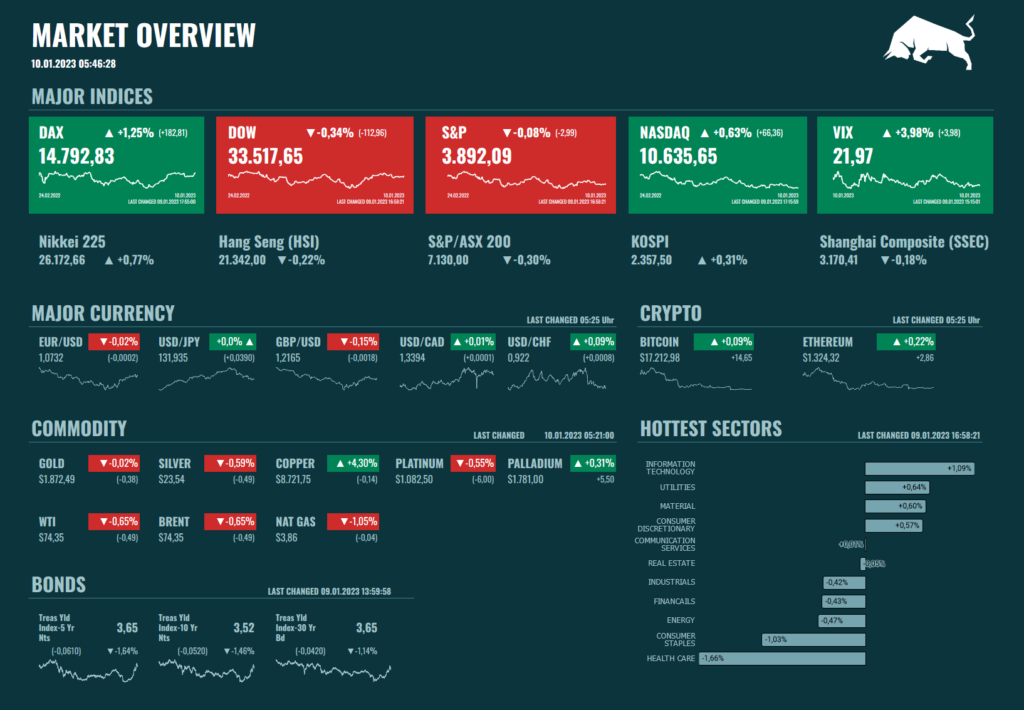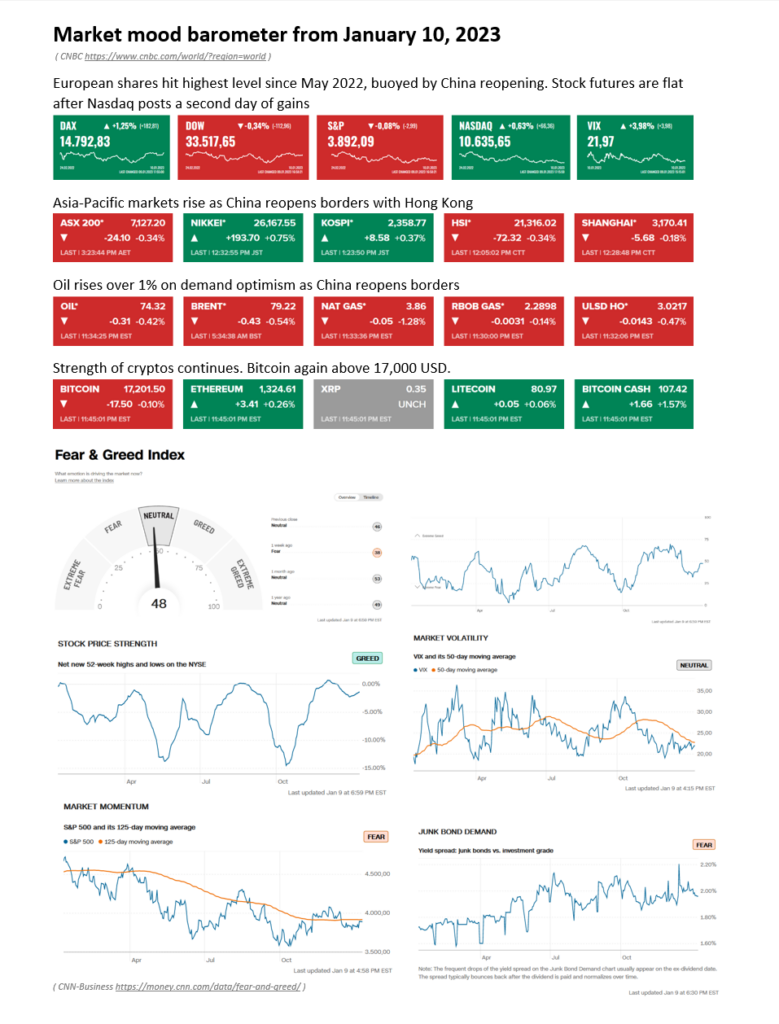 ---
Laut Market Profile kann sich heute ein trendfolgender Verlauf zeigen. Die Vorbörsenzeiten waren jedoch negativ. Im Tageschart wurde der Widerstandsbereich zwischen 14434 und 14712 nun deutlich durch den Tagesschlusskurs überboten. Ein erneuter Tagesschlusskurs oberhalb dieser Marke und sogar ein höheres Hoch als gestern bei 14894, würde diesen Widerstandsbereich in eine Unterstützungszone verwandeln. Der Abwärtstrend seit dem 05.01.2022 ist dann vorerst in Gefahr. Wenn der Tagesschlusskurs oberhalb der Marke 14793/15029 liegt, ist der starke Abwärtstrend geschwächt. Im Vergleich zu den US-Leitindizes kann sich der DAX/FDAX erstaunlich gut behaupten.

Auf kurzfristiger Zeitebene (M30) besteht ein gesunder aufwärtsgerichteter Trend. Alle Supports sind vorerst Einstiegsgelegenheiten bis der vorherrschende Trend bricht. Ein erstes Warnzeichen wäre der Bruch per Schlusskurs (M30) unter 14685. Der Markt befindet sich im billigen Preisbereich im Vergleich zum gestrigen Handel.

Heute Nachmittag sind wieder bewegende Nachrichten angekündigt. So spricht der FED Vorsitzende Powell um 15:00 Uhr und kurze Zeit später gegen 18:00 Uhr gibt es den kurzfristigen Energieausblick aus den USA.
Bullish/Bearish Scenarios

Bullish Scenario
Im Aufwärtstrend suchen wir an der Zone um 14791/14752 nach Long-Einstiegen. Der späteste Versuch in einem Rücklauf wäre die Zone um 14704. Ziele auf der Oberseite sind 14888, 14929, 14968. Im aktuellen Aufwärtstrend sind wir eher Long gestimmt.

Bearish Scenario
Gibt es Schlusskurs (M30) unterhalb von 14739 kann es eine kurze Abwärtsbewegung Richtung 14707/04 geben. Sollte der Kurs hier nicht halten und es Schlusskurze (M30) unterhalb dieser Marke geben, ist auch ein Short-Einstieg denkbar mit Zielen bis 14660 oder sogar bis 14565.
According to Market Profile, a trend-following course can be seen today. However, the pre-market times were negative. In the daily chart, the resistance area between 14434 and 14712 was now clearly surpassed by the daily closing price. Another daily close above this level and even a higher high than yesterday at 14894, would turn this resistance area into a support zone. The downtrend since 01/05/2022 would then be in danger for the time being. If the daily close is above 14793/15029, the strong downtrend is weakened. Compared to the US leading indices, the DAX/FDAX can hold its ground surprisingly well.

On the short-term time level (M30), there is a healthy upward trend. All supports are entry opportunities for the time being until the prevailing trend breaks. A first warning sign would be the break per close (M30) below 14685. The market is in cheap price territory compared to yesterday's trading.

This afternoon, moving news is announced again. Thus, the FED Chairman Powell speaks at 03:00PM and a short time later around 06:00PM there is the short-term energy outlook from the U.S..
Bullish/Bearish Scenarios

Bullish Scenario
In the uptrend, we are looking for long entries at the zone around 14791/14752. The latest attempt in a retracement would be the zone around 14704. Targets on the upside are 14888, 14929, 14968. In the current uptrend, we are more long.

Bearish scenario
If there is closing price (M30) below 14739, there can be a short downward movement towards 14707/04. If the price does not hold here and there is closing price (M30) below this mark, a short entry is also conceivable with targets to 14660 or even to 14565.
Happy Trading 🙂

Matthias