FDAX – Future January, 09 2023
Daily market overview / Marktmeinung
JETZT Ausführliche marktmeinung als PDF
Important News/public holidays
Feiertage: JPN – Tag des Respektes vor dem Alter
…
Holidays: JPN – Respect for Age Day
---
Trading day (Overview)
Market Profile
OPENING PRICE VERSUS DAY'S VA
out balance
Opening to VWAP
previous day (M30)
above
VA – Market Profile
Value Area previous DAY(VAH, POC, VAL)
14600 … 14494 … 14454
RANGE
(ATR 5)
246 points
Trading-Range
daily ATR(5)
14980 … 14488
Action Levels
Pivot Points
R3, R2, R1, PP, S1, S2, S3
in Trading-Rang
14936, 14829, 14638 (PP), 14531
Previous Day/Today
Close / Open
14723/14734
Open VWAPs
in Trading-Range
14565
Open POCs
in Trading-Range
14494 (14421)
Support
in Trading-Range
14719, 14662, 14494
Resist
in Trading-Range
14793, 14833, 14929, 14968
---
Daily (FDAX)
– Der letzte Handelstag wurde als neuer positiver Außenstab (14744 … 14446) beendet
– 3-wellige Korrekturbewegung beendet.
– Widerstandszone um 14712 … 14434 wurde nun per Tagesschlusskurs nach oben verlassen
– Nächster Widerstand Zwischenhoch bei 14793 vom 12.07.2022
– anziehendes Handelsvolumen
– Schlusskurs über GD200, GD50, GD20 im Future und Kassa Markt
Aufwärtstrend voll intakt
– Tagesschlusskurse unter der Kerze vom 10.11.2022, unter 13765/656 sehr bearish.
– The last trading day ended as a new positive outer bar (14744 … 14446)
3-wave corrective movement ended.
– Resistance zone around 14712 … 14434 was now left upwards per daily closing price
– next resistance intermediate high at 14793 from 07/12/2022
– rising trading volume
– Closing price above GD200, GD50, GD20 in the future and spot market
– Upward trend fully intact
– Daily closing prices below the candle of 10.11.2022, below 13765/656 very bearish.
| | |
| --- | --- |
| Short-Ziel | 14446, 14228, 13724, 13428 |
| Long-Ziel | 14793, 14949, 15029 |
M30 (FDAX)
– Aktiver Aufwärtstrend in der Struktur und im Market Profile
– Höhere Hochs und höhere Tiefs
– Aktuell wird am übergeordneten Range Breakout gearbeitet
– Neues Referenz-Low bei 14446, Kurse darunter nehmen dem Aufwärtstrend die Luft
– Der heutige Eröffnungskurs lag oberhalb der VA des letzten Handelstages → UNGLEICHGEWICHT
– Eröffnungskurs über dem Pivot Punkt (PP) sowie dem VWAP des letzten Handelstages
– Active uptrend in the structure and market profile
– Higher highs and higher lows
– Currently working on the superior range breakout
– New reference low at 14446, prices below that take the air out of the uptrend
– Today's opening price was above the VA of the last trading day → UNBALANCED.
– Opening price above the pivot point (PP) as well as the VWAP of the last trading day.
| | |
| --- | --- |
| Short-Ziel | 14662, 14565 (VWAP), 14494 (POC), 14421 (POC) |
| Long-Ziel | 14793, 14833, 14929 |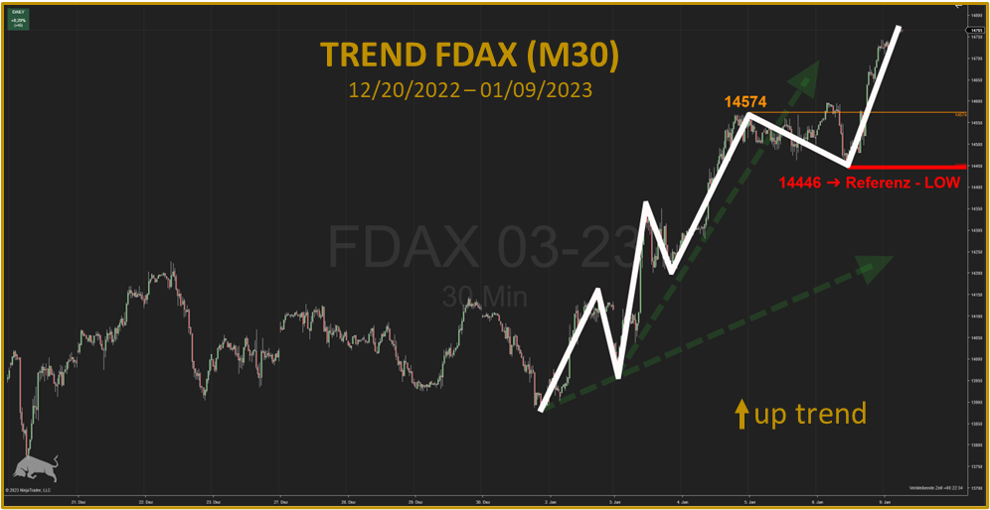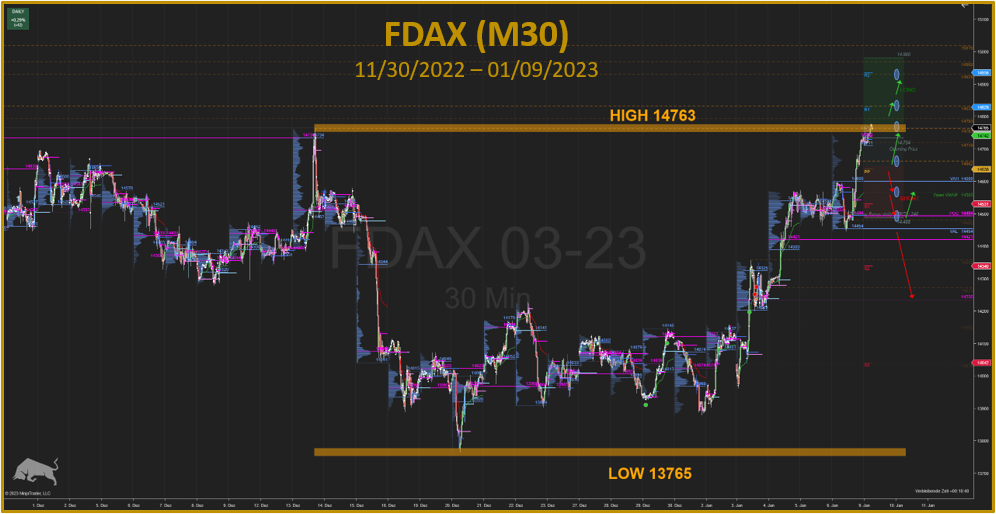 ---
---
Laut Market Profile heute Trend folgend. Vorbörslich positiv. Im Tagesschart wurde der Widerstandsbereich um 14712-14434 nach oben durchbrochen, was als bullish (positiv für den Markt) betrachtet werden kann. Dies wurde durch die Stärke der amerikanischen Märkte am Freitag begleitet und die Korrektur scheint nun beendet zu sein. Der heutige Handelstag sollte über dem Niveau von 14712 per Tagesschluss bleiben, was für den Start der Woche eine neue stabile Richtung geben könnte.

Auf kurzfristiger Zeitebene (M30) besteht weiterhin ein aufwärtsgerichteter Trend, der voll intakt ist. Der letzte Handelstag ist sehr positiv ins Wochenende gestartet und viele Marktteilnehmer gingen somit ins Risiko. In der Vorbörse gibt es nun Versuche, aus der M30-Range um 14763 nach oben auszubrechen, aber wir befinden uns momentan in einem teuren Preisbereich laut Marketprofil. Es ist daher möglich, dass es zunächst zu einem Rücklauf kommt. Dennoch ist der Gesamttrend positiv.

Heute stehen keine großen Zahlenbekanntgaben oder wichtige Unternehmensdaten an. Es könnte ein ruhiger Start in die neue Woche werden.
Bullish/Bearish Scenarios

Bullish Scenario

Wir möchten billig kaufen, somit sollte ein Rücklauf für eine Long-Einstieg abgewartet werden. Kurse um 14719 sind erste Support-Zonen an denen Long-Setups legitim sind. Schlusskurse (M30) über 14600 sind vorerst bullish zu werten. Bleiben die Kurse über 14719 und kein Rücklauf wird eingeleitet, suchen wir in die Aufwärtsbewegung Einstiege.
Ziele auf der Oberseite sind 14833, 14929.
Bearish Scenario
Short Trades sind vorerst gegen die aktuelle Trendrichtung – somit mit Vorsicht zu traden (am besten gar nicht). Schlusskurse im M30 unter 14662/44 können noch einmal Luft bis 14565 oder gar 14449 ablassen.
According to Market Profile today trend following. Pre-market positive. In the daily chart, the resistance area around 14712-14434 was broken upwards, which can be considered bullish (positive for the market). This was accompanied by the strength of the American markets on Friday and the correction now seems to be over. Today's trading session should remain above the 14712 level on the daily close, which could give a new stable direction for the start of the week.

On the short-term time frame (M30), there is still an upward trend that is fully intact. The last trading day has started the weekend very positively and many market participants thus went into the risk. In the pre-market, there are now attempts to break out of the M30 range around 14763 to the upside, but we are currently in an expensive price area according to Marketprofile. Therefore, it is possible that there will be a retracement first. Nevertheless, the overall trend is positive.

There are no big number announcements or important corporate data coming up today. It could be a quiet start to the new week.
Bullish/Bearish Scenarios

Bullish Scenario
We want to buy cheap, so a retracement should be waited for a long entry. Prices around 14719 are first support zones where long setups are legitimate. Closing prices (M30) above 14600 are bullish for now. If prices stay above 14719 and no retracement is initiated, we look for entries into the upside.
Targets on the upside are 14833, 14929.

Bearish scenario
Short trades are against the current trend direction for now – so trade with caution (best not to trade at all). Closing prices in the M30 below 14662/44 can once again deflate to 14565 or even 14449.
Happy Trading 🙂

Matthias