FDAX – Future January, 17 2023
Daily market overview / Marktmeinung
JETZT Ausführliche marktmeinung als PDF
Important News/public holidays
TERMINE UNTERNEHMEN
07:00 CHE: Lindt & Sprüngli, Jahresumsatz
07:30 DEU: Hugo Boss, Q4-Zahlen
13:25 USA: Goldman Sachs, Q4-Zahlen
13:30 USA: Morgan Stanley, Q4-Zahlen
TERMINE KONJUNKTUR
08:00 DEU: Verbraucherpreise 12/22 (endgültig)
08:00 GBR: Arbeitsmarktdaten 12/22
10:00 ITA: Verbraucherpreise 12/22 (endgültig)
11:00 DEU: ZEW-Umfrage 01/23 ZEW – Konjunkturerwartungen Deutschland (Jan)
14:30 USA: Empire State Manufacturing Bericht 01/23
SONSTIGE TERMINE
AUT: Opec-Monatsbericht zum Ölmarkt
CHE: Fortsetzung der Jahreskonferenz des Weltwirtschaftsforums (WEF) in Davos (bis 20.01.)
DEU: Fortsetzung Messe Caravan Motor Touristik (CMT) (bis 22.01.)
EUR: Euro-Finanz- und Wirtschaftsminister treffen sich in Brüssel
Krieg in der Ukraine
…
DATES COMPANY
07:00 CHE: Lindt & Sprüngli, Annual Sales
07:30 DEU: Hugo Boss, Q4 figures
13:25 USA: Goldman Sachs, Q4 figures
13:30 USA: Morgan Stanley, Q4 figures
BUSINESS CYCLE DATES
08:00 DEU: Consumer Prices 12/22 (final)
08:00 GBR: Labor Market Data 12/22
10:00 ITA: Consumer Prices 12/22 (final)
11:00 DEU: ZEW Survey 01/23 ZEW – Economic Sentiment Germany (Jan)
14:30 USA: Empire State Manufacturing Report 01/23
OTHER DATES
AUT: Opec monthly report on oil market
CHE: Continuation of World Economic Forum (WEF) Annual Conference in Davos (until Jan 20)
DEU: Continuation of Caravan Motor Touristik (CMT) trade show (until Jan. 22)
EUR: Euro finance and economy ministers meet in Brussels
War in Ukraine
---
Trading day (Overview)
Market Profile
OPENING PRICE VERSUS DAY'S VA
out balance
Opening to VWAP
previous day (M30)
above
VA – Market Profile
Value Area previous DAY(VAH, POC, VAL)
15183 … 15149 … 15127
RANGE
(ATR 5)
179 Points
Trading-Range
daily ATR(5)
15368 … 15010
Action Levels
Pivot Points
R3, R2, R1, PP, S1, S2, S3
in Trading-Rang
15306, 15239, 15191(PP), 15124, 15076
Previous Day/Today
Close / Open
15172/15189
Open VWAPs
in Trading-Range
–
Open POCs
in Trading-Range
15149, 15348
Support
in Trading-Range
15154, 15106, 15090, 15005
Resist
in Trading-Range
15204, 15245, 15321, 15370
---
Daily (FDAX)
– Der letzte Handelstag wurde innerhalb der letzten positiven Außenstabes (15213 … 15098) beendet
– Doji-ähnliche Tageskerze
– Niedriges Handelsvolumen, da geschlossene US Börsen wegen Feiertag
– Aufwärtstrend voll intakt
– Neue Support-Zone um 14744 … 14446
– Keine großen Widerstände bis 15480/15639
– Durchschnittliches Handelsvolumen
– Schlusskurs über GD200, GD50, GD20 im Future und Kassa Markt
– Steigende Anstiege der GD20 und GD50
– Neues etabliertes Zwischenhoch um 15213
– The last trading day ended within the last positive outer bar (15213 … 15098)
– Doji-like daily candle
– Low trading volume as US exchanges closed for holiday
– Uptrend fully intact
– New support zone around 14744 … 14446
– No major resistances until 15480/15639
– Average trading volume
– Closing above GD200, GD50, GD20 in futures and cash market
– Rising ups of GD20 and GD50
– New established intermediate high around 15213
| | |
| --- | --- |
| Short-Ziel | 14916, 14595, 14446 |
| Long-Ziel | 15266, 15480, 15639 |
M30 (FDAX)
– Aktiver Aufwärtstrend in der Struktur und im Market Profile intakt
– Höhere Hochs und höhere Tiefs
– Referenz-Low bei 14856, Kurse darunter nehmen dem Aufwärtstrend vorerst die Luft
– Der heutige Eröffnungskurs lag oberhalb der VA des letzten Handelstages → UNGLEICHGEWICHT. Während der Vorbörse bereits wieder in die VA gelaufen!!!
– Eröffnungskurs unter dem Pivot Punkt (PP) und über dem VWAP des letzten Handelstages
– Aktuell Range zwischen 15258 … 15098
– Active uptrend intact in the structure and market profile
– Higher highs and higher lows
– Reference low at 14856, prices below take the air out of the uptrend for the time being
– Today's opening price was above the VA of the last trading day → UNBALANCED. During the pre-market already run back into the VA!!!
– Opening price below the pivot point (PP) and above the VWAP of the last trading day.
– Currently Range between 15258 … 15098
| | |
| --- | --- |
| Short-Ziel | 15090, 15005 |
| Long-Ziel | 15348(POC), 15370 |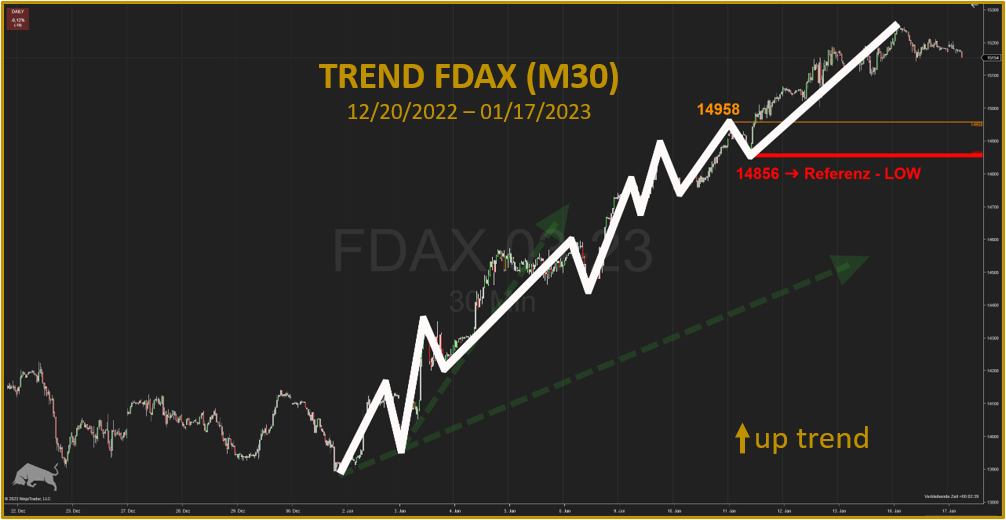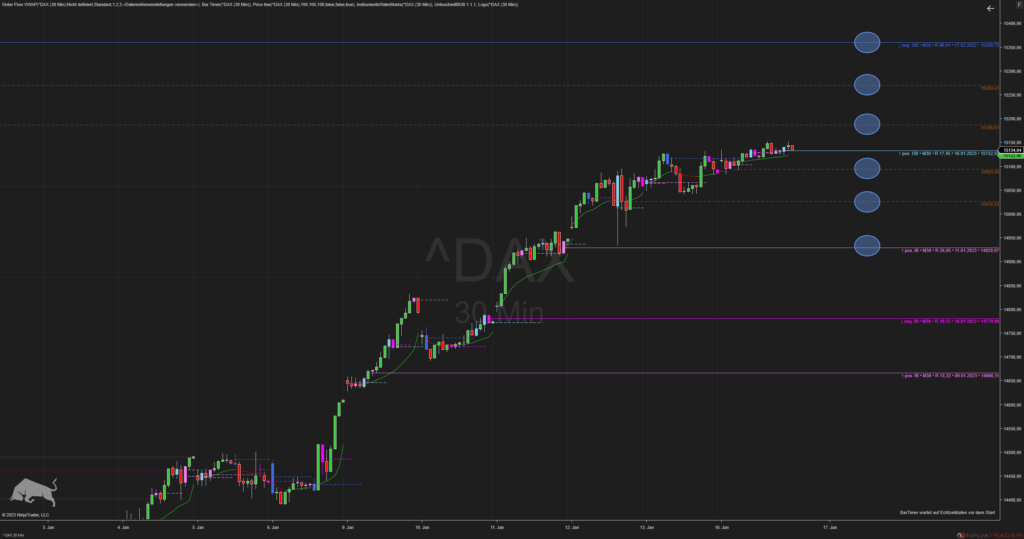 ---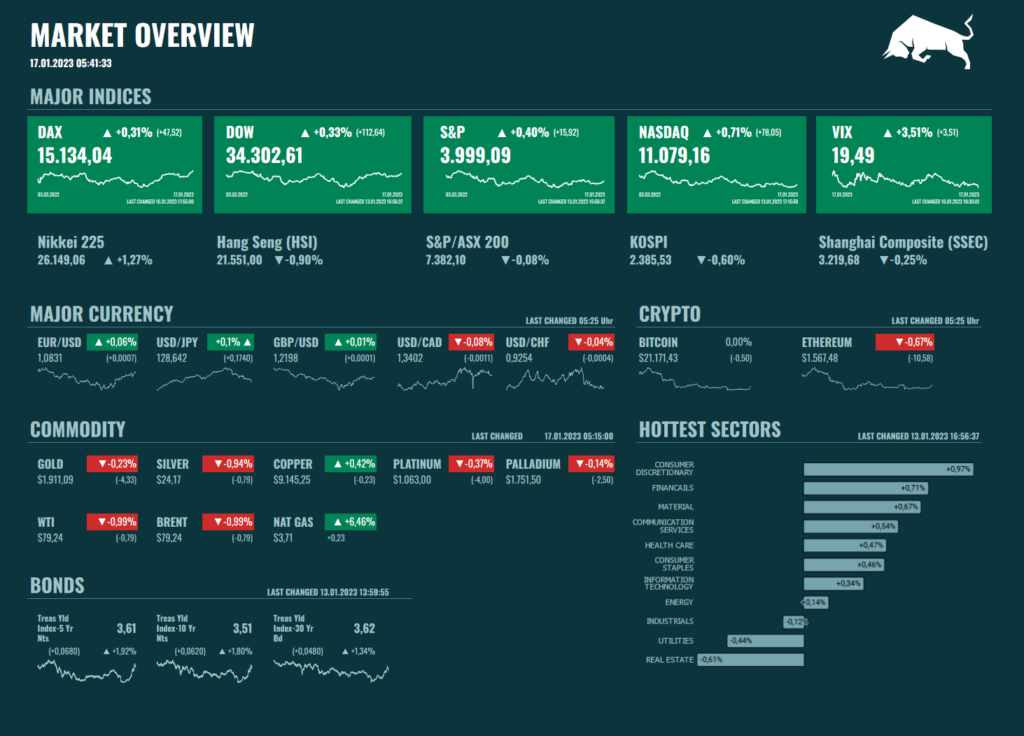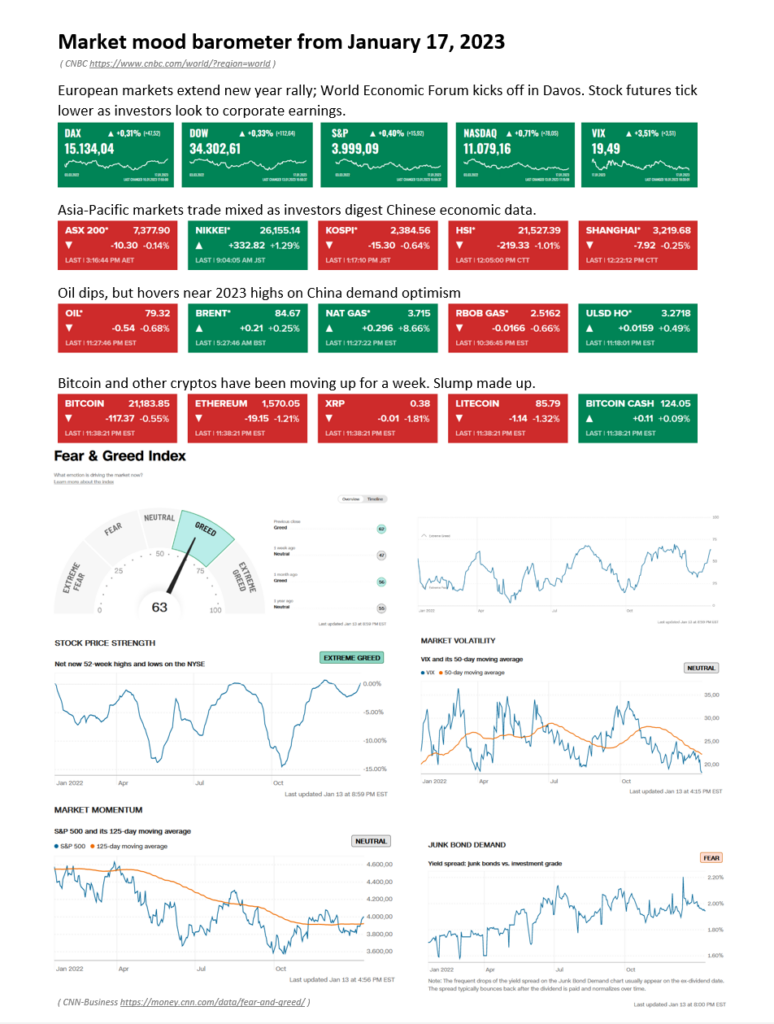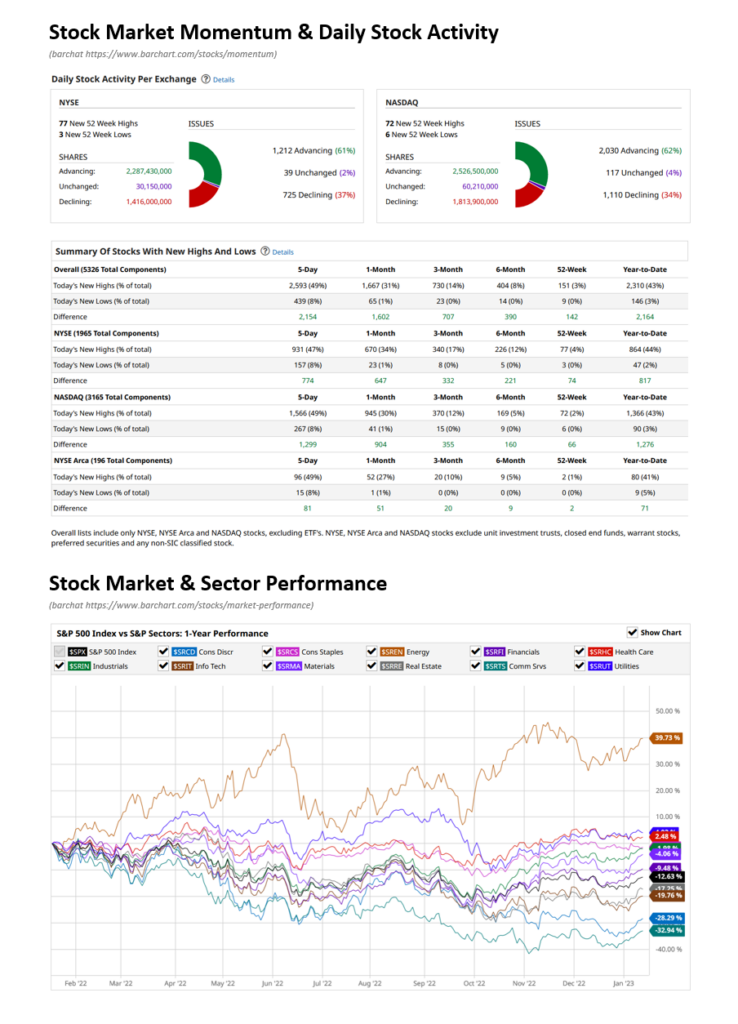 ---
Laut Market Profile trendfolgend. Vorbörslich negativ. Im Tageschart ist der Aufwärtstrend voll intakt. Obgleich der letzte Handelstag im Tageschart keine Dynamik aufweist, ist dies wohl eher der geschlossenen US-Börsen anzudichten. Es muss sich heute zeigen in wieweit der Impuls seit Anfang des Jahres anhalten kann. Technisch liegen wir bereits im Überkauften Bereich. Die Struktur kann ebenfalls in eine Korrektur wechseln und wieder etwas Luft ablassen, bis zur Support-Zone. Was passieren wird, sehen wir im Laufe des Tages. Dennoch gibt es kein Tagessignal aktuell, dass einen Short anzeigt.

Auf kurzfristiger Zeitebene (M30) ist der Aufwärtstrend vorerst intakt. Die aktuelle Bewegung kann eine Korrektur im Aufwärtstrend werden. Unterhalb von 15143 kann es schnell bis zur 15106 gehen. Nach oben haben wir Luft. In der Vorbörse liegen die Kurse wieder innerhalb der VA. Seit gestern sind wir in einer Range um 15258 … 15098. Unser Überverkauft Signal im RSI ist wieder im Normal nahe einem Überverkauft Signal. Der Aufwärtstrend im M30 ist voll intakt und Rückläufe sind vorerst kaufenswert.

Heute beginnt der Start in die Berichtssaison in den USA. Den Anfang machen die US-Großbanken gegen 13:00 Uhr bereits – vorbörslich. Das könnte eine Richtungsentscheidend für den gesamten Handelstag werden.
Bullish/Bearish Scenarios

Bullish Scenario
Solange der FDAX per Schlusskurs über der Marke von 15142 liegt, sehe ich Potential nach oben und suche Long-Einstiege. Sollten wir unter 15142 rutschen suche ich um die Marke von 15106 nach einem erneuten Long-Einstieg. Dies hängt auch von der Dynamik ab, wie an diese Marke herangelaufen wird. Ziele auf der Oberseite sind 15245, 15321.

Bearish Scenario
Können wir kein höheres High per Schlusskurs über 15204 etablieren, suche ich nach Short-Signalen. Da wir in einem Aufwärtstrend sind, sind diese Trades eng zu managen. Ziele auf der Unterseite sind 15106/90, 15005.

According to Market Profile trend following. Pre-market negative. In the daily chart, the upward trend is fully intact. Although the last trading day in the daily chart shows no momentum, this is probably rather to blame the closed U.S. stock markets. It must be seen today in how far the momentum since the beginning of the year can continue. Technically, we are already in the overbought zone. The structure can also change into a correction and let off some air again, to the support zone. What will happen, we will see during the day. Nevertheless, there is no daily signal currently that indicates a short.

On the short-term time frame (M30), the uptrend is intact for now. The current movement can become a correction in the uptrend. Below 15143, it can quickly go to 15106. On the upside, we have room to maneuver. In the pre-market, prices are again within the VA. Since yesterday, we are in a range around 15258 … 15098. Our oversold signal in RSI is back in normal near an oversold signal. The uptrend in the M30 is fully intact and retracements are worth buying for now.

Today marks the start of the reporting season in the US. The US major banks make the beginning around 13:00 already – pre-market. This could be a directional for the entire trading day.
Bullish/Bearish Scenarios

Bullish Scenario
As long as the FDAX is above the 15142 mark at the close, I see potential upside and look for long entries. If we slip below 15142, I look for another long entry around the 15106 mark. This also depends on the dynamics of how this mark is approached. Targets on the upside are 15245, 15321.

Bearish scenario
If we cannot establish a higher high per close above 15204, I look for short signals. Since we are in an uptrend, these trades are to be managed tightly. Targets on the downside are 15106/90, 15005.

Happy Trading 🙂

Matthias