FDAX – Future January, 18 2023
Daily market overview / Marktmeinung
JETZT Ausführliche marktmeinung als PDF
Important News/public holidays
TERMINE UNTERNEHMEN
16:15 USA: Linde plc, außerordentliche Hauptversammlung mit Abstimmung über Rückzug von Frankfurter Börse
22:30 AUS: BHP Group, H1-Produktionsbericht
TERMINE KONJUNKTUR
08:00 DEU: Auftragsbestand und -reichweite verarbeitendes Gewerbe 11/22
08:00 DEU: Baugenehmigungen 11/22
08:00 GBR: Erzeugerpreise 12/22
08:00 GBR: Verbraucherpreise 12/22
11:00 EUR: Verbraucherpreise 12/22 (endgültig)
13:00 USA: MBA Hypothekenanträge
14:30 USA: Einzelhandelsumsatz 12/22
14:30 USA: Erzeugerpreise 12/22
15:15 USA: Industrieproduktion 12/22
16:00 USA: Industrieproduktion 12/22
16:00 USA: Lagerbestände 11/22
20:00 USA: Fed Beige Book
22:30 USA: Api-Rohöllagerdaten
JPN: Notenbank, Zinsentscheidung
SONSTIGE TERMINE
10:00 DEU: Elektro- und Digitalindustrie (ZVEI), Pressekonferenz zu Aus- und Rückblick
10:00 FRA: IEA-Monatsbericht zum Ölmarkt
13:00 DEU: Bundestag, Plenum
CHE: Fortsetzung der Jahreskonferenz des Weltwirtschaftsforums (WEF) in Davos (bis 20.01.)
DEU: Fortsetzung Messe Caravan Motor Touristik (CMT) (bis 22.01.)
Krieg in der Ukraine
Feiertage:
…
DATES COMPANY
16:15 USA: Linde plc, Extraordinary General Meeting with vote on withdrawal from Frankfurt Stock Exchange
22:30 AUS: BHP Group, H1 production report
BUSINESS CYCLE DATES
08:00 DEU: Order backlog and order coverage manufacturing industry 11/22
08:00 DEU: Building Permits 11/22
08:00 GBR: Producer Prices 12/22
08:00 GBR: Consumer Prices 12/22
11:00 EUR: Consumer Prices 12/22 (final)
13:00 USA: MBA Mortgage Applications
14:30 USA: Retail Sales 12/22
14:30 USA: Producer Prices 12/22
15:15 USA: Industrial Production 12/22
16:00 USA: Industrial Production 12/22
16:00 USA: Inventories 11/22
20:00 USA: Fed Beige Book
22:30 USA: Api Crude Oil Inventories Data
JPN: Central Bank, interest rate decision
OTHER DATES
10:00 DEU: Electrical and digital industry (ZVEI), press conference on outlook and review
10:00 FRA: IEA monthly report on oil market
13:00 DEU: Bundestag, plenary session
CHE: Continuation of the annual conference of the World Economic Forum (WEF) in Davos (until Jan. 20)
DEU: Continuation of Caravan Motor Touristik (CMT) trade fair (until 22.01.)
War in Ukraine
Holidays:
---
Trading day (Overview)
Market Profile
OPENING PRICE VERSUS DAY'S VA
in balance
Opening to VWAP
previous day (M30)
above
VA – Market Profile
Value Area previous DAY(VAH, POC, VAL)
15246 … 15184 … 15154
RANGE
(ATR 5)
181 Points
Trading-Range
daily ATR(5)
15399 … 15037
Action Levels
Pivot Points
R3, R2, R1, PP, S1, S2, S3
in Trading-Rang
15338, 15239(PP), 15146, 15047
Previous Day/Today
Close / Open
15245/15218
Open VWAPs
in Trading-Range
–
Open POCs
in Trading-Range
15348, 15184
Support
in Trading-Range
15214, 15106, 15090
Resist
in Trading-Range
15299, 15330, 15370, 15421
---
Daily (FDAX)
–        Der letzte Handelstag wurde als neuer positiver Außenstab (15332 … 15140) beendet
–        Positiver OB (17.01.2023)
–        Wieder anziehendes Handelsvolumen
–        Aufwärtstrend voll intakt
–        Neue Support-Zone um 14744 … 14446
–        Keine großen Widerstände bis 15480/15639
–        Schlusskurs über GD200, GD50, GD20 im Future und Kassa Markt
Steigende Anstiege der GD20 und GD50
– The last trading day ended as a new positive outer bar (15332 … 15140)
– Positive OB (17.01.2023)
– Trading volume picking up again
– Upward trend fully intact
– New support zone around 14744 … 14446
– No major resistances until 15480/15639
– Closing above GD200, GD50, GD20 in futures and cash market
– Rising ups of GD20 and GD50
| | |
| --- | --- |
| Short-Ziel | 15140, 14916, 14595, 14446 |
| Long-Ziel | 15480, 15639 |
M30 (FDAX)
–          Aktiver Aufwärtstrend in der Struktur und im Market Profile intakt
–          Höhere Hochs und höhere Tiefs
–          "unechtes" Gap Down zur Eröffnung
–          Referenz-Low bei 15143, Kurse darunter nehmen dem Aufwärtstrend vorerst die Luft
–          Der heutige Eröffnungskurs lag innerhalb der VA des letzten Handelstages à GLEICHGEWICHT. Während der Vorbörse bereits wieder oberhalb der VAH gelaufen!!!
–          Eröffnungskurs unter dem Pivot Punkt (PP) und unter dem VWAP des letzten Handelstages
–          Aktuell Doppeltop
– Active uptrend intact in the structure and market profile
– Higher highs and higher lows
– "fake" gap down at the opening
– Reference low at 15143, prices below take the air out of the uptrend for now
– Today's opening price was within the VA of the last trading day à EQUAL. During the pre-market already run above the VAH again!!!
– Opening price below the pivot point (PP) and below the VWAP of the last trading day.
– Currently double top
| | |
| --- | --- |
| Short-Ziel | 15164, 15090, 15005 |
| Long-Ziel | 15348(POC), 15370, 15460 |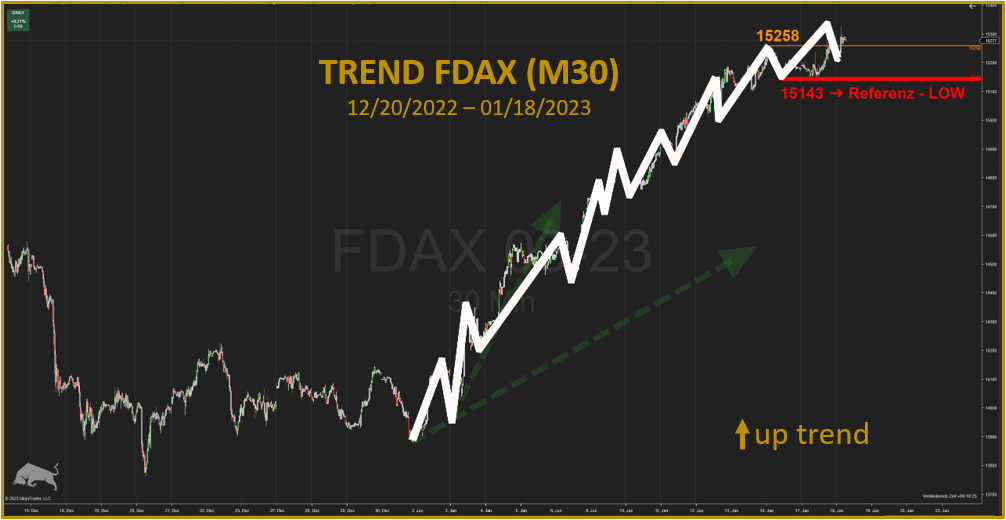 ---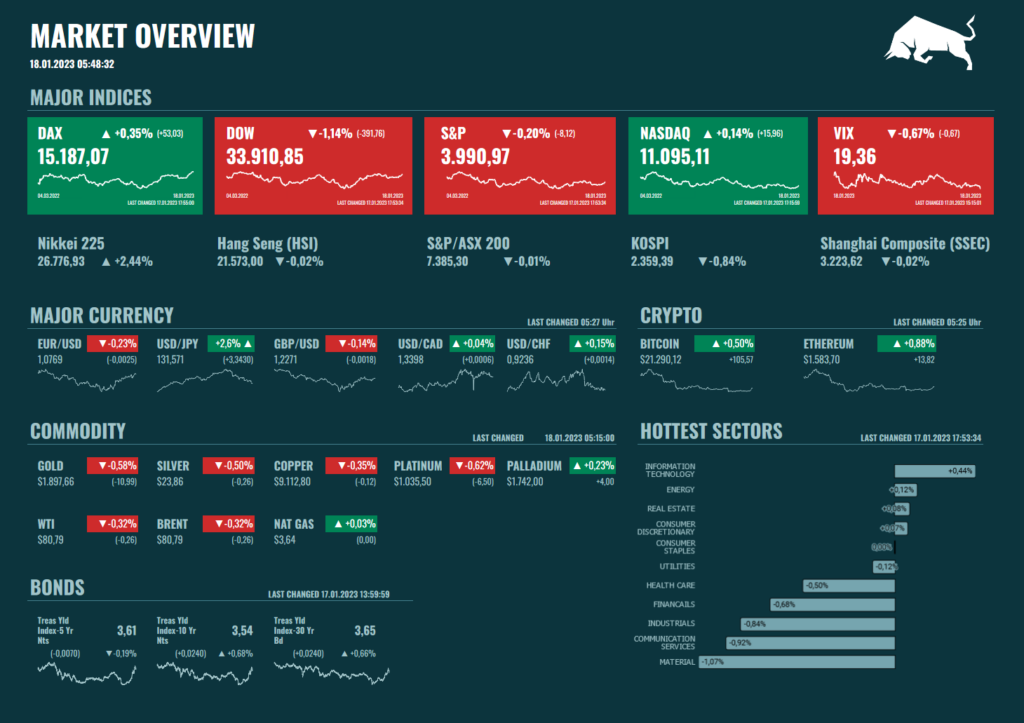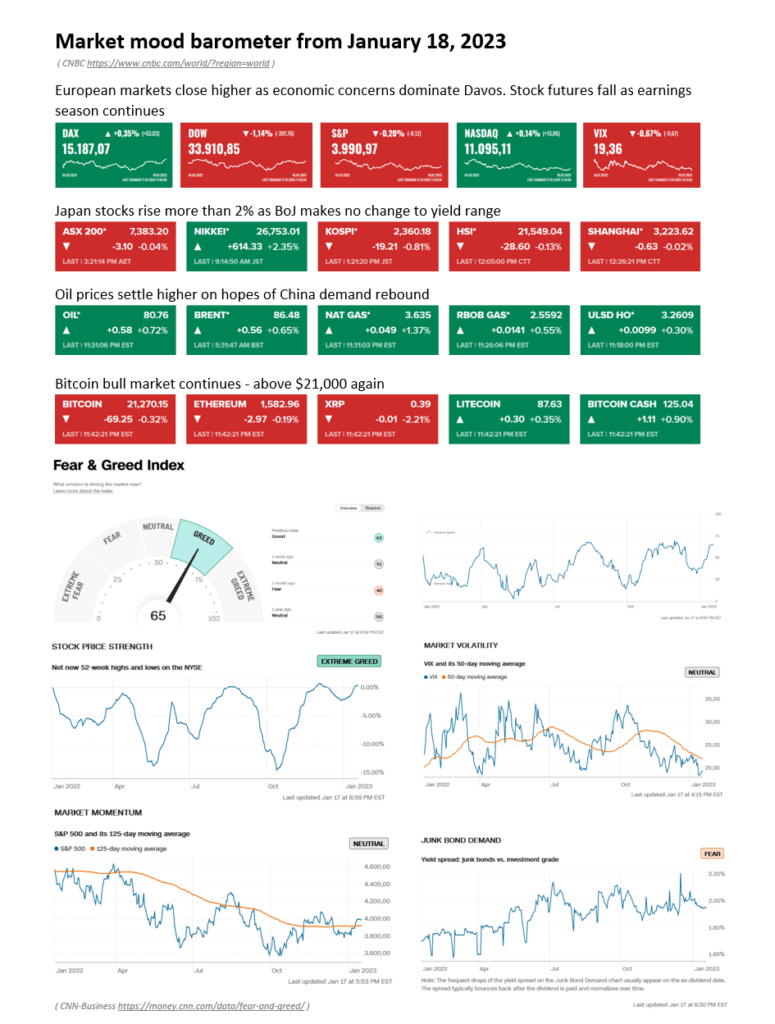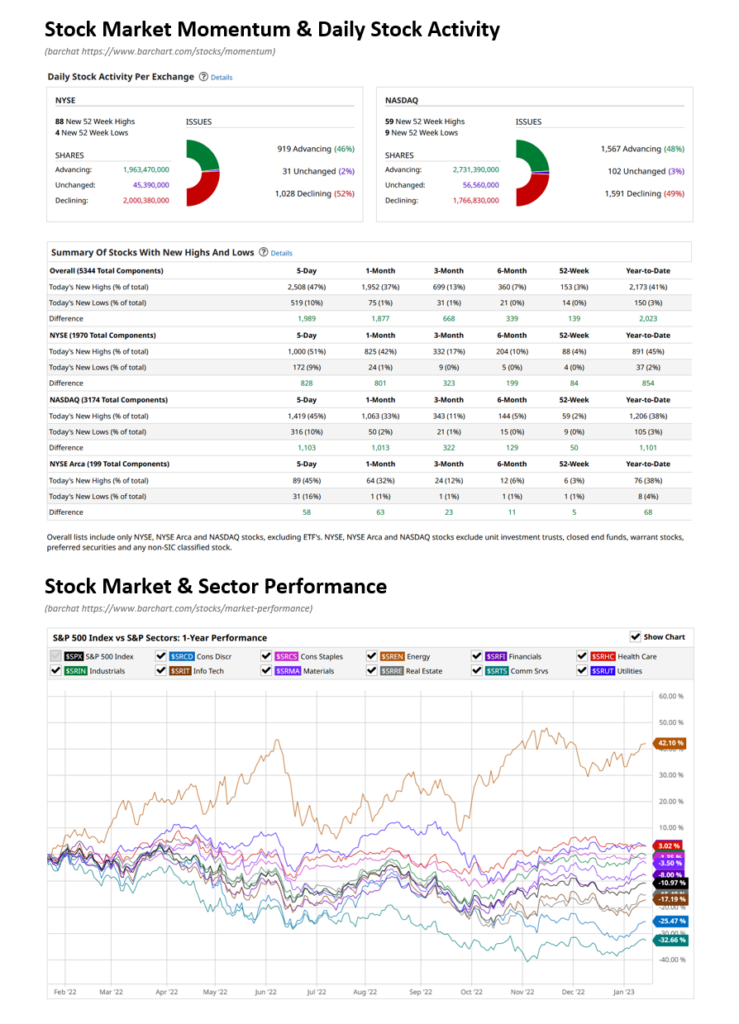 ---
Laut Market Profile heute Range. Vorbörslich positiv. Im Tageschart ist der Aufwärtstrend voll intakt. Gestern konnte erneut ein weiteres Hoch etabliert werden bei 15332. Die Aufwärtsdynamik hält ununterbrochen an. Die gestrige Tageskerze bildet eine weitere Unterstützungszone aus. Tagesschlusskurse unterhalb von 15245 können erste Anzeichen einer beginnenden Korrektur sein. Klassische technische Indikatoren zeigen weiterhin einen überkauften Markt. Dies kann, in einem starken Trend, jedoch noch tagelang trendfolgend den Kurs unbeeindruckt lassen. Erste große Widerstände sind bei 15480/639.
 
Kurzfristig (M30) ist der Aufwärtstrend vorerst intakt. Gestern wurde erneut ein neues Hoch ausgebildet. In der Vorbörse ist ein Doppeltop erkennbar um 15332/30. Die Bewegungen/Kursspanne zwischen den Bewegungshochs und -tiefs werden jedoch kleiner.
 
Heute stehen wichtige marktbewegende Daten aus EU und USA auf dem Terminkalender. So um 11:00 Uhr aus Europa die Inflationszahlen (Verbraucherpreisindex Dez.'22) – man rechnet mit einer Steigerung. Ebenfalls gibt es aus den USA um 14:30 Uhr Zahlen zu den Erzeugerpreisen und dem Einzelhandelsumsätzen.

Grober Plan, vor der Zahlenbekanntgabe bin ich nicht mehr im Markt. Nach der Bekanntgabe folge ich dem Markt. Grundsätzlich Supports kaufenswert, da intakter Aufwärtstrend.
Bullish/Bearish Scenarios

Bullish Scenario
Solange der sich der Markt per M30 Schlusskurs über der 15246 hält suche ich nach Long-Einstiegen mit Zielen auf der Oberseite um 15370, 15421.
 
Stärke an den Supports um 15164, 15106 sind für mich ebenfalls für einen Long-Einstieg interessant.
 

Bearish Scenario
Schlusskurse M30 unter 15214 können noch einmal Ziele bis 15164 freigeben. Schlusskurse unter 15143/6 können noch weitere Kursziele auf der Unterseite aktivieren bis 15090/05.

According to Market Profile Range today. Pre-market positive. In the daily chart, the upward trend is fully intact. Yesterday, another high was established at 15332. The upward momentum continues uninterrupted. Yesterday's daily candle forms another support zone. Daily closing prices below 15245 can be the first signs of an incipient correction. Classical technical indicators continue to show an overbought market. However, this can, in a strong trend, still leave the price unimpressed for days. First major resistances are at 15480/639.
 
In the short term (M30), the upward trend is intact for now. Yesterday, a new high was formed again. In the pre-market, a double top is visible around 15332/30. However, the movements/price range between the movement highs and lows are getting smaller.
 
Today, important market-moving data from the EU and the U.S. are on the schedule. So at 11:00 from Europe the inflation figures (consumer price index Dec.'22) – one expects an increase. Likewise, from the U.S. at 14:30 there are figures on producer prices and retail sales.

Rough plan, before the number announcement I am no longer in the market. After the announcement, I follow the market. Basically Supports worth buying, since intact upward trend.
Bullish/Bearish Scenarios

Bullish Scenario
As long as the market holds above 15246 per M30 close, I am looking for long entries with targets on the upside around 15370, 15421.
Strength at the supports around 15164, 15106 are also interesting for me for a long entry.

Bearish scenario
Closing M30 below 15214 can once again release targets to 15164. Closing prices below 15143/6 can still activate further price targets on the downside to 15090/05.

Happy Trading 🙂

Matthias