FDAX – Future January, 24 2023
Daily market overview / Marktmeinung
JETZT Ausführliche marktmeinung als PDF
Important News/public holidays
TERMINE UNTERNEHMEN
03:00 CHE: Logitech, Q3-Zahlen (detailliert)
08:00 GBR: AB Foods, Q1-Trading-Update
09:15 DEU: Fortsetzung Prozess gegen Ex-Audi-Chef Stadler und drei Ingenieure
12:30 USA: General Electric, Q4-Zahlen
12:30 USA: 3M, Q4-Zahlen
12:30 USA: Johnson & Johnson, Q4-Zahlen
13:00 USA: Raytheon, Q4-Zahlen
13:00 USA: Travelers, Q4-Zahlen (detailliert)
13:30 USA: Lockheed Martin, Q4-Zahlen
13:30 USA: Verizon, Q4-Zahlen
17:30 USA: Visa, Hauptversammlung
22:00 USA: Microsoft, Q2-Zahlen
22:00 USA: Texas Instruments, Q4-Zahlen
TERMINE KONJUNKTUR
08:00 DEU: Gfk Verbrauchervertrauen 02/23
08:00 GBR: Nettoverschuldung Staatssektor 12/22
08:45 FRA: Geschäftsklima 01/22
09:15 FRA: Einkaufsmanagerindex Dienstleistung/ Industrie 01/23 (1. Veröffentlichung)
09:30 DEU: Einkaufsmanagerindex Dienstleistung/ Industrie 01/23 (1. Veröffentlichung)
10:00 EUR: Einkaufsmanagerindex Dienstleistung/ Industrie 01/23 (1. Veröffentlichung)
10:30 GBR: Einkaufsmanagerindex Dienstleistung/ Industrie 01/23 (1. Veröffentlichung)
15:45 USA: Einkaufsmanagerindex Dienstleistung/ Industrie 01/23 (1. Veröffentlichung)
16:00 USA: Richmond-Fed-Herstellerindex 01/23
22:30 USA: Api-Rohöllagerdaten
SONSTIGE TERMINE
Krieg in der Ukraine
Feiertage: CN China – Chinesisches Neujahr
…
DATES COMPANY
03:00 CHE: Logitech, Q3 figures (detailed)
08:00 GBR: AB Foods, Q1 trading update
09:15 DEU: Trial against ex-Audi boss Stadler and three engineers continues
12:30 USA: General Electric, Q4 figures
12:30 USA: 3M, Q4 figures
12:30 USA: Johnson & Johnson, Q4 figures
13:00 USA: Raytheon, Q4 figures
13:00 USA: Travelers, Q4 figures (detailed)
13:30 USA: Lockheed Martin, Q4 figures
13:30 USA: Verizon, Q4 figures
17:30 USA: Visa, Annual General Meeting
22:00 USA: Microsoft, Q2 figures
22:00 USA: Texas Instruments, Q4 figures
BUSINESS CYCLE DATES
08:00 DEU: Gfk Consumer Confidence 02/23
08:00 GBR: Government Sector Net Debt 12/22
08:45 FRA: Business Climate 01/22
09:15 FRA: Purchasing Managers' Index Services/ Industry 01/23 (1st release)
09:30 DEU: Purchasing Managers' Index Services/ Industry 01/23 (1st release)
10:00 EUR: Purchasing Managers' Index Services/ Industry 01/23 (1st release)
10:30 GBR: Purchasing Managers' Index Services/ Industry 01/23 (1st release)
15:45 USA: Purchasing Managers' Index Services/ Industry 01/23 (1st release)
16:00 USA: Richmond Fed Manufacturing Index 01/23
22:30 USA: Api crude oil inventories data
OTHER DATES
War in Ukraine
Holidays: CN China – Chinese New Year
---
Trading day (Overview)
Market Profile
OPENING PRICE VERSUS DAY'S VA
out balance
Opening to VWAP
previous day (M30)
above
VA – Market Profile
Value Area previous DAY(VAH, POC, VAL)
15187 … 15162 … 15105
RANGE
(ATR 5)
173 Points
Trading-Range
daily ATR(5)
15350 … 15004
Action Levels
Pivot Points
R3, R2, R1, PP, S1, S2, S3
in Trading-Rang
15293, 15238, 15155(PP), 15100, 15017
Previous Day/Today
Close / Open
15184/15177
Open VWAPs
in Trading-Range
15255, 15132, 15055
Open POCs
in Trading-Range
15348, 15229, 15049
Support
in Trading-Range
15148, 15075, 15005
Resist
in Trading-Range
15209, 15239, 15312, 15330
---
Daily (FDAX)
– Der letzte Handelstag wurde im aktiven negativen negativer Außenstab vom 19.01.2023 (15195 … 14961) beendet
– Kein Tagesschlusskurs über dem negativen Außenstab
– Negativer IB und positiver OB (17.01.2023) am Zwischenhoch
– Leicht abfallendes Handelsvolumen
– Aufwärtstrend immer noch voll intakt
– Möglicher Wendpunkt (Korrektur) unter 15140 per Tagesschlusskurs – letzter Handelstag schloss darüber
– Support-Zone um 14744 … 14446
– Schlusskurs über GD200, GD50, GD20 im Future und Kassa Markt
– Steigende Anstiege der GD20 und GD50
– The last trading day ended in the active negative outer bar from 01/19/2023 (15195 … 14961)
– No daily closing price above the negative outer bar
– Negative IB and positive OB (17.01.2023) at the intermediate high
– Slightly decreasing trading volume
– Upward trend still fully intact
– Possible turning point (correction) below 15140 per daily closing price – last trading day closed above it
– Support zone around 14744 … 14446
– Closing price above GD200, GD50, GD20 in the future and spot market
– Rising ups of GD20 and GD50
| | |
| --- | --- |
| Short-Ziel | 14916, 14595, 14446 |
| Long-Ziel | 15480, 15639 |
M30 (FDAX)
– 5-wellige Aufwärtsbewegung
– Referenz-High um 15195 herausgenommen
– Symmetrisches Dreieck
– Der heutige Eröffnungskurs lag innerhalb der VA des letzten Handelstages → GLEICHGEWICHT.
– Eröffnungskurs über dem Pivot Punkt (PP) und über dem VWAP des letzten Handelstages
5-wave upward movement
Reference high around 15195 taken out
Symmetrical triangle
Today's opening price was within the VA of the last trading day → EQUAL WEIGHT.
Opening price above the pivot point (PP) and above the VWAP of the last trading day.
| | |
| --- | --- |
| Short-Ziel | 15105, 15055 (VWAP), 15005, 14961 |
| Long-Ziel | 15192, 15239, 15312 |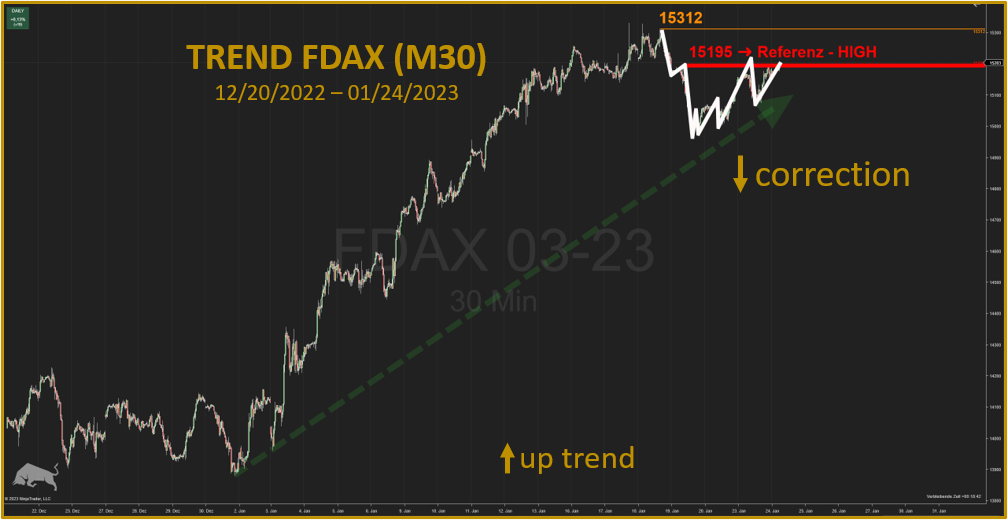 ---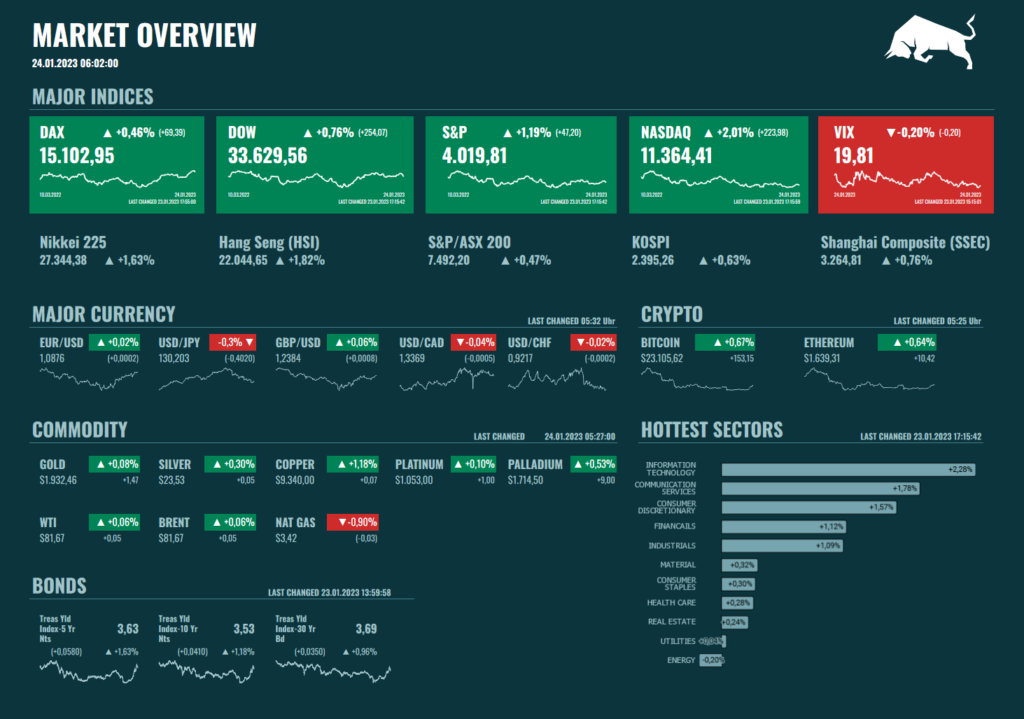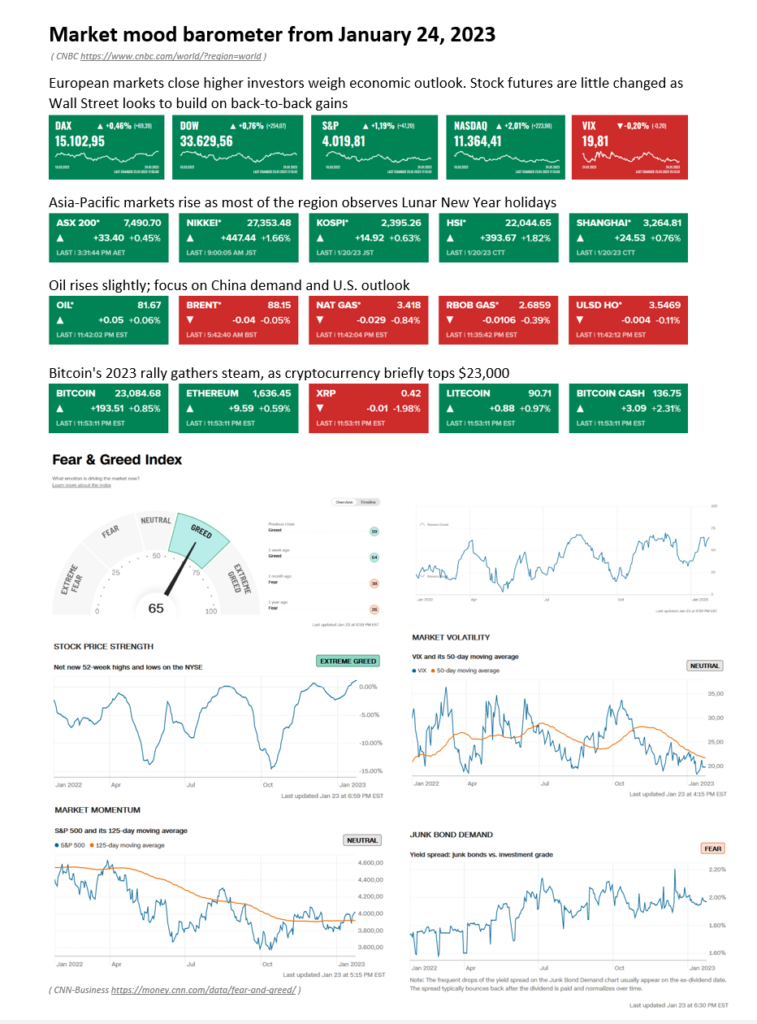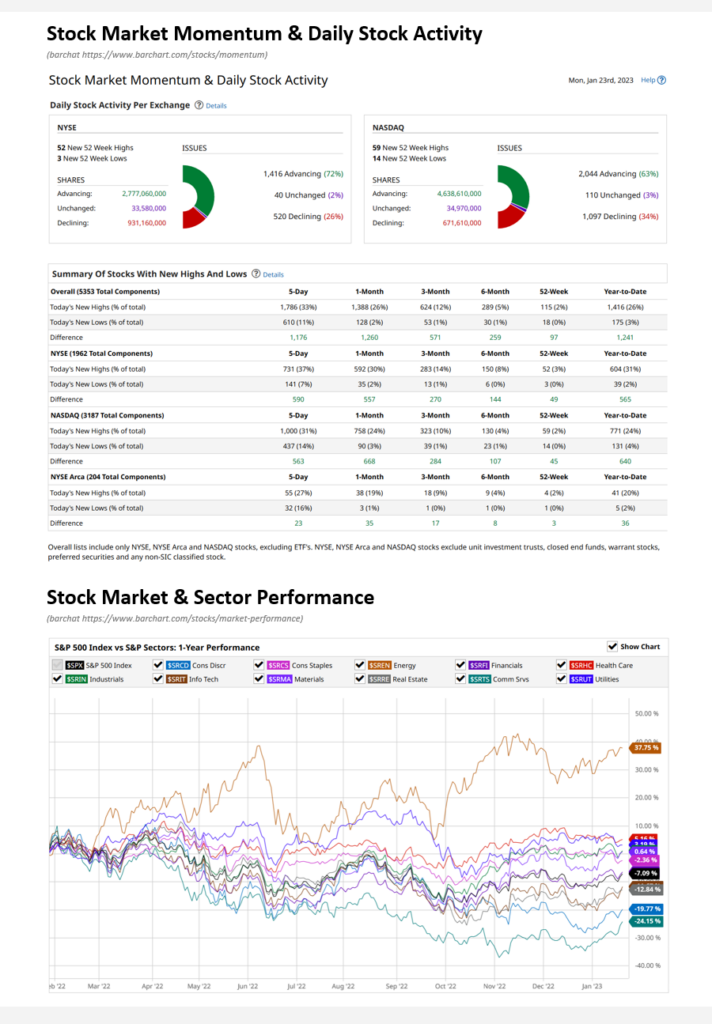 ---
Laut Market Profile heute Range. Vorbörslich positiv. Im Tageschart ist der Aufwärtstrend voll intakt. Der Rücksetzer vom 19.01.2023 wird aktuell getestet. Kann sich per Tagesschlusskurs die 15195 herausgenommen werden, könnte die Korrektur vorerst beendet sein. Ein Rücklauf bis zum High ist jedoch auch in einer Korrektur nicht ungewöhnlich. Dennoch sind Shorts am Tagesbasis mit Vorsicht zu betrachten – erst wieder unter 15140 sehe ich eine erneute Chance. Luft nach oben ist bis 15480 und 15639 gegeben.

Im kurzfristigen M30 ist ein kurzfristiger Aufwärtstrend zu sehen – höhere Hochs und höhere Tiefs. Die Korrekturbewegung vom 19.01.2023 wackelt. Es gilt nun nachhaltig die 15209 zu überwinden, also per M30 Schlusskurs. Mit dem aktuellen symmetrischen Dreieck, findet in der Vorbörse ein erster Ausbruchsversuch auf der Oberseite statt.

Heute stehen am Vormittag die Einkaufsmanagerindex Daten der EU, DE und FR an. Am Nachmittag folgen gegen 15:45 der Einkaufsmanagerindex und der Richmond-Fed-Herstellerindex aus den USA. Somit Vorsicht an vor 15:45 Uhr.
Bullish/Bearish Scenarios

Bullish Scenario
Übergeordnet befindet sich der Markt in einem intakten Aufwärtstrend. Somit sind Unterstützungen kaufenswert. Spätestens bis 15105/092 versuche ich kurzfristig sinnvolle Rücksetzer zu kaufen.
Ziele auf der Oberseite sind dann 15239, 15312.
 

Bearish Scenario
Bekommen wir kein neues Hoch per M30 Schlusskurs über 15209 und gehen unter die fallende Trendlinie (rot) suche ich Short-Einstiege bis zur Kaufzone um 15105/092. Bei Dynamik auch weitere Ziele auf der Unterseite bis 15005 möglich..
According to Market Profile Range today. Pre-market positive. In the daily chart, the upward trend is fully intact. The setback from 01/19/2023 is currently being tested. If the 15195 can be taken out per daily closing price, the correction could be over for the time being. However, a retracement to the high is not unusual even in a correction. Nevertheless, shorts on the daily basis are to be considered with caution – only again below 15140 I see a renewed opportunity. Air to the top is given to 15480 and 15639.

In the short-term M30, a short-term uptrend can be seen – higher highs and higher lows. The correction move from 01/19/2023 is wobbling. The task now is to sustainably overcome 15209, i.e. per M30 closing price. With the current symmetrical triangle, a first breakout attempt on the upside takes place in the pre-market.

Today, the purchasing managers index data of the EU, DE and FR are due in the morning. In the afternoon, the purchasing managers index and the Richmond Fed manufacturing index from the U.S. follow around 15:45. Thus, caution on before 15:45.
Bullish/Bearish Scenarios

Bullish Scenario
Overridingly, the market is in an intact uptrend. Thus, supports are worth buying. At the latest until 15105/092, I try to buy meaningful short-term setbacks.
Targets on the upside are then 15239, 15312.

Bearish scenario
If we do not get a new high per M30 close above 15209 and go below the falling trend line (red), I look for short entries to the buy zone around 15105/092. With momentum also further targets on the downside to 15005 possible.
Happy Trading 🙂

Matthias