FDAX – Future January, 27 2023
Daily market overview / Marktmeinung
JETZT Ausführliche marktmeinung als PDF
Important News/public holidays
TERMINE UNTERNEHMEN
01:30 KOR: SK Hynix, Q4-Zahlen
07:00 NLD: Signify, Q4-Zahlen (detailliert)
07:30 FRA: Remy Cointreau, 9M-Zahlen
08:00 SWE: Hennes & Mauritz (H&M), Q4-Zahlen (detailliert)
12:15 USA: Chevron, Q4-Zahlen
12:55 USA: Colgate-Palmolive, Q4-Zahlen
13:00 USA: Altria, Q4-Zahlen
13:00 USA: American Express, Q4-Zahlen
TERMINE KONJUNKTUR
08:45 FRA: Verbrauchervertrauen 01/23
09:00 ESP: BIP, Q4-Zahlen
10:00 EUR: EZB, Geldmenge M3 12/22
10:00 ITA: Industrieumsatz 11/22
14:30 USA: Konsumausgaben 12/22
16:00 USA: Hausverkäufe 12/22
16:00 USA: Universität of Michigan Stimmungsindex 01/23
SONSTIGE TERMINE
08:00 GBR: Die parlamentarisch anerkannte Dienstelle für Gas- und Strommärkte kündigt die neue Energiepreisobergrenze an
Krieg in der Ukraine
Feiertage: CN China – Chinesisches Neujahr
…
DATES COMPANY
01:30 KOR: SK Hynix, Q4 figures
07:00 NLD: Signify, Q4 figures (detailed)
07:30 FRA: Remy Cointreau, 9M figures
08:00 SWE: Hennes & Mauritz (H&M), Q4 figures (detailed)
12:15 USA: Chevron, Q4 figures
12:55 USA: Colgate-Palmolive, Q4 figures
13:00 USA: Altria, Q4 figures
13:00 USA: American Express, Q4 figures
BUSINESS CYCLE DATES
08:45 FRA: Consumer Confidence 01/23
09:00 ESP: GDP, Q4 figures
10:00 EUR: ECB, Money Supply M3 12/22
10:00 ITA: Industrial Sales 11/22
14:30 USA: Consumer spending 12/22
16:00 USA: Home Sales 12/22
16:00 USA: University of Michigan Sentiment Index 01/23
OTHER DATES
08:00 GBR: Parliamentary approved gas and electricity markets service announces new energy price cap
War in Ukraine
Holidays: CN China – Chinese New Year
---
Trading day (Overview)
Market Profile
OPENING PRICE VERSUS DAY'S VA
out balance
Opening to VWAP
previous day (M30)
above
VA – Market Profile
Value Area previous DAY(VAH, POC, VAL)
15192 … 15176 … 15142
RANGE
(ATR 5)
167 Points
Trading-Range
daily ATR(5)
15369 … 15035
Action Levels
Pivot Points
R3, R2, R1, PP, S1, S2, S3
in Trading-Rang
15363, 15297, 15208(PP), 15142, 15053
Previous Day/Today
Close / Open
15231/15202
Open VWAPs
in Trading-Range
15172, 15112
Open POCs
in Trading-Range
15348, 15176, 15093
Support
in Trading-Range
15166, 15119, 15070, 15035
Resist
in Trading-Range
15242, 15260, 15312, 15330, 15370
---
Daily (FDAX)
– Der letzte Handelstag wurde als neuer positive Außenstab (15274 … 15119) beendet
– Negativer IB und positiver OB (17.01.2023) am Zwischenhoch
– Sehr bullische Price-Action in den letzten Handelstagen (pos. Hammer)
– Durchschnittliches Handelsvolumen
– Aufwärtstrend immer noch voll intakt
– Möglicher Wendpunkt (Korrektur) unter 15140 per Tagesschlusskurs
– Support-Zone um 14744 … 14446
– Schlusskurs über GD200, GD50, GD20 im Future und Kassa Markt
– Steigende Anstiege der GD20, GD50 und
– The last trading day ended as a new positive outer bar (15274 … 15119)
– Negative IB and positive OB (01/17/2023) at the intermediate high
– Very bullish price action in the last trading days (pos. hammer)
– Average trading volume
– Upward trend still fully intact
– Possible turning point (correction) below 15140 per daily closing price
– Support zone around 14744 … 14446
– Closing price above GD200, GD50, GD20 in the future and spot market
– Rising upward of the GD20, GD50 and
| | |
| --- | --- |
| Short-Ziel | 14961, 14744, 14595, 14446 |
| Long-Ziel | 15480, 15639 |
M30 (FDAX)
– Range zwischen 15330 … 14961
– Ablehnung bei 15274 (high vom 26.02.2023)
– Support-Zone verteidigt um 15055/05 (VWAP)
– Der heutige Eröffnungskurs lag oberhalb der VA des letzten Handelstages → UNGLEICHGEWICHT.
– Eröffnungskurs über dem Pivot Punkt (PP) und über dem VWAP des letzten Handelstages
– Steigende Pivot Punkte und steigende VA's
– Range between 15330 … 14961
– Rejection at 15274 (high from 02/26/2023)
– Support zone defended around 15055/05 (VWAP).
– Today's opening price was above the VA of the last trading day → UNBALANCED.
– Opening price above the pivot point (PP) and above the VWAP of the last trading day.
– Rising pivot points and rising VA's
| | |
| --- | --- |
| Short-Ziel | 15112 (VWAP), 15070, 15035 |
| Long-Ziel | 15312, 15330, 15348(POC) |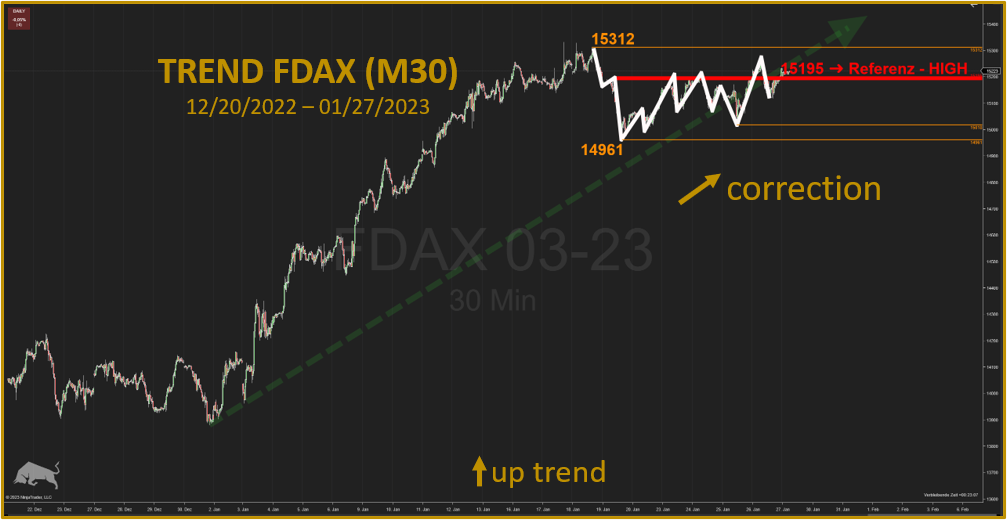 ---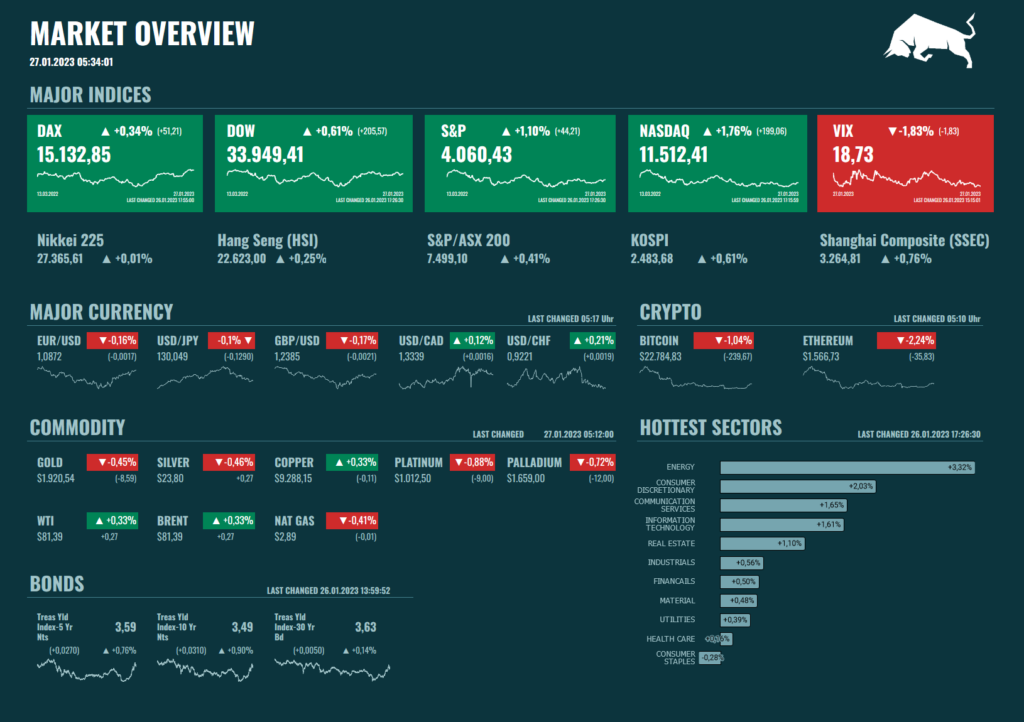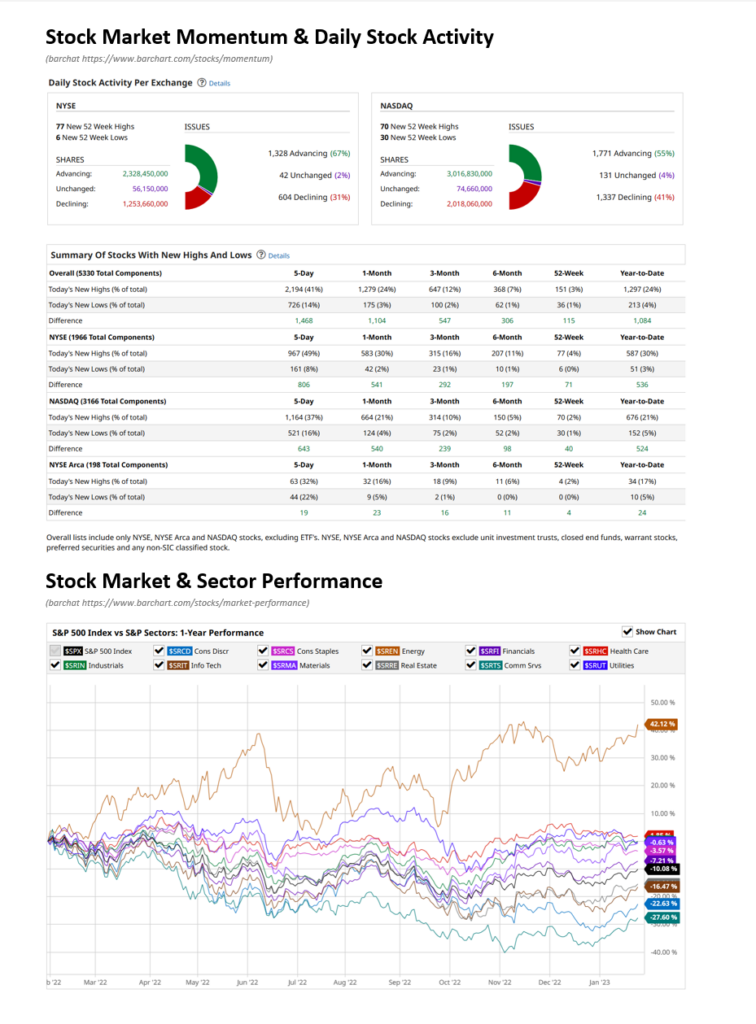 ---
Laut Market Profile heute trendfolgend. Vorbörslich positiv. Aktuell im daily der Versuch sich von der kurzen Korrektur zu lösen. Der Aufwärtstrend ist voll intakt. Tagesschlusskurse unter 15140 sprechen weiter für Schwäche, darüber für Stärke. Luft nach oben ist bis zu den nächsten Widerständen um 15480 und 15639.

Auf kurzfristiger Zeitebene (M30) ist eine Range erkennbar. Das Hoch um 15274 wurde klar abgelehnt, jedoch auch das Tief um 15018. In dieser kleinen Range kann sich der Markt vorerst bewegen. Mit dem nahenden Wochenende ist eine starke Positionierung unwahrscheinlich. Beachten sollte man jedoch die heutigen Zahlenbekanntgaben der US-Konzerne sowie einiger Wirtschaftsdaten.

Diese sind mit den heutigen letzten Quartalsberichten der Woche Chevron, American Express, Colgate-Palmolive, Altria, etc.. US Wirtschaftsdaten liegen ab 14:30 Uhr am Ticker wie die Konsumausgaben 12/22 und ab 16:00 Uhr Hausverkäufe 12/22 sowie der Universität of Michigan Stimmungsindex 01/23.
Bullish/Bearish Scenarios

Bullish Scenario
Grundsätzlich sind wir in einem übergeordneten Aufwärtstrend. Rückläufe an die Support-Zonen sind somit kaufenswert um 15172, 15166. Ziele auf der Oberseite sind neue Highs um 15312, 15348.

Bearish Scenario
Da ich das Zwischenhoch um 15274 für stark halte, würde ich in dieser Region (15260-15242) auf short-signal warten. Ziele auf der Unterseite sind 15166, 15119. Bei Dynamik auch tiefer bis 15070.
According to Market Profile trend following today. Pre-market positive. Currently in the daily the attempt to break away from the short correction. The upward trend is fully intact. Daily closing prices below 15140 continue to speak for weakness, above for strength. Air to the top is up to the next resistances around 15480 and 15639.

On a short-term time frame (M30), a range is visible. The high around 15274 was clearly rejected, but also the low around 15018. In this small range, the market can move for now. With the approaching weekend, a strong positioning is unlikely. However, one should pay attention to today's number announcements of the U.S. corporations and some economic data.

These are with today's last quarterly reports of the week Chevron, American Express, Colgate-Palmolive, Altria, etc.. U.S. economic data are from 14:30 on the ticker such as consumer spending 12/22 and from 16:00 home sales 12/22 and the University of Michigan sentiment index 01/23.
Bullish/Bearish Scenarios

Bullish Scenario
Basically, we are in a superior uptrend. Thus, retracements to the support zones are worth buying around 15172, 15166. Targets on the upside are new highs around 15312, 15348.

Bearish scenario
As I consider the intermediate high around 15274 strong, I would wait for short-signal in this region (15260-15242). Targets on the downside are 15166, 15119. With momentum also lower to 15070.
Happy Trading 🙂

Matthias