FDAX – Future November, 28 2022
Daily market overview / Marktmeinung
News/public holidays
15:00 Uhr EU EZB-Präsidentin Lagarde spricht
---
Trading day (Overview)
Market Profile
OPENING PRICE VERSUS DAY'S VA
out balance
Opening to VWAP
previous day (M30)
below
VA – Market Profile
Value Area previous DAY(VAH, POC, VAL)
14561 … 14557 … 14531
RANGE
(ATR 5)
161 points
Trading-Range
daily ATR(5)
14666 … 14344
Action Levels
Pivot Points
R3, R2, R1, PP, S1, S2, S3
in Trading-Rang
14643, 14600, 14555(PP), 14512, 14467,14379
Previous Day/Today
Close / Open
14558/14505
Open VWAPs
in Trading-Range
–
Open POCs
in Trading-Range
14653, 14557, 14441
Support
in Trading-Range
14459, 14421, 14395, 14356
Resist
in Trading-Range
14493, 14512/24, 14577, 14616
---
Daily (FDAX)
– Der letzte Handelstag wurde innerhalb des aktiven positiven Außenstab beendet (14589 … 14454)
– weiter abnehmendes Handelsvolumen
– Gap Down
– Mehrwellige Aufwärtsbewegung (UP-Trend) – Aufwärtstrend voll intakt
– Schlusskurs über GD20, GD50, GD200 im Future und Kassamarkt
– Wichtiger Support um 12719 darunter dann weitere Jahrestiefs im daily
Starke Widerstandszone um 14631 … 14353
– The last trading day ended within the active positive outer bar (14589 … 14454)
– further decreasing trading volume
– Gap Down
– Multi-wave upward movement (UP trend) – upward trend fully intact
– Closing price above GD20, GD50, GD200 in futures and cash market
– Important support around 12719 below, then further yearly lows in the daily
– Strong resistance zone around 14631 … 14353
| | |
| --- | --- |
| Short-Ziel | 14335, 14302, 14148 |
| Long-Ziel | 14631, 14712 (H) |
M30 (FDAX)
– Eröffnung unter der M30 Range – Gap Down
– Up-Trend voll intakt
– Handelspanne nimmt merklich über die letzten Tage ab
– Der heutige Eröffnungskurs lag unterhalb der VA des letzten Handelstages à UNGLEICHGEWICHT.
– Eröffnungskurs unter dem Pivot Punkt (PP) sowie dem VWAP des letzten Handelstages
– Opening below the M30 Range – Gap Down
– Up trend fully intact
– Trading range decreases noticeably over the last days
– Today's opening price was below the VA of the last trading day à – UNBALANCED.
– Opening price below the Pivot Point (PP) as well as the VWAP of the last trading day.
| | |
| --- | --- |
| Short-Ziel | 14441, 14395, 14356, 14313 |
| Long-Ziel | 14616, 14675 |
---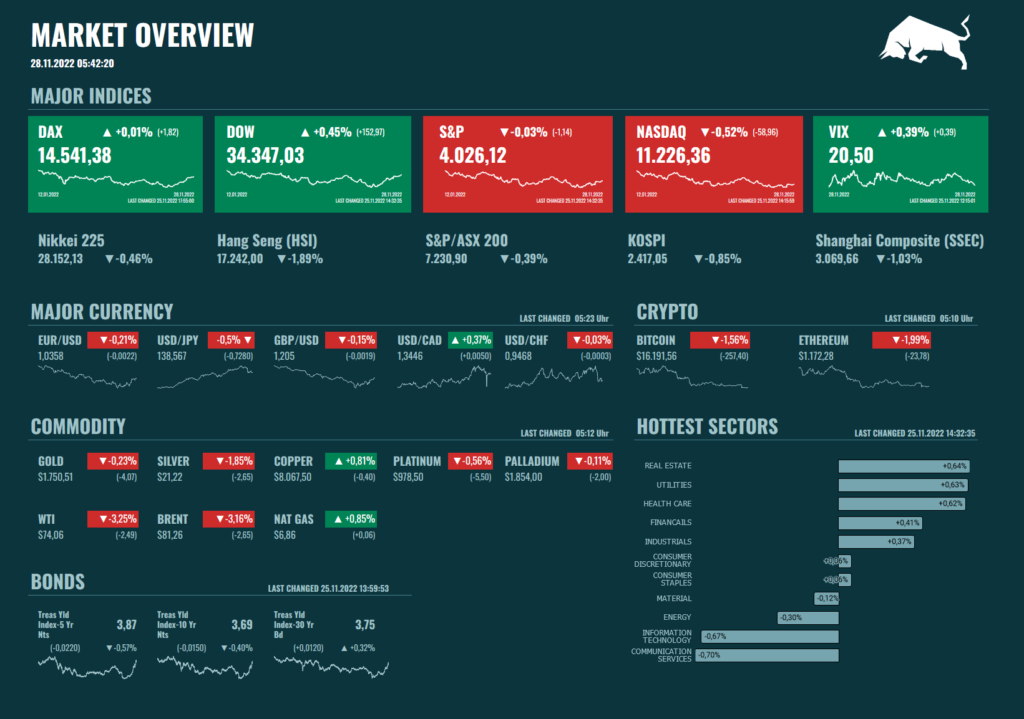 ---
Laut Market Profile heute Trend folgend. Vorbörslich negativ mit echtem gap down. Im daily befindet sich der Markt noch immer in der Widerstandszone um 14631 … 14353 vom Juni 2022. Abnehmende Handelsvolumen seit Anfang November in der Widerstandszone – mögliche Trendumkehr. Für mich stellt sich immer noch die Frage, wer auf diesem hohen Niveau weiter kauft. Im daily sind wir dennoch in einem intakten Aufwärtstrend. Die Dynamik lässt jedoch vorerst nach. Im M30 konnte der Range-Breakout heute in der Vorbörse nicht halten und notiert aktuell wieder innerhalb der Range. Im kurzfristigen Handel sind wir aktuell eher billig. Eine klare Richtung für heute ist schwer auszumachen. Da sich der Markt nun wieder in seine über Tage laufende Range zurückgesetzt hat, gehe ich vorerst mit Kursen innerhalb dieser aus – also zwischen 14524 … 14313. Ein Breakout über bzw. unter dieser Range-Kanten mit Schlusskurs kann eine die weitere Richtung anzeigen. Wer sich nicht die Finger verbrennen möchte heute – einfach nicht handeln.
 
Heute stehen keine wichtigen Bekanntgaben von Daten an, lediglich die EZB-Präsidentin spricht. Morgen jedoch sind der Verbraucherpreisindex aus Deutschland und übermorgen die offenen Stellen aus den USA wichtige Kurstreiber. Nicht zuletzt spricht ebenso am Mittwoch der FED-Vorsitzende Powell. In dieser Woche stehen also wieder alle Zutaten bereit für ein reichliches Informations- und Interpretationsmenü.
Bullish/Bearish Scenarios

Ich bin heute eher unentschlossen. Der verpasste nachhaltige Ausbruch aus der M30-Range sowie die Widerstandszone im daily machen meine Trendfolge-Szenarien etwas unwahrscheinlicher – jedoch nicht unmöglich.
 
Für mich ist heute erneut Range-Handel. Bei einem Breakout unterhalb 14313 suche ich vorerst short (im Rücklauf) und Ausbrüche über 14524 suche ich weiter Long Einstiege. Innerhalb dieser Range spiele ich die beiden Rangekanten.
According to Market Profile today trend following. Pre-market negative with real gap down. In daily, the market is still in the resistance zone around 14631 … 14353 from June 2022. Decreasing trading volumes since early November in the resistance zone – possible trend reversal. For me, the question is still who continues to buy at this high level. In the daily, we are nevertheless in an intact upward trend. However, the momentum is weakening for the time being. In the M30, the range breakout could not hold today in the pre-market and currently quotes again within the range. In short-term trading, we are currently rather cheap. A clear direction for today is difficult to discern. Since the market has now moved back into its range running over days, I assume for the time being with prices within this – so between 14524 … 14313. A breakout above or below this range edges with closing price can indicate a the further direction. Who does not want to burn his fingers today – simply do not trade.
 
Today, no important data announcements are pending, only the ECB President speaks. Tomorrow, however, the consumer price index from Germany and the day after tomorrow the job openings from the U.S. are important price drivers. Last but not least, the FED Chairman Powell will also speak on Wednesday. So this week, all the ingredients are again ready for a rich information and interpretation menu.
Bullish/Bearish Scenarios
I am rather undecided today. The missed sustainable breakout from the M30 range and the resistance zone in the daily make my trend following scenarios somewhat less likely – but not impossible.
 
For me, today is range trading again. With a breakout below 14313 I look for the time being short (in the retracement) and breakouts above 14524 I look for further long entries. Within this range, I play the two range edges.
Happy Trading

Matthias