FDAX – Future November, 25 2022
Daily market overview / Marktmeinung
News/public holidays
08:00 Uhr DE Bruttoinlandsprodukt (BIP) Deutschland (Quartal) (Q3) Prognose: 0,3% Vorherige: 0,1%
Krieg in der Ukraine
Feiertage: USA – Erntedankfest – Vorzeitige Schließung um 13:00
---
Trading day (Overview)
Market Profile
OPENING PRICE VERSUS DAY'S VA
in balance
Opening to VWAP
previous day (M30)
above
VA – Market Profile
Value Area previous DAY(VAH, POC, VAL)
14574 … 14554 … 14526
RANGE
(ATR 5)
179 points
Trading-Range
daily ATR(5)
14727 … 14369
Action Levels
Pivot Points
R3, R2, R1, PP, S1, S2, S3
in Trading-Rang
14673, 14621, 14538(PP), 14486, 14403
Previous Day/Today
Close / Open
14570/14548
Open VWAPs
in Trading-Range
–
Open POCs
in Trading-Range
14653, 14441
Support
in Trading-Range
14524/15, 14461, 14421, 14395
Resist
in Trading-Range
14572, 14616, 14675, 14712
---
Daily (FDAX)
– Der letzte Handelstag wurde als neuer positiver Außenstab beendet (14589 … 14522)
– weiter abnehmendes Handelsvolumen
– Erneuter Ausbruch aus der kurzfristen Range im Aufwärtstrend → Preis akzeptiert
– Mehrwellige Aufwärtsbewegung (UP-Trend) – Aufwärtstrend voll intakt
– Schlusskurs über GD20, GD50, GD200 im Future und Kassamarkt
– Wichtiger Support um 12719 darunter dann weitere Jahrestiefs im daily
– Neuer Widerstand um 14548 wurde per Schlusskurs gebrochen.
– Starke Widerstandszone um 14631 … 14353
– The last trading day ended as a new positive outside bar (14589 … 14522)
– Further decreasing trading volume
– Renewed breakout from the short term range in the uptrend → price accepted
– Multi-wave upward movement (UP trend) – upward trend fully intact.
– Closing price above GD20, GD50, GD200 in futures and cash market.
– Important support around 12719 below then further annual lows in daily
– New resistance around 14548 was broken by closing price.
– Strong resistance zone around 14631 … 14353
| | |
| --- | --- |
| Short-Ziel | 14335, 14302, 14148 |
| Long-Ziel | 14631, 14712 (H) |
M30 (FDAX)
– Up-Trend voll intakt
– Range Breakout
– Innerhalb der Range eine mehrwellige Aufwärtsbewegung
– Handelspanne nimmt merklich über die letzten Tage ab
– Der heutige Eröffnungskurs lag innerhalb der VA des letzten Handelstages à GLEICHGEWICHT.
– Eröffnungskurs über dem Pivot Punkt (PP) sowie dem VWAP des letzten Handelstages
– Up-Trend fully intact
– Range Breakout
– Within the range a multi-wave upward movement
– Trading range noticeably decreasing over the last few days
— Today's opening price was within the VA of the last trading day → EQUAL WEIGHT.
– Opening price above the pivot point (PP) as well as the VWAP of the last trading day.
| | |
| --- | --- |
| Short-Ziel | 14461, 14441, 14395, 14356, 14313 |
| Long-Ziel | 14616, 14675, 14712 |
---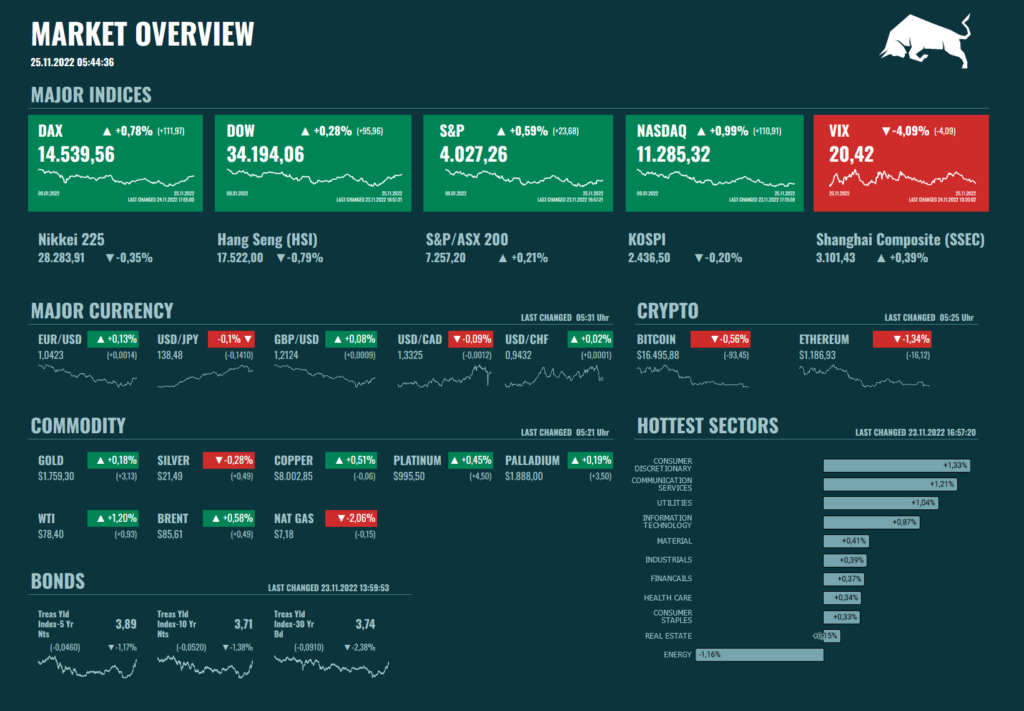 ---
Laut Market Profile heute Trend folgend. Vorbörslich negativ. Der letzte Handelstag konnte den Breakout im daily aus der seit Tagen bespielten Range (14475 … 14143) erneut per Tagesschlusskurs absolvieren. Der Markt (FDAX) befindet sich darüber hinaus innerhalb einer starken Widerstandszone um 14631 … 14353. Im daily sind wir weiterhin in einem intakten Aufwärtstrend. – Wie bereits in den letzten Tagen nimmt das Handelsvolumen immer weiter ab. Für mich ein weiteres Warnzeichen auf diesem hohen Niveau. Es würde mich nicht wundern, wenn wir noch einmal einen Sprung nach oben sehen der im Anschluss durch eine Korrektur abgelöst wird. – Shorts jedoch erst – wenn ein Signal vorliegt.
Im M30 haben wir einen stabilen Aufwärtstrend. Mit dem Ausbruch auf die Oberseite aus der M30 Range um 14524 … 14496 wurde ein neues LONG Signal getriggert. Die Zone ist vorerst eine neue Unterstützungszone. Oberhalb suche ich long darunter short.
Heute wird in den USA wieder gehandelt, jedoch nur für einige Stunden (halbtags). Spannend wird es auf jeden Fall.


Bullish/Bearish Scenarios

Bullish-Scenario
Rückläufe kaufen sind vorerst immer noch legitim – da Aufwärtstrend. Kaufzonen sind 14524/496 oder 14461/14421. Ziele auf der Oberseite sind dann 14512, 14572 und 14611.
Sollten zur Kassa-Eröffnung bereits wieder neue Hochs über 14589 angezeigt werden, würde ich vorerst auf eine Long-Bestätigung warten. Kann sich der Kurs über 14574 per Schlusskurs (M30) halten, sehe ich weiter steigende Kurse.

Bearish-Scenario
Schlusskurse (M15/M30) unter 14512 können noch einmal im Anschluss tiefere Kurse testen um 14461, 14421. Shorts würde ich vorerst immer als Korrekturläufe sehen, also Stopps eng halten bzw. gar nicht short handeln – da Aufwärtstrend.
According to Market Profile today trend following. Pre-market negative. The last trading day could complete the breakout in the daily from the range played for days (14475 … 14143) again per daily closing price. The market (FDAX) is furthermore within a strong resistance zone around 14631 … 14353. In the daily, we are still in an intact upward trend. – As in recent days, the trading volume continues to decrease. For me, another warning sign at this high level. I would not be surprised if we see another jump to the top which is subsequently replaced by a correction. – Shorts, however, only – if there is a signal.
In the M30 we have a stable uptrend. With the breakout to the upside from the M30 range around 14524 … 14496, a new LONG signal was triggered. The zone is a new support zone for now. Above I look for long below short.
Today in the U.S. is trading again, but only for a few hours (half-day). It will be exciting in any case.
Bullish/Bearish Scenarios

Bullish scenario
Buy reversals are still legitimate for now – since uptrend. Buy zones are 14524/496 or 14461/14421. Targets on the upside are then 14512, 14572 and 14611.
If new highs above 14589 are already indicated at the cash opening, I would wait for a long confirmation for the time being. If the price can hold above 14574 per closing price (M30), I see further rising prices.

Bearish scenario
Closing prices (M15/M30) below 14512 can once again subsequently test lower prices around 14461, 14421. Shorts I would see for the time being always as correction runs, so keep stops tight or do not trade short at all – since uptrend.
Happy Trading

Matthias