FDAX – Future December, 12 2022
Daily market overview / Marktmeinung
Important News/public holidays
---
Trading day (Overview)
Market Profile
OPENING PRICE VERSUS DAY'S VA
out balance
Opening to VWAP
previous day (M30)
below
VA – Market Profile
Value Area previous DAY(VAH, POC, VAL)
14371 … 14369 … 14309
RANGE
(ATR 5)
172 points
Trading-Range
daily ATR(5)
14474 … 14130
Action Levels
Pivot Points
R3, R2, R1, PP, S1, S2, S3
in Trading-Rang
14410, 14313(PP), 14232, 14135
Previous Day/Today
Close / Open
14330/14302
Open VWAPs
in Trading-Range
–
Open POCs
in Trading-Range
14369
Support
in Trading-Range
14292/17, 14202, 14187, 14148, 14134
Resist
in Trading-Range
14367, 14390, 14440, 14482
---
Daily (FDAX)
– Der letzte Handelstag wurde erneut innerhalb des aktiven neg. Außenstabes beendet (14482 … 14249)
– anziehendes Handelsvolumen
– Aufwärtstrend voll intakt – an der Widerstandszone um 14631 … 14353 → Top Bildung
– Tagesschlusskurse immer noch unter der wichtigen Widerstandszone von 14631 … 14353 und unter dem VWAP (14409)
– Mehrere Filterkerzen am daily Support um 14148
– Schlusskurs unter GD20 und der kurzfristigen Aufwärtstrendlinie ansonsten über dem GD50, GD200 sowie der mittelfristigen Aufwärtstrendlinie
– Schlusskurs unter 14148 – noch einmal Beschleunigung des Abwärtsimpulses möglich
– Wichtiger Support um 12719 darunter dann weitere Jahrestiefs im daily
– The last trading day ended again within the active neg. outer bar (14482 … 14249)
– rising trading volume
– Uptrend fully intact – at the resistance zone around 14631 … 14353 → top formation
– Daily closing prices still below the important resistance zone of 14631 … 14353 and below the VWAP (14409)
– Multiple filter candles at daily support around 14148.
– Closing price below GD20 and the short-term uptrend line otherwise above GD50, GD200 as well as the medium-term uptrend line
– Closing price below 14148 – once again acceleration of the downward impulse possible
– Important support around 12719 below then further annual lows in the daily
| | |
| --- | --- |
| Short-Ziel | 14142/48, 13634, 13992 |
| Long-Ziel | 14631, 14712 (H), 14843 |
M30 (FDAX)
– Mittelfristiger Aufwärtstrend voll intakt
– Kurzfristig 5-wellige Abwärtsbewegung
– Higher high, higher lows → Korrektur möglich
– Eröffnungskurs unterhalb der VA des letzten Handelstages → UNGLEICHGEWICHT
– Eröffnungskurs unter dem Pivot Punkt (PP) sowie dem VWAP des letzten Handelstages
– Medium-term upward trend fully intact
– Short-term 5-wave downward trend
– Higher high, higher lows → correction possible
Opening price below the VA of the last trading day → UNBALANCE WEIGHT
– Opening price below the pivot point (PP) as well as the VWAP of the last trading day
| | |
| --- | --- |
| Short-Ziel | 14202, 14187, 14148/34, 14110 |
| Long-Ziel | 14440, 14482 |
---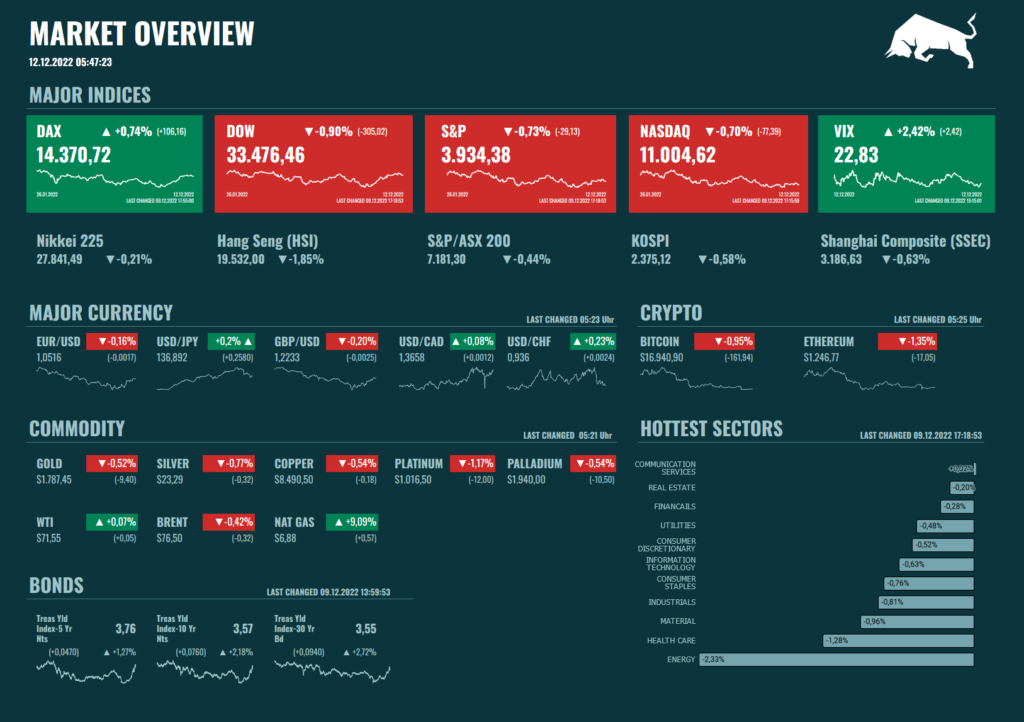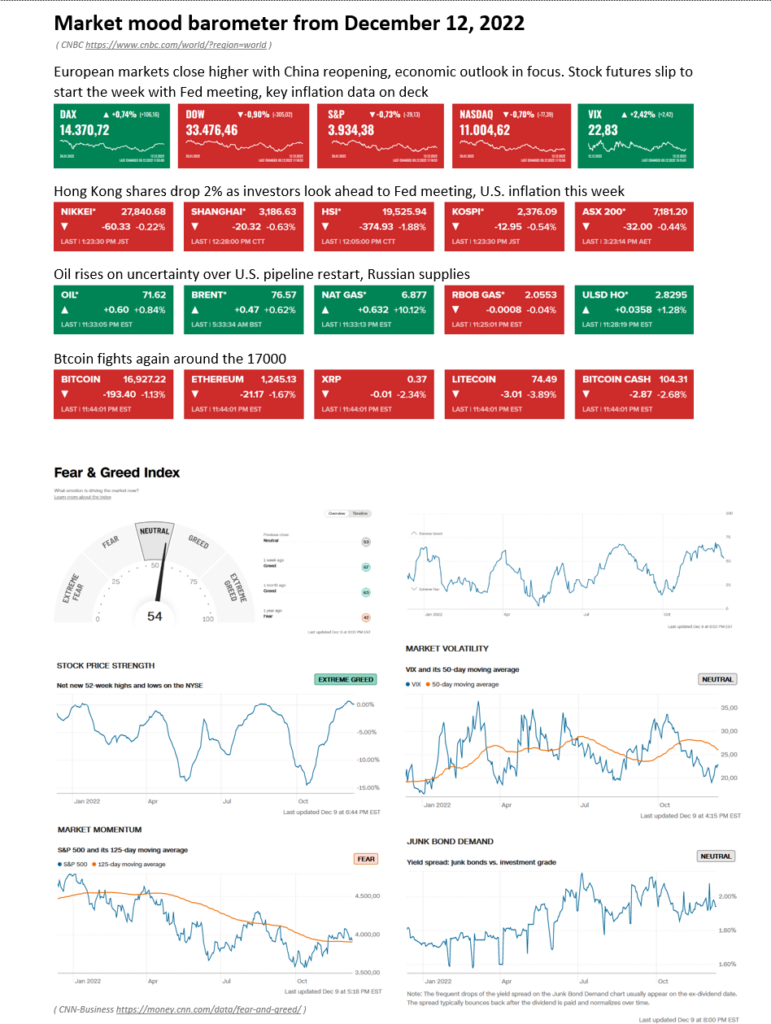 ---
Laut Market Profile heute Trend folgend. Vorbörslich negativ. Der letzte Handelstag konnte mit einem kleinen Plus von +0,27% die Handelswoche beenden. Die große Kerze im M30vom Freitag mit 167 Punkten zeigt einmal mehr die Nervosität im aktuellen Marktumfeld. Dennoch konnte dieser Einbruch schnell wieder nach oben gekauft werden. Im daily sehen wir weiter den Kampf um die Widerstandszone 14631 … 14353. Der untere Support um 14148 muss hierbei halten um den seit Oktober bestehenden Aufwärtsimpuls nicht zu gefährden.

In der kurzfristigen Zeit (M30) sehen wir eine erste Korrekturbewegung der letzten Abwärtsbewegung. Es gab noch keinen Schlusskurs über dem letzten Hoch vom 07.12.2022 um 14381. Ein Schlusskurs darüber gibt weiter Hoffnung auf eine Bodenbildung um den Supportbereich 14148.

Heute keine wichtigen Nachrichten bekannt.

Für heute über 14292 Long darunter Short suchen. Wie immer passe ich mich der aktuellen Marksituation an.
Bullish/Bearish Scenarios

Bullish Scenario
Schlusskurse (M30) über 14292 nehme ich vorerst als Long-Trigger und suche hier nach Long-Signalen. Ziele auf der Oberseite sind 14367, 14390. Bei Dynamik im Aufwärtsimpuls kann auch die 14440 als Ziel dienen.

Bearish Scenario
Kommen wir nicht über die 14292 per Schlusskurs oder wir sehen an dieser Zonen Schwäche, gehe ich von weitere fallenden Kursen aus und einem Test der Tiefs bis 14217, 14202. Sollten diese per Schlusskurs (M30) nicht halten kann auch der daily support um 14148 getestet werden.

Auf diesem Preisniveau entscheidet sich dann wie der Markt per Tageskurs schließt. Unter 14148 kann es dann am nächsten Tag noch einmal bergab gehen.
According to Market Profile today trend following. Pre-market negative. The last trading day could end the trading week with a small plus of +0.27%. The large candle in the M30vom Friday with 167 points shows once again the nervousness in the current market environment. Nevertheless, this slump could be quickly bought back up. In the daily, we continue to see the fight for the resistance zone 14631 … 14353.
The lower support around 14148 must hold here in order not to endanger the upward momentum that has existed since October.
In the short-term time (M30), we see a first corrective move of the last downward movement. There was still no close above the last high of 12/07/2022 around 14381. A close above it gives further hope for a bottoming around the support area 14148.

No important news known today.

Looking for long below short for today above 14292. As always, I adapt to the current market situation.
Bullish/Bearish Scenarios

Bullish Scenario
Closing prices (M30) above 14292 I take for now as a long trigger and look for long signals here. Targets on the upside are 14367, 14390. With momentum in the upward impulse, 14440 can also serve as a target.

Bearish scenario
If we do not get above the 14292 per closing price or we see weakness at this zone, I assume further falling prices and a test of the lows to 14217, 14202. If these do not hold per closing price (M30) can also be tested the daily support around 14148.

At this price level will then decide how the market closes per daily rate. Below 14148, it can then go down again the next day.
Happy Trading 🙂

Matthias