FDAX – Future December, 13 2022
Daily market overview / Marktmeinung
Important News/public holidays
08:00 Uhr DE Verbraucherpreisindex (VPI) Deutschland (Jahr) (Nov)
Prognose: 10,0% Vorherige: 10,4%
10:00 Uhr DE ZEW – Konjunkturerwartungen Deutschland (Dez)
Prognose: -26,4 Vorherige: -36,7
14:30 Uhr US Verbraucherpreisindex – Kernrate (Monat) (Nov)
Prognose: 0,3% Vorherige: 0,3%
14:30 Uhr US Verbraucherpreisindex (VPI) (Monat) (Nov)
Prognose: 0,3% Vorherige: 0,4%
14:30 Uhr US Verbraucherpreisindex (VPI) (Jahr) (Nov)
Prognose: 7,3% Vorherige: 7,7%
…
08:00 DE Consumer Price Index (CPI) Germany (Year) (Nov)
Forecast: 10.0% Previous: 10.4
10:00 AM DE ZEW – Economic Sentiment Germany (Dec)
Forecast: -26.4 Previous: -36.7
14:30 US Consumer Price Index – Core Rate (Month) (Nov)
Forecast: 0.3% Previous: 0.3%
2:30 PM US Consumer Price Index (CPI) (month) (Nov)
Forecast: 0.3% Previous: 0.4%
2:30 PM US Consumer Price Index (CPI) (Year) (Nov)
Forecast: 7.3% Previous: 7.7%
---
Trading day (Overview)
Market Profile
OPENING PRICE VERSUS DAY'S VA
out balance
Opening to VWAP
previous day (M30)
above
VA – Market Profile
Value Area previous DAY(VAH, POC, VAL)
14329 … 14305 … 14283
RANGE
(ATR 5)
169 points
Trading-Range
daily ATR(5)
14527 … 14207
Action Levels
Pivot Points
R3, R2, R1, PP, S1, S2, S3
in Trading-Rang
14446, 14408, 14334(PP), 14296, 14222
Previous Day/Today
Close / Open
14369/14367
Open VWAPs
in Trading-Range
14315
Open POCs
in Trading-Range
14305
Support
in Trading-Range
14298, 14261, 14217
Resist
in Trading-Range
14366, 14390, 14440, 14482, 14516
---
Daily (FDAX)
– Der letzte Handelstag wurde erneut innerhalb des aktiven neg. Außenstabes beendet (14482 … 14249) als IB
– Aufwärtstrend voll intakt – an der Widerstandszone um 14631 … 14353 → Top Bildung
– Tagesschlusskurse immer noch unter der wichtigen Widerstandszone von 14631 … 14353 und unter dem VWAP (14499)
– Mehrere Signalkerzen am daily Support um 14148
– Schlusskurs unter GD20 und der kurzfristigen Aufwärtstrendlinie ansonsten über dem GD50, GD200 sowie der mittelfristigen Aufwärtstrendlinie
– Schlusskurs unter 14148 – noch einmal Beschleunigung des Abwärtsimpulses möglich
– Wichtiger Support um 12719 darunter dann weitere Jahrestiefs im daily
– The last trading day ended again within the active neg. outer bar (14482 … 14249) as IB.
– Uptrend fully intact – at the resistance zone around 14631 … 14353 → top formation
– Daily closing prices still below the important resistance zone of 14631 … 14353 and below the VWAP (14499).
– Multiple signal candles at daily support around 14148.
– Closing price below GD20 and the short-term uptrend line otherwise above GD50, GD200 as well as the medium-term uptrend line
– Closing price below 14148 – once again acceleration of the downward impulse possible
– Important support around 12719 below then further annual lows in the daily
| | |
| --- | --- |
| Short-Ziel | 14142/48, 13634, 13992 |
| Long-Ziel | 14631, 14712 (H), 14843 |
M30 (FDAX)
– Mittelfristiger Aufwärtstrend voll intakt
– Aktuell Range in 14261 … 14390
– Eröffnungskurs über der VA des letzten Handelstages → UNGLEICHGEWICHT
– Eröffnungskurs über dem Pivot Punkt (PP) sowie dem VWAP des letzten Handelstages
– Medium-term upward trend fully intact
– Current range in 14261 … 14390
– Opening price above the VA of the last trading day → UNBALANCED.
– Opening price above the pivot point (PP) as well as the VWAP of the last trading day.
| | |
| --- | --- |
| Short-Ziel | 14298, 14261, 14217 |
| Long-Ziel | 14366, 14390, 14440, 14482, 14516 |
---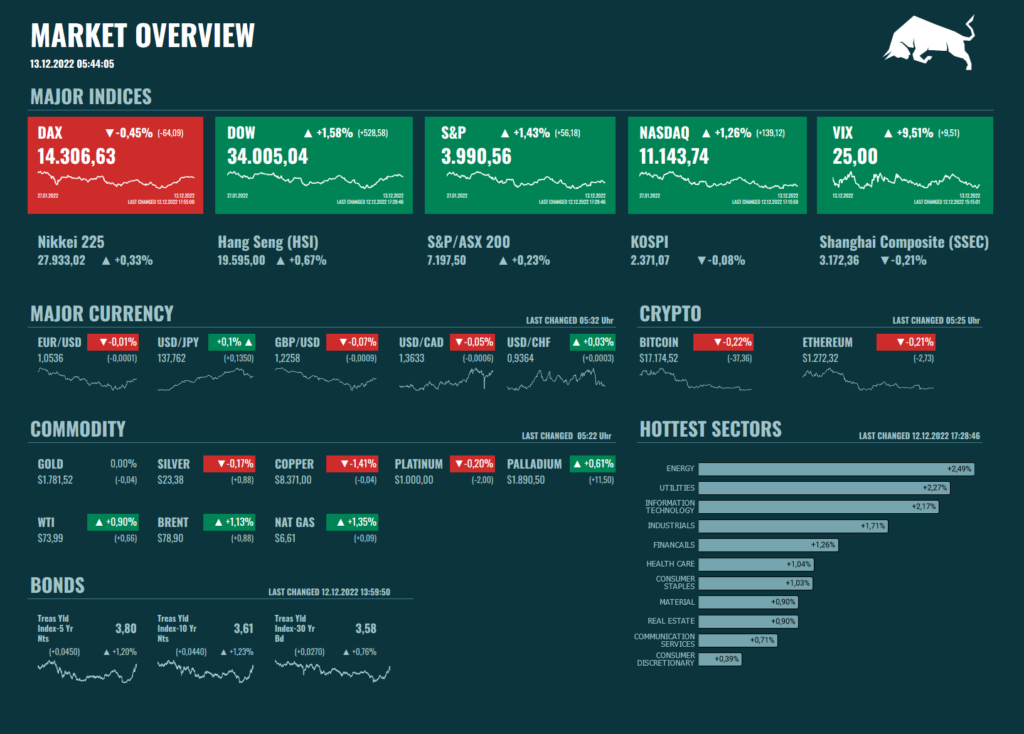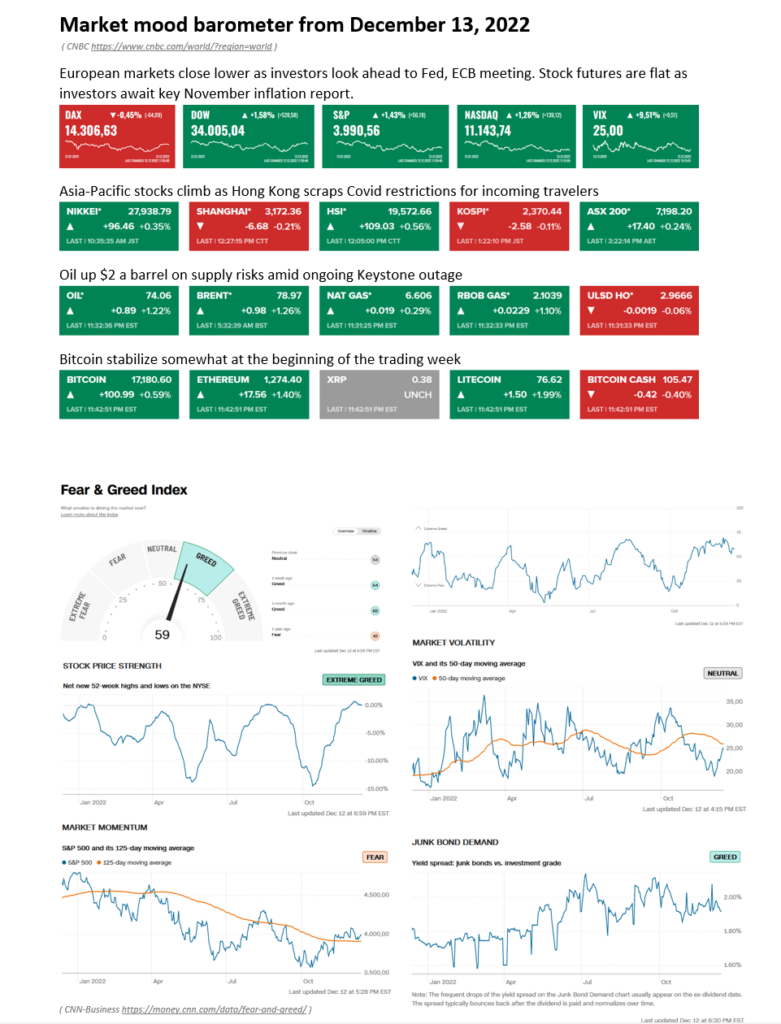 ---
Laut Market Profile heute Trend folgend. Vorbörslich leicht positiv. Der letzte Handelstag konnte die Widerstandszone um 14631 … 14353 zurückerobern. Prinzipiell hat sich jedoch an der Situation zu den Tagen davor nichts geändert. Der Markt befindet sich zwischen einem starken Support um 14148 und einer breiten Widerstandszone von Anfang Juni 2022. Noch keine Richtungsentscheidung getroffen. Aufwärtstrend im daily noch voll intakt.

Im M30 hatten wir in den letzten beiden Handelstagen eine Korrektur gesehen von der Abwärtsbewegung der Verlaufshochs von Anfang Dezember 2022. Kann sich der Kurs nun über das letzte Zwischenhoch um 14393 per Schlusskurs (M30) absetzen, besteht die Chance auf neue Highs. Bricht die Korrektur jedoch das Zwischenhoch nicht, besteht auch die Gefahr, dass der daiyl support um 14148 getestet wird.

Heute gibt es viele Zahlenbekanntgaben zur Konjunktur in Deutschland (08:00, 10:00 Uhr) sowie aus den USA ab 14:30 Uhr. Spätestens um 14:00 Uhr werde ich mich aus dem intraday Handel etwas zurückziehen. Das alte Motto bleibt bestehen – vor der Bekanntgabe flat und danach dem Markt folgen.

Für heute über 14390 Long unter 14298/77 (Schlusskurs M30) Short suchen. Wie immer passe ich mich der aktuellen Marksituation an.
Bullish/Bearish Scenarios

Bullish Scenario
Über 14390 Long suchen mit Zielen auf der Oberseite um 14440, 14482 und 14516. Rückläufe sind für mich ebenfalls bis 14315 kaufenswert.

Bearish Scenario
Schlusslure im M30 unter 14277 lassen mich short Signal suchen mit Zielen auf der Unterseite bis 14217,14148.
 
 Da der Markt heute ab 14:30 Uhr mit den aktuellen Inflationszahlen aus den USA konfrontiert wird, kann es wieder sehr schnell gehen. Wie bereits die letzten Male gesehen, können die Ausschläge wieder die gesamte Tages-Range oder darüber hinaus ausmachen – Vorsicht zum Nachmittag!
According to Market Profile today trend following. Pre-market slightly positive. The last trading day was able to regain the resistance zone around 14631 … 14353. In principle, however, nothing has changed in the situation to the days before. The market is between a strong support around 14148 and a broad resistance zone from early June 2022. No directional decision made yet. Upward trend in the daily still fully intact.

In the M30, we had seen a correction in the last two trading days from the downward movement of the course highs from early December 2022. If the price can now break above the last intermediate high around 14393 per closing price (M30), there is a chance for new highs. However, if the correction does not break the intermediate high, there is also a risk of testing the daiyl support around 14148.

Today, there are many figures announcements on the economy in Germany (08:00, 10:00) and from the U.S. from 14:30. At the latest at 14:00 I will withdraw somewhat from intraday trading. The old motto remains – flat before the announcement and then follow the market.

Looking for today above 14390 long below 14298/77 (closing M30) short. As always, I adapt to the current market situation.
Bullish/Bearish Scenarios

Bullish Scenario
Look long above 14390 with upside targets around 14440, 14482 and 14516. Reverses are also worth buying for me up to 14315.

Bearish scenario
Closing lure in the M30 below 14277 make me look short signal with targets on the downside to 14217,14148.
 
 As the market will face the latest inflation numbers from the US today starting at 14:30, things can move very quickly again. As already seen the last times, the swings can again make up the entire daily range or beyond – caution to the afternoon!
Happy Trading 🙂

Matthias