FDAX – Future January, 05 2023
Daily market overview / Marktmeinung
JETZT Ausführliche marktmeinung als PDF
Important News/public holidays
14:15 Uhr US ADP Beschäftigungsänderung (Dez)
Prognose: 150K Vorherige: 127K
14:30 Uhr US Erstanträge Arbeitslosenhilfe
Prognose: 225K Vorherige: 225
17:00 Uhr US Rohöllagerbestände
Prognose: 1,154M Vorherige: 0,718M
Feiertage:
…
2:15 PM US ADP Employment Change (Dec)
Forecast: 150K Previous: 127K
2:30 PM US Initial Jobless Claims
Forecast: 225K Previous: 225K
5:00 PM US Crude Oil Inventories
Forecast: 1.154M Previous: 0.718M
Holidays:
---
Trading day (Overview)
Market Profile
OPENING PRICE VERSUS DAY'S VA
out balance
Opening to VWAP
previous day (M30)
above
VA – Market Profile
Value Area previous DAY(VAH, POC, VAL)
14541 … 14421 … 14389
RANGE
(ATR 5)
264 points
Trading-Range
daily ATR(5)
14808 … 14280
Action Levels
Pivot Points
R3, R2, R1, PP, S1, S2, S3
in Trading-Rang
14770, 14661, 14461(PP), 14352
Previous Day/Today
Close / Open
14552/14544
Open VWAPs
in Trading-Range
14473
Open POCs
in Trading-Range
14421
Support
in Trading-Range
14488, 14421, 14358
Resist
in Trading-Range
14569, 14709, 14763, 14815
---
Daily (FDAX)
– Der letzte Handelstag wurde als neuer positiver Außenstab (14570 … 14261) beendet
– 3-wellige Korrekturbewegung beendet.
– Kurs befindet sich wieder in der Widerstandszone um 14712 … 14434
– Weiter anziehendes Handelsvolumen seit Jahresbeginn
– Nächster Angriff auf das Zwischenhoch um 14580 möglich
– Schlusskurs über GD200, GD50, GD20 im Future und Kassa Markt
– Tagesschlusskurse unter der Kerze vom 10.11.2022, unter 13671 sehr bearish.
– The last trading day ended as a new positive outer bar (14570 … 14261)
– 3-wave corrective movement ended.
– Price is back in the resistance zone around 14712 … 14434
– Further increasing trading volume since the beginning of the year
– Next attack on the intermediate high around 14580 possible
– Closing price above GD200, GD50, GD20 in the future and spot market
– Daily close below the candle of 10.11.2022, below 13671 very bearish.
| | |
| --- | --- |
| Short-Ziel | 14228, 13724, 13428 |
| Long-Ziel | 14580, 147121, 14949 |
M30 (FDAX)
– Aktiver Aufwärtstrend in der Struktur und im Market Profile
– Höhere Hochs und höhere Tiefs
– Neues Referenz-Low bei 14201, Kurse darunter nehmen dem Aufwärtstrend die Luft
– Der heutige Eröffnungskurs lag außerhalb der VA des letzten Handelstages → UNGLEICHGEWICHT. Kurs aktuell bereits wieder in der VA
– Eröffnungskurs über dem Pivot Punkt (PP) sowie dem VWAP des letzten Handelstages
– Active uptrend in the structure and market profile
– Higher highs and higher lows
– New reference low at 14201, prices below it take the air out of the uptrend
– Today's opening price was outside the VA of the last trading day → UNBALANCED. Price currently already back inside the VA
– Opening price above the pivot point (PP) as well as the VWAP of the last trading day.
| | |
| --- | --- |
| Short-Ziel | 14473, 14421, 14351, 14270 |
| Long-Ziel | 14569, 14709, 14763, 14815 |
---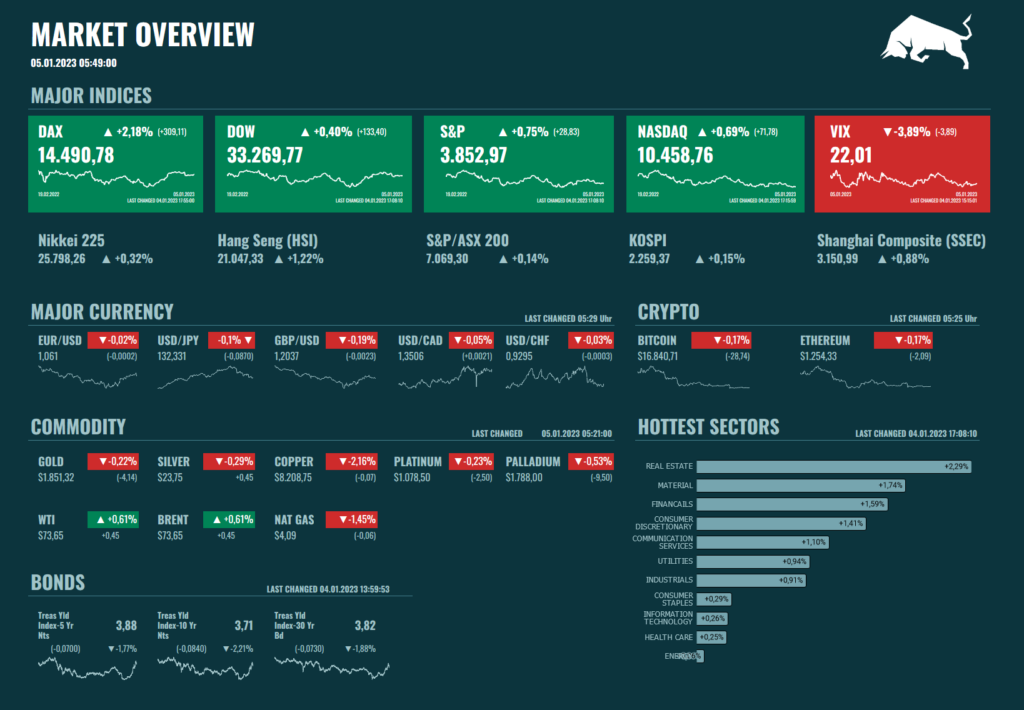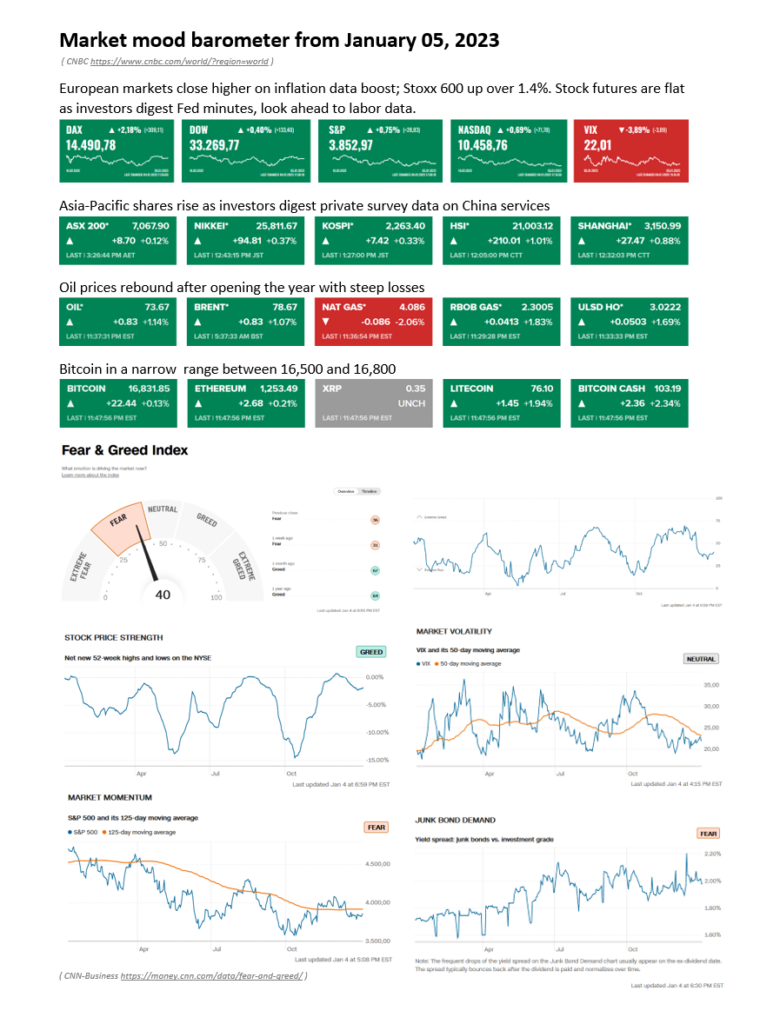 ---
Laut Market Profile heute Trend folgende. Vorbörslich negativ. Im Tageschart wurde gestern der Widerstandsbereich um 14712 … 14434 wieder angelaufen. Die Korrekturbewegung ist vorerst abschlossen und die drohende Abwärtsbewegung (Trend) konnte vorerst verhindert werden. Die aktuelle Widerstandszone gibt noch Luft bis zur 14700er Marke. Mit dem Überwinden der 14580 per Tagesschlusskurs kann dies gelingen.

In der kurzfristigen Zeit (M30) sehen wir einen intakten kurzfristigen Aufwärtstrend. Das Hoch im M30 um 14763 kommt in greifbare Nähe. Hierfür muss jedoch das aktuelle Zwischenhoch um 14569 per M30 Schlusskurs herausgenommen werden. Ein Rücklauf bis zur 14389/358 ist dennoch wahrscheinlich und kann als Einstiegszone dienen, wenn das Momentum wieder in Richtung Norden dreht.

Heute werden die Zahlen aus den USA gemeldet ab 14:15 Uhr mit der Beschäftigungsänderung (Dez.) und den Erstanträgen auf Arbeitslosenhilfe.

Mit der Zahlenbekanntgabe ist mein kurzfristiges Engagement um kurz vor 14:00 Uhr beendet.
Bullish/Bearish Scenarios

Bullish Scenario
Rücksetzer sind für mich vorerst Einstiegsgelegenheiten um den kurzfristigen Trend weiter zu spielen. Hierbei setze ich auf die Zonen um 14488 und tiefer um 14421/14389.

Sollten wir erneut keinen Rücklauf erhalten, suche ich nach Einstiegen sobald die 14569 per M30 Schlusskurs nach über verlassen wurde. Ziele auf der Oberseite sind dann 14709, 14763. Hier wird die Luft dann vorerst dünn.

Bearish Scenario
Sollten wir die 14541 per M30 Schlusskurs nicht überwinden, gehe ich vorerst von fallenden Kursen bis 14421, 14358 aus. Sollte der Markt mit viel Dynamik diese Ziele anlaufen, kann es auch noch weiter Richtung 14298 gehen.
According to Market Profile today trend following. Pre-market negative. In the daily chart, the resistance area around 14712 … 14434 was approached again yesterday. The corrective movement is completed for now and the impending downward movement (trend) could be prevented for the time being. The current resistance zone still gives air to the 14700 mark. With the overcoming of 14580 per daily closing price, this can succeed.

In the short-term time (M30), we see an intact short-term uptrend. The high in the M30 around 14763 comes within reach. However, for this, the current intermediate high around 14569 must be taken out per M30 closing price. A retracement to 14389/358 is nevertheless likely and can serve as an entry zone if momentum turns north again.

Today, the figures from the U.S. are reported from 14:15 with the employment change (Dec.) and initial jobless claims.

With the announcement of the figures, my short-term exposure is ended at shortly before 14:00.
Bullish/Bearish Scenarios

Bullish Scenario
For me, setbacks are entry opportunities for the time being to continue playing the short-term trend. Here, I am betting on the zones around 14488 and lower around 14421/14389.

If we again do not get a retracement, I look for entries as soon as the 14569 was left by M30 closing price to the upside. Targets on the upside are then 14709, 14763. Here the air is then thin for the time being.

Bearish scenario
If we do not overcome the 14541 per M30 closing price, I assume for the time being falling prices to 14421, 14358. Should the market run with a lot of momentum to these targets, it can also go further in the direction of 14298.
Happy Trading 🙂

Matthias